Golden Globes: Sandra Oh's Emotional Tribute to the 'Faces of Change'
Sandra Oh and Andy Sanburg officially made their hosting debut for the 76th Golden Globes on Sunday night.
Taking a more loveable approach to roasting the audience, Oh and Sanburg opened up the award show by complementing various audience members.
From "roasting" the immense talent of Amy Adams – who has two Golden Globe nominations for her work on Sharp Objects and Vice – to simply calling Michael B. Jordan "hot," it was a much different approach to previous award show monologues.
To conclude the opening speech, Oh made an emotional tribute to the "moment of change."
"I said 'yes' to the fear of being on the stage tonight because I wanted to be here, and look out into this audience and witness this moment of change," Oh said. "I'm not fooling myself, next year could be different, it probably will be, but right now this moment is real."
"Because I see you, all of these faces of change, and now, so will everyone else," the Killing Eve actress added.
This year's Golden Globes has had a spotlight on diversity. With nominations for films such as Black Panther and Crazy Rich Asians, this could be an award show of firsts for minority actors.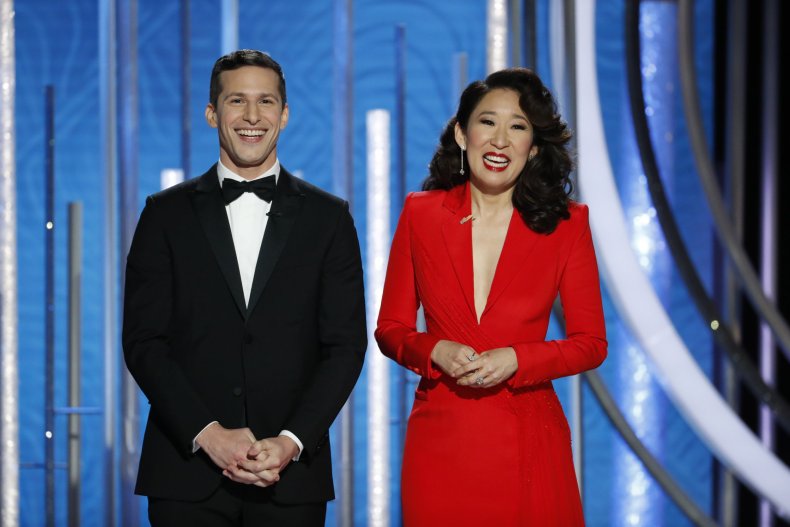 If Constance Wu wins a Golden Globe tonight for her leading role in Crazy Rich Asians, it will be the first time in 38 years that a woman of Asian-decent won.
An Academy-favorite, Roma is also expected to sweep the Golden Globes. Following a middle-class family in 1970's Mexico City, is the highest-profile film made to shed light on the life of a domestic worker.
Black Panther was not only the first superhero movie with a primarily African-American cast, but it is also the first superhero movie to nominated in Golden Globes' history.
Spider-Man: Into the Spider-Verse won one of the first awards of the night for Best Animated Feature Film. The animation follows African-American, Porter Rican teenager Miles Morales as he becomes the next crime-fighting hero.
At the end of their acceptance speech, the film's director Peter Ramsey noted, "anyone can be behind the mask."
When speaking to People magazine, Oh admitted she was thrilled and terrified to have landed the gig. "My reaction [when I found out we would be hosting together] was, 'Is this a joke?' And then when it was not a joke, it was just this feeling of terror and thrill," she said. "There was no way I would do this without Andy. It's really exciting."