Golden Labrador Shows Off Exactly Why He's Called 'Hopper'
A golden Labrador's "happy little" hops are delighting dog lovers online, receiving 4.6 million views.
In an adorable clip shared by TikTok user @doggyslaycare, "Hopper" can be seen bouncing up and down at doggy care.
Living up to his name, the perky pup excitedly leaps all over the place. When Hopper spots a human, he immediately begins bouncing and barking, hopping in their direction.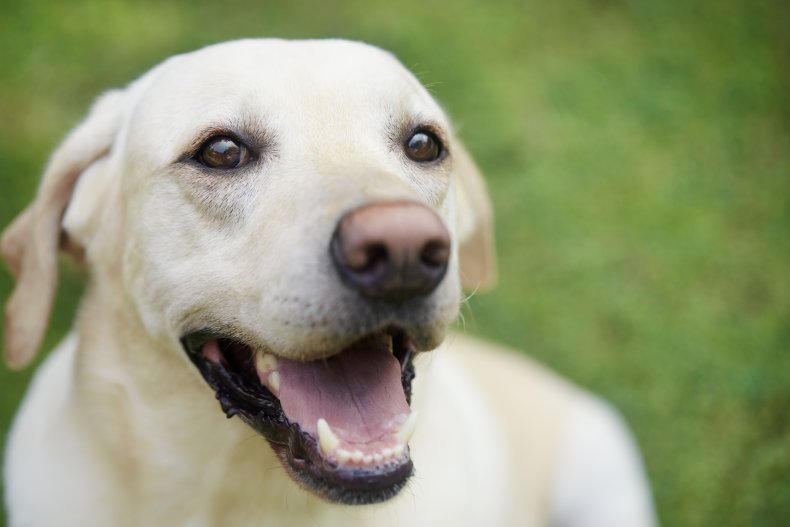 Despite him being a space hog, Hopper's canine companions don't seem to mind, even when he bumps into one dog's butt and gets a face full of tail.
"His name is Hopper," @doggyslaycare wrote alongside the video. "You can see why."
TikTok users adored the hyperactive hound, with the post receiving more than 850,000 comments.
Why Do Some Dogs Hop When They're Happy?
Hopper may have stolen the show at day care, but it's not uncommon for dogs to jump for joy when they spot a friend.
Leigh Siegfried, CEO and founder of Opportunity Barks, describes Hopper's moves as "a ole barking bouncy greeting."
"Hopper seems to be quite good at attention-seeking barking, and soliciting this way," Siegfried told Newsweek.
Although the little hops are adorable, Siegfried advises owners to keep an eye on their dog's overall movement and gait, long-term.
"It's not usual for dogs to move both the front feet and back feet and hop like that," she said.
"But I'd recommend a vet or chiropractor check his alignment, as he may [have hidden issues] with his neck, spine or hips."
'Raised by Bunnies'
The clip has earned Hopper thousands of fans on TikTok, with user Blonde Hulk commenting: "I'll take 10."
"What a happy little hopper he is," posted Colnago Caroline. "OMG LITTLE HOPPING BABY GIVE HIM A HUG FOR ME PLS," wrote caroline.
"Not to be dramatic, but I'd DIE for Hopper," commented Cadey Kimmel, while Libby Moya posted: "Why walk when you could hop?"
"He hop he hop he do the Hopper hop," wrote Christina J, while a p added, "Raised by bunnies."
"Got me hopping w him," wrote Emily Prentiss Fan Club, while Kaylin Krull commented: "More hopper content plz."
Hopper isn't the only lively Labrador to go viral recently. One specimen struggling to contain his excitement while visiting grandma's house took over TikTok in February, while another Labrador's enthusiasm for their new puppy sibling melted hearts online.
Newsweek reached out to @doggyslaycare on TikTok for comment.
Do you have funny and adorable videos or pictures of your pet you want to share? We want to see the best ones! Send them in to life@newsweek.com and they could appear on our site.