Golden Retriever Is Caught Being a 'Breakfast Bandit' in Hilarious Clip
A dog named Sully has left online commenters in stitches after a video of him stealing his owner's waffle and then trying to deny the evidence went viral on social media.
The video, shared on TikTok earlier this month by the dog's owner under the username Madsullivan5550, shows the golden retriever hiding a large waffle in his mouth, then pretending he isn't eating anything when his owner asks him if he's guilty.
The owner can be heard saying: "Did you steal the waffle? Did you? Did you steal the waffle?" The post's caption reads: "Sully the breakfast bandit."
There are usually no harmful ingredients in waffles, and they are generally safe for dogs to eat in small quantities, according to the website Pet Keen. But they offer no nutritional benefits, so they are good only as occasional treats.
Even though waffles contain sugar, it probably won't hurt dogs if they don't have too much of it. If you buy waffles from a shop, make sure there's no xylitol in them, as it can be very harmful to dogs, even in small amounts, and can lead to hypoglycemia, seizures, liver failure and even death.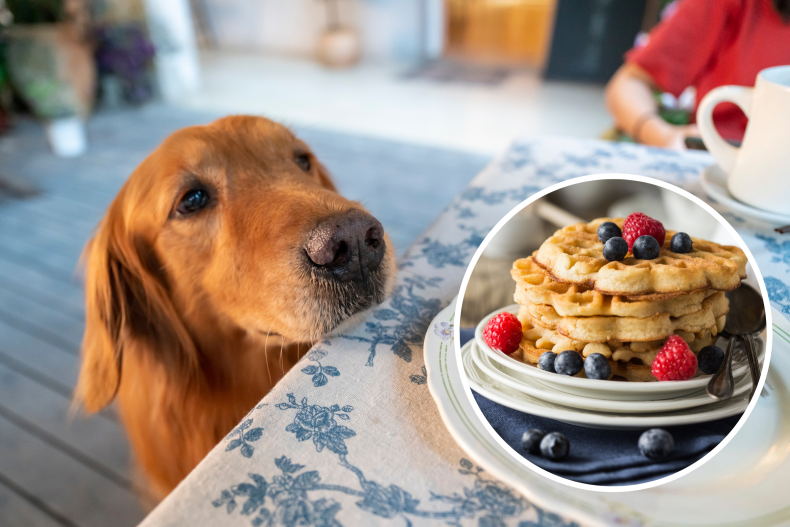 The video quickly attracted animal lovers from across the platform, receiving over 141,100 views and 15,900 likes so far.
One user, Chrissy Croxford, commented: "Nope. No waffle here."
Karen Rosquist wrote: "What waffle?" LunaTheDoggie added: "Is the waffle in the room with us now."
Zach wrote: "How do you know he didn't make that one himself...can you prove that it was yours? I'm team doggo." And Chase n Chester joked: "No waffle in sight."
Another user, Jake Stilley, commented: "Nope and you can't prove it." And luluflower47 said: "He like: u didn't see anything.....it is all your imagination."
Ben Thomson added: "Can't see no waffle." Patti wrote: "A what? Wait, I think I saw it over here."
Cap joked: "He's innocent. Call his lawyer." And Nick said: "Inconclusive evidence your honor my client is only guilty of one thing and that is being a good boy."
Newsweek reached out to Madsullivan5550 for comment and could not verify the details of the case.
Do you have funny and adorable videos or pictures of your pet you want to share? Send them to life@newsweek.com with some details about your best friend and they could appear in our Pet of the Week lineup.