Golden Retriever Puppy Caught Playing Tug-of-War With Woman's Ponytail
A mischievous golden retriever puppy has delighted TikTok users after appearing in a viral post on the platform.
Niner can be seen tugging at his owner's long, blond ponytail in the sweet video clip.
The video was uploaded January 5 by @NinerTheGolden. The TikTok account appears to belong to the pup's owner and is dedicated to tracking his growth and funny antics. It has already been viewed over 580,000 times and liked by over 70,000 people.
Should You Adopt a Golden Retriever?
According to the American Kennel Club (AKC), golden retrievers are among the most popular dog breeds in the U.S. They are known for being hardworking and active companions and are also relatively agreeable and easy to train. The latter makes them excellent service dogs, and they are frequently trained to support visually impaired people.
However, being intelligent can sometimes mean being cheeky. Like Niner, some golden retrievers have a naughty side.
"Early socialization and puppy training classes are recommended," the AKC writes. This is because it's essential to gently expose a retriever puppy to a wide variety of people, places and activities so they learn to become well adjusted to stimulation.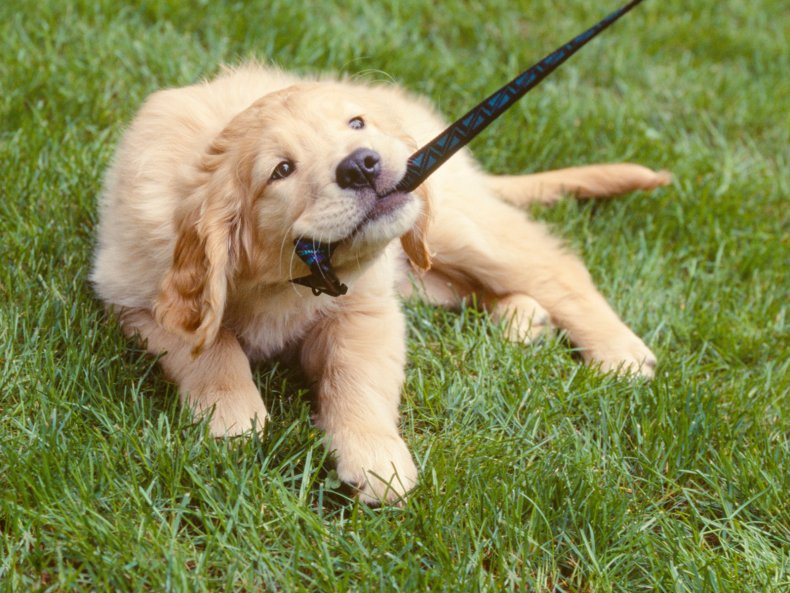 "Puppy training classes serve as part of the socialization process and help the owner learn to recognize and correct any bad habits that may be developing. Obedience training strengthens the bond between dog and owner. A Golden wants nothing more than to please his human," the AKC says.
To date, the TikTok video has received over 379 comments, with most users gushing over how adorable Niner is.
One wrote: "He said 'only one blonde allowed in this house and it's not gonna be you.'"
"Got your tail," another user said.
Another commented: "Get a golden retriever puppy. Everyone says it's fun."
A few commenters said they had similar experiences when their retrievers were small.
"He's putting the Golden Retriever in Golden Retriever," one user wrote. "Yep this is what Golden puppies do, I went through the same," another user said.
Do you have funny and adorable videos or pictures of your pet you want to share? Send them to life@newsweek.com with some details about your best friend and they could appear in our Pet of the Week lineup.