Hearts Melt Over Golden Retriever Puppy Rushing To Perform His Tricks
A video of a very obedient golden retriever puppy has gone viral on TikTok, where it has received over 657,000 views at the time of writing.
The clip shared by TikToker Levi Sebastian Blehm (@levi.s.b) was posted with a caption that said: "Guess this is a TikTok account for Goose [emoji of shrugging shoulders with hands in the air] he's just the best [emoji with eyes closed, mouth open] #golden #goldenretriever #retriever #retrieversoftiktok #goldenretrieverlife #goldenpuppy #goldenpup #dogsoftiktok #goldenhour #goose."
The video showed a small golden retriever puppy successfully following a range of commands, such as "sit" or "heel" and "place," dished out by a voice in the video.
On command, the dog was seen hopping into different positions, from being seated on the floor to standing by the heels of his owner to laying on his resting bed and entering his sleeping pen.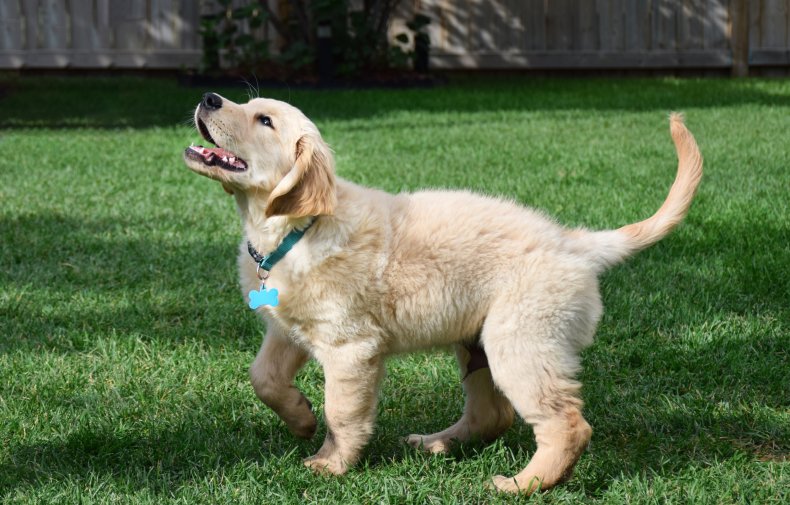 It's no surprise that the young pup in the latest video was exceptionally obedient.
Golden retrievers are characterized with the highest level of trainability, according to the American Kennel Club (AKC), the world's largest purebred dog registry.
This "exuberant" Scottish gundog breed enjoys "obedience and other competitive events" and is among America's most popular dog breeds, says the AKC.
"Goldens are outgoing, trustworthy, and eager-to-please family dogs, and relatively easy to train. They take a joyous and playful approach to life and maintain this puppyish behavior into adulthood," the AKC describes.
The pup's ability to learn may also be helped by its age. A February 2016 study published in the Age journal found that dogs aged over 13 years displayed "slower learning and reduced flexibility in comparison to younger dogs."
A March 2014 study in the peer-reviewed journal Animals found that certain behaviors, such as "wide-eyes, closed mouth, erect ears, and forward and high tail carriage, without wagging or with short and quick wagging," were related to "high achievement results."
The study concluded that "dogs' body language during operant conditioning was related to their success rate."
Several users on TikTok swooned over the well-trained pup in the latest viral video.
In a comment that got 6,599 likes, user lindsay moran said "he is so floppy, I'm obsessed with him," to which the original poster replied that he's "so clumsy yet so in a rush with his tricks haha."
Morgan Montgomery said: "I like how he sprint's literally everywhere haha."
User jes_conner: "The pitter patter of his feet. I CAN'T! So cute," while Dan Chambers862 pointed out: "The little hop onto his place [floating hearts smiley face emoji]."
Feohna1204 said: "He kept forgetting 'place,'" and may have been thinking "'darn dad I keep forgetting' [crying laughing emojis] like my kids LOL [laugh out loud]! Adorable!."
The original poster replied: "Bahaha that's my favorite part."
Tasha wrote: "He gets sooo excited to show you his tricks hahaha those floppy paws and ears [floating hearts smiley face emoji]."
Newsweek has contacted the original poster for comment. This video has not been independently verified.
Do you have funny and adorable videos or pictures of your pet you want to share? Send them to life@newsweek.com with some details about your best friend and they could appear in our Pet of the Week lineup.