A Dog Waited Weeks Outside a Home Destroyed by the Camp Fire for His Owners to Return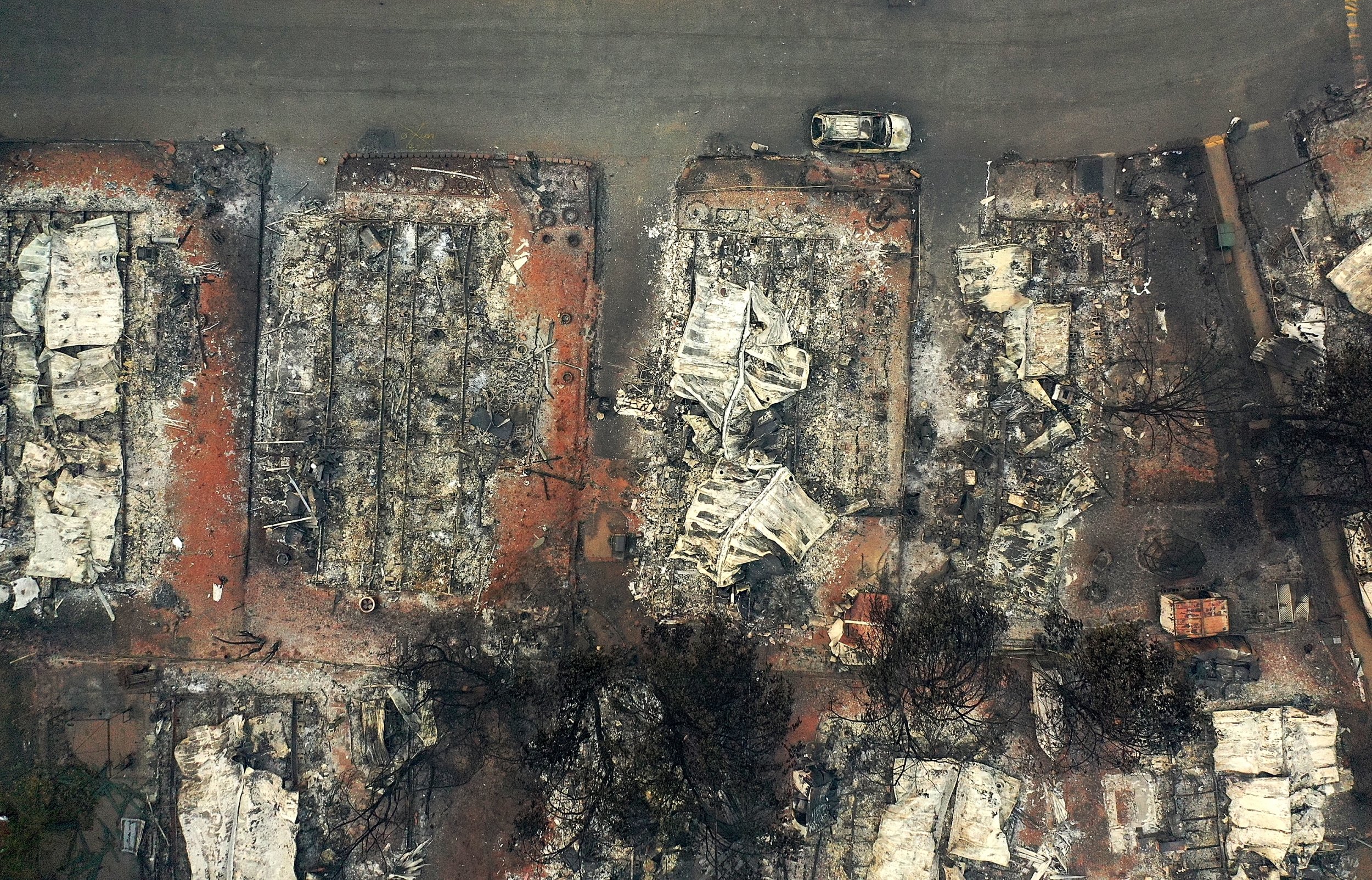 A family has been reunited with their loyal dog a month after the Camp fire demolished their home, according to a viral Facebook post. The dog, a golden retriever named Madison, waited weeks on the family's torched property for them to return. As soon as they were allowed back to the property, they found Madison waiting among the rubble.
The post was published by K9 Paw Print Rescue on December 5, and has been shared upwards of 11,500 times. It detailed the reason Madison was left behind in the fire. "Madison's parents were unable to get home to him when the Camp Fire spread," the post explained. "They hoped and prayed he would be OK. When they finally got clearance to go back to the lot where their house once stood....Madison was waiting there for them as if he were protecting his former home. Never give up!!"
A rescuer who helped take care of Madison until his parents arrived, Shayla Sullivan, told the full story in the comments. Sullivan returned often to the home to put out fresh food and water in case Madison came back. She had seen him in the area, but expected he wouldn't be captured easily because he was busy guarding his home until his family came back.
Sullivan also found Madison's brother, Miguel, in the area and returned him to his family. When she met Madison's owner, she brought a piece of clothing to the home in hopes of attracting Madison, and giving him the comfort of his family.
"He had stayed to protect what was left of his home, and NEVER gave up on his people!" Sullivan wrote of Madison on the Facebook post. 'I'm so happy I'm crying as I write this! He didn't give up through the storms or the fire! A LOOOOONG month it must have been for him!"
A Facebook commentor explained she'd also recently returned to her home and appreciated the efforts of animal rescue teams. "We were able to go up to our house in Paradise today, on our back porch there were empty cat food cans and trays for water.. we don't have cats," Jessica Mendes explained. "So it was really really wonderful to see that workers have been taking care of the animals that were left up there on a daily basis. And I'm more than happy and glad they used my porch as a dry place for them to feed and come to."
Sullivan explained she'd done this multiple times, and thanked Mendes for understanding the surprise food on her property.