Golden Retriever Swimming in Cow's Water Trough Backfires: 'Bail Out'
A golden retriever discovering why you shouldn't antagonize a cow is making TikTok users chuckle.
Three-year-old Walter was forced to dodge an angry mama cow, after he took a bath in her water trough.
In the clip shared by user Catherine Phillis (@walterthegoldenandco), Walter can be seen swimming in the plastic tub, while a cow nearby gets increasingly agitated.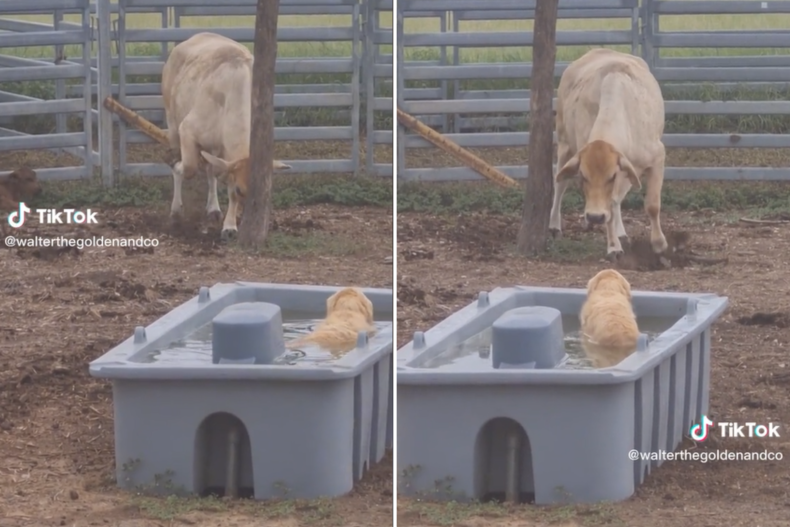 Suddenly, the cow charges, propelling Walter to jump out of the trough as he makes a run for it—with the disgruntled bovine close behind.
Nevertheless, the retriever seemed pretty pleased with himself, pulling a cheeky grin as he makes his escape.
Captioned: "When your Golden Retriever reckons he knows cows...," the funny footage has received 1.4 million views and more than 144,000 likes.
'He Was Seriously Pushing His Luck'
Walter lives with his owners Catherine and Scott Phillis on their cattle ranch in Central Queensland, Australia. He has been surrounded by animals from day one, and has been working with cows since he was a 10-week-old puppy.
"From the beginning he would ride around with us watching the collie dogs work cattle and we think he just assumed that one day that would be his job too," Catherine Phillis told Newsweek.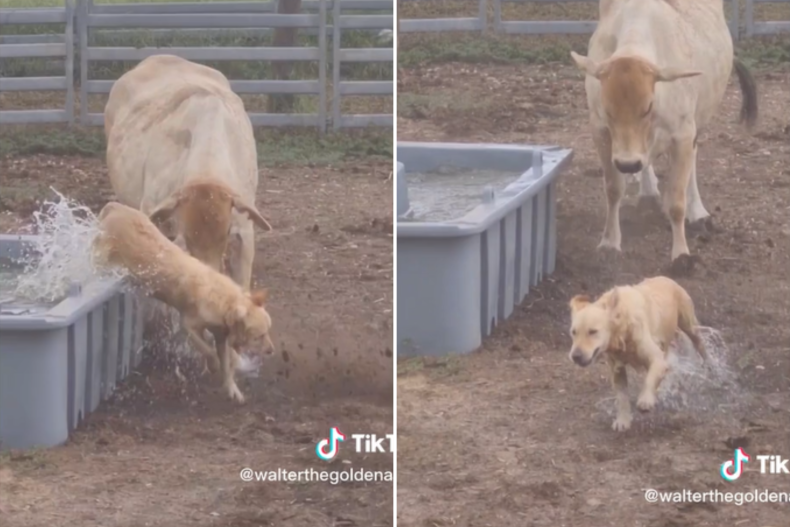 "As he grew bigger he started jumping out and running around with the work dogs. It got to the point where we realized he actually understood how to move cattle and where we needed him positioned," she said.
"It is quite a sight to see him galloping along with the cattle dogs but he takes it all very seriously."
Although he's a hard-working pooch, Walter has a mischievous streak that sometimes gets him into trouble.
"Being a golden, he has to stop to soak himself in every dam, trough and puddle that we pass," Phillis said.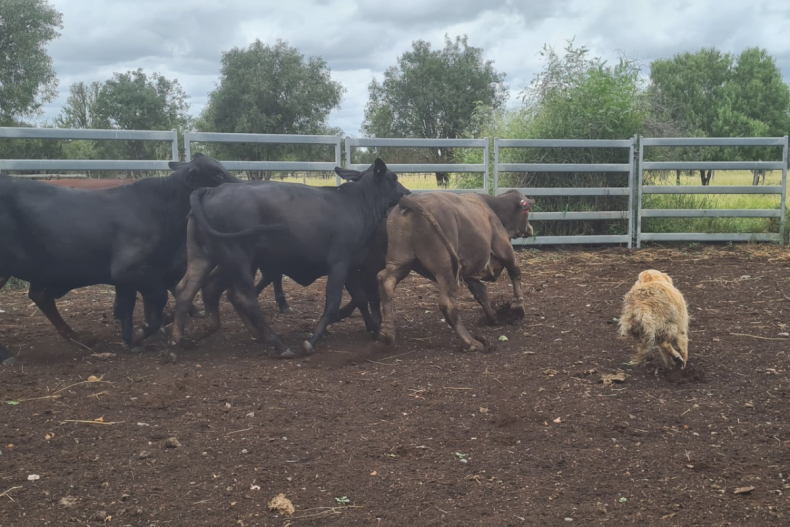 "He has also been distracted by the odd kangaroo which he loves to chase. Fortunately, the kangaroos are in no danger of him catching them," she said.
The TikTok video was filmed while Phillis and her employees were putting cattle through the yards. The cow in the footage has a young calf, and did not appreciate Walter's presence.
"We had put them in a separate yard to give them some space," she said.
"The trouble was it was a hot day and even though Wal is usually very obedient, he decided he was going in there for a dip."
Walter knew the cow wouldn't like him taking a dip in her water trough, as he's very good at reading the behavior of cattle.
"Even though she's usually very quiet, she displayed all of the behaviors of an agitated cow protecting her calf and he ignored every single one of them," Phillis said.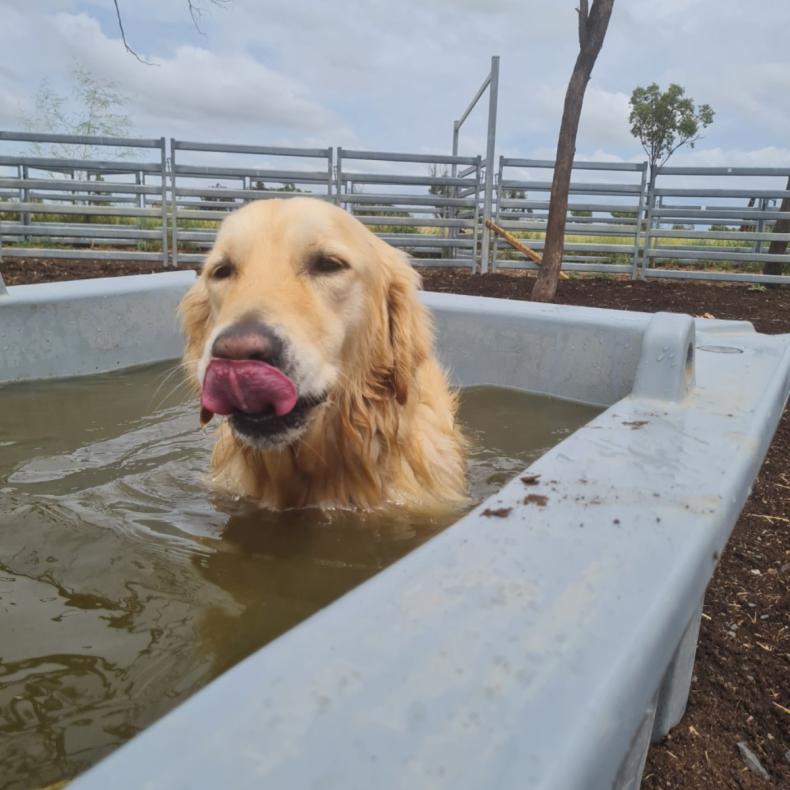 Sensing the cow's agitation, Phillis was about to move Walter out of the yard when the animal charged. Luckily, Walter decided to "bail out" of the situation.
"I think he realized that he was seriously pushing his luck," she said.
"He's no stranger to having to dodge cattle when he's working and he's surprisingly agile for such a big dog, but it was still lucky that she wasn't more determined to run him down."
Although Phillis felt like she was "having a heart attack" during the encounter, but Walter didn't seem too fazed.
"He thought it was all a great joke," she said. "Golden retrievers have the most amazing grin when they are feeling pleased with themselves.
"Everyone was absolutely fine, but in future, Wal is going to find his movements a lot more restricted for his safety and our nerves."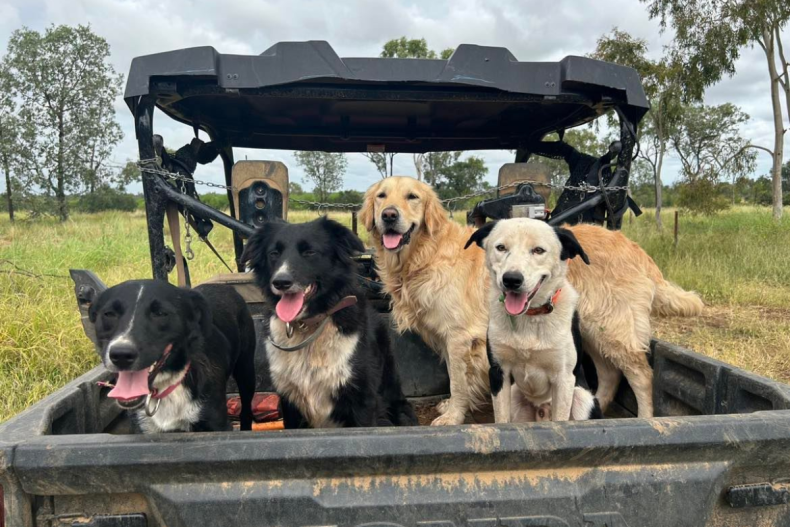 'Knew Exactly What He Was Doing'
TikTok users found the video hilarious, with SimonTheCat commenting: "He looked pretty happy with himself."
"I can't stop laughing. This dog has some nerves," said Bombon de Chocolate.
"Knew exactly what he was doing," wrote Stoney.
"He laughing as he leaves," said sianjames7.
"Perfect 'eff around and find out' scenario," joked CaveatCarrie.
"He knew something was wrong but waited until the last second," agreed Tely.
"Get that good Boi his own pool..." suggested MrsAngelaJolene.
While just me commented: "She's tired of having hair in her water."
Do you have funny and adorable videos or pictures of your pet you want to share? We want to see the best ones! Send them in to life@newsweek.com and they could appear on our site.