Man Shares Reality of Life With a Golden Retriever in Delightful Video
A video sharing what to expect when you own a Golden Retriever has delighted the internet and quite rightly gone viral.
Posted to TikTok on Monday, where it received 3.4 million views, and later shared to Twitter, the video was created by Johnathan Lower of Greenville, South Carolina, who runs the popular account aguyandagolden.
In the video, Lower uses a popular TikTok sound to create a video featuring his 3-year-old Golden Retriever Teddy. In the video, Teddy is seen giving no personal space, hanging out by the pool, shedding lots of hair, getting muddy, serving attitude, and always being down for shenanigans.
Lower told Newsweek: "Teddy is the best dog I've ever had, even his 'flaws' are acceptable and humorous. He's full of character and personality and always keeps me on my toes. I wanted to make a funny video that showed the humor in the 'cons' people usually talk about with Golden Retrievers but spin it in a positive way."
When it comes to loving this iconic breed, Lower isn't alone. According to the American Kennel Club (AKC), the Golden Retriever is the 3rd most popular dog breed in the U.S. Recognized by the AKC as a breed in 1925, they are great workers often known as guides for the blind, search and rescue dogs and support animals.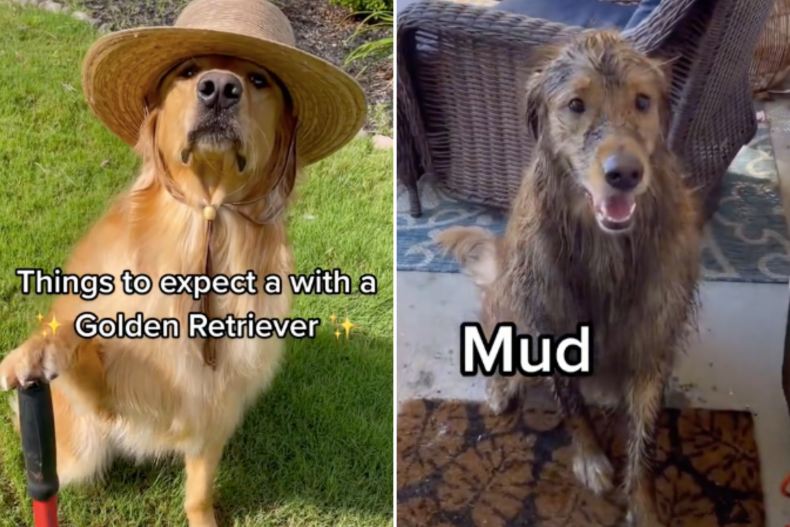 A sturdy and muscular dog with a famous lush coat of fur, the AKC notes that the much-loved Golden is outgoing, trustworthy, and eager to please.
The delightful video was enough to convince multiple viewers of the positives of owning the breed. One commenter said: "Every single thing I want in a dog," while another wrote: "That's it. I'm getting a third dog."
"Sounds like a deal, I want one," said another TikTok user.
Meanwhile, other Golden Retriever owners were relieved to learn that Teddy's antics matched up well with that of their own pups: "I thought mine was the only one who did all this," said one commenter.
"Can confirm," said another dog owner in the comments, while one TikTok user wrote: "I have a golden retriever, he is just like this."
With more than 4 million TikTok followers, Teddy's antics are adored by the internet as Lower shares everything from his very own dog bedroom to the pair helping out their local animal shelter with donations.
"We have actually only been on TikTok for about a little over a year now. We skyrocketed with our custom indoor dog house seen on our page, the world-famous 'Teddy Tuesday' series, and 'movie nights at Teddy's'. We have had many neat experiences and national tv appearances this last year and love to bring joy to people and make people smile," explained Lower: "We are also heavily involved in charity work so the large platform we are building helps us make a larger impact."
Do you have funny and adorable videos or pictures of your pet you want to share? We want to see the best ones! Send them in to life@newsweek.com and they could appear on our site.