Dogs are man's best friend, but it appears that one golden retriever in a viral video takes this relationship to the next level.
In a clip shared to TikTok by an account called Hdbrosriley we can see just how much a dog, whose name is Riley, is excited by his owner's arrival.
The footage is a video montage which shows the man walking up the garden path only for Riley to run and leap straight into his arms.
This happens on over four occasions, as the man outstretched his arms the doting animal flies though the air to be cradled by the dog owner.
Hdbrosriley captioned the adorable footage, which can we watched here, writing: "Wee!! #dogsoftiktok #goldenretriever #foryou #foryoupage."
There is also a slow motion video showing Riley doing the same action while wearing a long cape, as well as other costumes which shows this is a regular occurrence.
The TikToker then goes on to explain in the comments that "some of his jumps are more enthusiastic than others."
The clip, which was originally shared on January 19, 2021, garnered a whopping 27.4 million views and attracted 3.6 million likes.
However it has gone viral again, having been re-posted on December 11, 2021 where it surpassed a further 162,400 likes and 12,700 shares.
Additionally, it was then picked up by Instagram meme site Pubity on December 15 where it has been viewed by 12.1 million more accounts.
This infographic, provided by Statista, illustrates that golden retrievers are the fourth most popular dog breed in the U.S.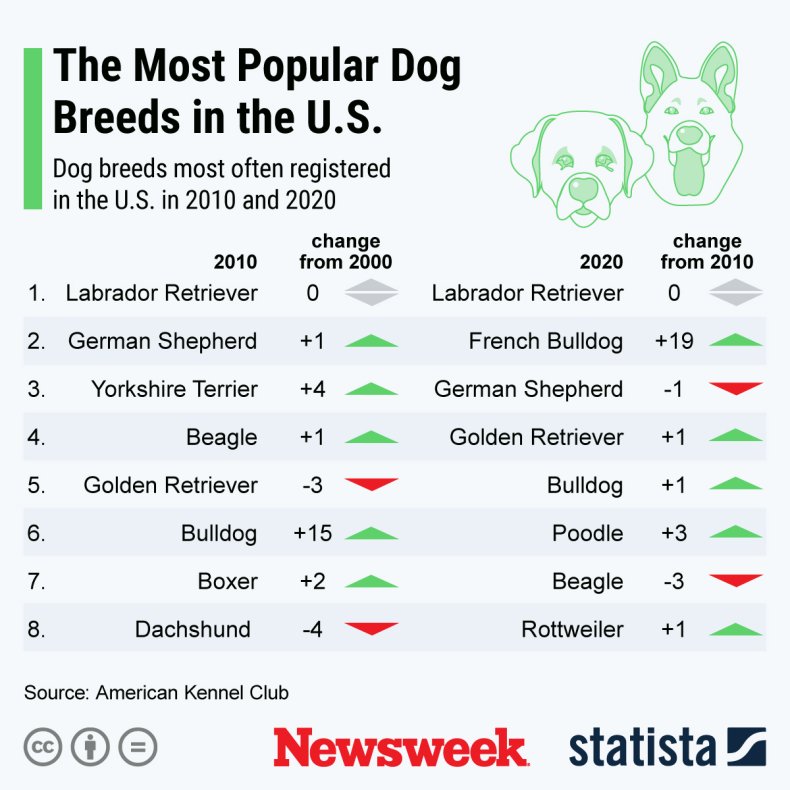 The_betamale admitted: "100 percent if you didn't catch this dog he would just fly away upwards."
Lovepreetbhangu842 shared: The dog has so much trust... the human should learn [shocked-face emoji]." Mztegn opined: "I just want this kind of love in my life!!"
Forcupcakesake2020 stated: "My dog does this then she gets so excited she pees everywhere [laughing-face emoji]."
Singh_vikramjit commented: "Unconditional Love of Dogs."
Many people also rushed to the comments section to share their opinions on the adorable video.
One social media user, Pernille Bannan, wrote: "Cuteee [heart-eyed emoji]." Another person, Jon-Henrik, added: "Its awesome how much a dog trust you."
0007shum typed: "The guy must be very loving," alongside a string of heart-eyed emoji.
Seidee Hernandez gushed: "Awww he's so cute," alongside a string of laughing-face emojis.
User8016775582518 opined: "A baby is always a baby."
Recently, another golden retriever went viral on TikTok, in a video capturing the sweet moment a dog befriended a window cleaner.
In the clip, which was shared online by an account called Pawbrey, we can see the fluffy pooch standing in the living room of an apartment as a man on a harness lowers himself into view to begin cleaning the glass.
The animal then excitedly barks and leaps up wagging her tail, before then collecting a fish-shaped toy to offer her new pal.
Newsweek have contacted Hdbrosriley for comment.