Joseph James DeAngelo Charged in Golden State Killer's First Murder in 1975
Joseph James DeAngelo, the alleged Golden State Killer, will be charged with first-degree murder in the 1975 death of Claude Snelling in Visalia, California, Visalia police and the Tulare County district attorney announced on August 13.
DeAngelo, 72, is accused of shooting Snelling to death after DeAngelo allegedly tried to kidnap Snelling's teenage daughter, Elizabeth Hupp. The then-16-year-old said she was dragged out of her bed in the middle of the night by a masked gunman.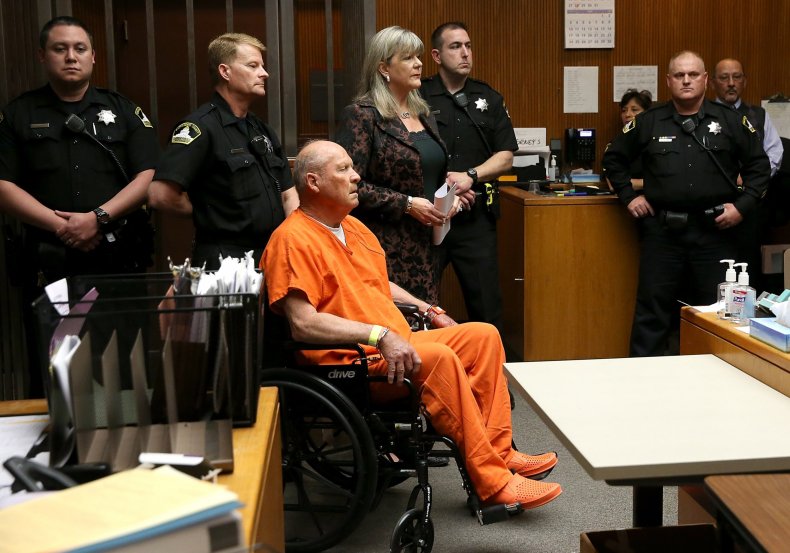 Hupp told KFSN that her father walked into the family's kitchen, saw her being kidnapped and ran outside. Snelling was shot twice as he raced after his daughter and her would-be abductor. He died on the way to the hospital, CBS News reported.
Tulare County District Attorney Tim Ward told CBS News that he believed 45-year-old Snelling was DeAngelo's first murder victim. "We're filing first-degree murder charges against Mr. DeAngelo, along with an allegation that he used a firearm in the commission of that murder," said Ward.
DeAngelo has not been linked by DNA to Snelling's murder. However, Visalia Police Chief Jason Salazar said there was evidence that DeAngelo was also the Visalia Ransacker. He was working as a police officer in Exeter, California—about 12 miles away—at the time of Snelling's murder.
The charges in Snelling's murder brings DeAngelo's alleged number of murder victims up to 13, the San Francisco Chronicle reported.
DeAngelo, who was arrested in April, is being held in a Sacramento County Jail. He is accused of committing a series of rapes and murders throughout California during the 1970s and 1980s. Known as the Golden State Killer and the East Area Rapist, DeAngelo is also believed to be behind an estimated 100 burglaries and attempted sexual assaults in Visalia.
Detectives managed to catch DeAngelo after uploading his DNA onto an open-source genealogy website called GEDmatch, according to the San Francisco Chronicle. The Golden State Killer's last known crime occurred in 1986.
This story has been updated with statements from law enforcement and Claude Snelling's daughter, as well as details of Joseph James DeAngelo's alleged crimes.