Golden State Killer: What We Know About the Former Cop Charged After 40 Year Man Hunt
An ex-policeman charged with murder in connection with a string of rapes and killings across California attributed to the "Golden State Killer" made a brief initial court appearance on Friday, sitting in a wheelchair and speaking in a hoarse voice.
Joseph James DeAngelo, 72, who was arrested this week at his home in the Sacramento suburb of Citrus Heights, was formally apprised of two of the eight murder counts against him and ordered back to court on May 14.
Sacramento County Sheriff Scott Jones said DeAngelo is on suicide watch in the psychiatric ward of a county jail. If convicted, he faces the death penalty.
Former police officer and Vietnam veteran
DeAngelo graduated from basic training at the Naval Training Center in San Diego, California in December 1964, according to Navy records cited by CNN. He served aboard the USS Canberra, a guided missile cruiser, during the Vietnam War.
From 1973, he served as a police officer in the small towns of Exeter and Auburn. He was fired six years later for stealing a can of dog repellent and a hammer from a store, police said.
Police suspected that the killer's familiarity with crime scenes indicated law enforcement training.
"He was extremely wily," said Monica Miller, the head of the Sacramento F.B.I. field office from 2013 to 2017.
"He was smarter than the average person when it came to tactics or techniques," Miller said.
Supermarket chain Save Mart said DeAngleo worked as a mechanic at the chain's distribution center in Roseville, a suburb of Sacramento, retiring in 2017.
Neighbors described him as a recluse.
"He's not like an overly creepy person, but he definitely, you know, kept to himself and kind of was ... a little different," Kevin Tapia told local media. "My sister reminded me that when we were kids and we walked by the fence, he would yell at us because he thought we were looking in his yard. But for the most part, the last decade, he's kept to himself."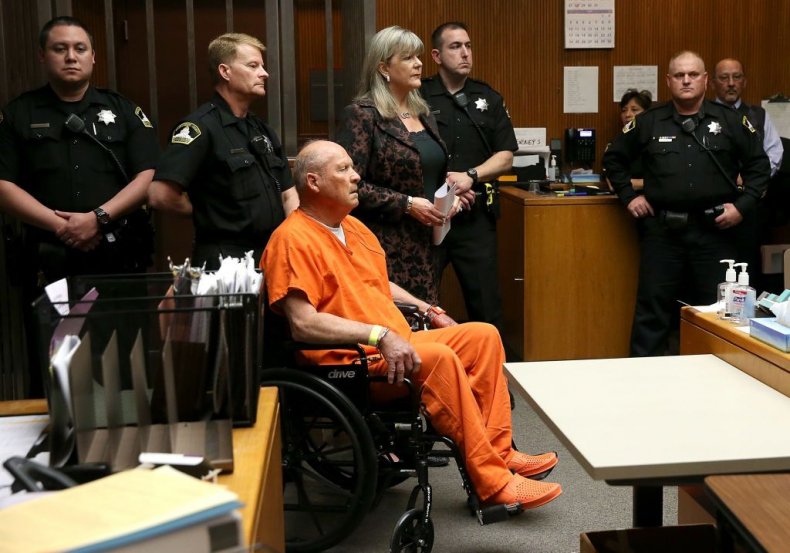 What is he accused of?
The divorced father of three has so far been charged with eight counts of murder blamed on the Golden State Killer. Also known as the East Area Rapist, Original Night Stalker, and the Diamond Knot Killer, the criminal terrorized communities in central, northern and southern California in the early 1970s and mid-1980s.
He is suspected in a dozen slayings as well as 45 rapes and more than 120 burglaries in 10 California counties, a decade-long crime spree considered one of the most prolific in state history.
Why was he arrested?
Investigators finally cracked the case, which has long haunted victims' families and law enforcement, by comparing crime scene DNA to genetic information on a commercial genealogy website that consumers use to explore their ancestry.
Detectives followed the family trees of close matches, seeking people who might be the killer. The process produced a promising lead a week ago, when the DNA of a relative pointed to DeAngelo based on his age and the fact that he lived near where the attacks occurred.
DeAngelo was identified as a suspect about two months after the case gained renewed attention in the book I'll Be Gone in the Dark, by journalist Michelle McNamara, who died in 2016.
Investigators found DeAngelo, placed him under surveillance and obtained his DNA from a discarded object, finding a match to the crime scene samples.
According to court records obtained by the Associated Press, DNA evidence from the website led police to the wrong suspect and officers swabbed a 73-year old man in a nursing home.
Critics have warned that the use of DNA from the database could violate privacy laws.