Golden State Warriors, Fergie Squash Beef with Viral National Anthem 'Remix Challenge'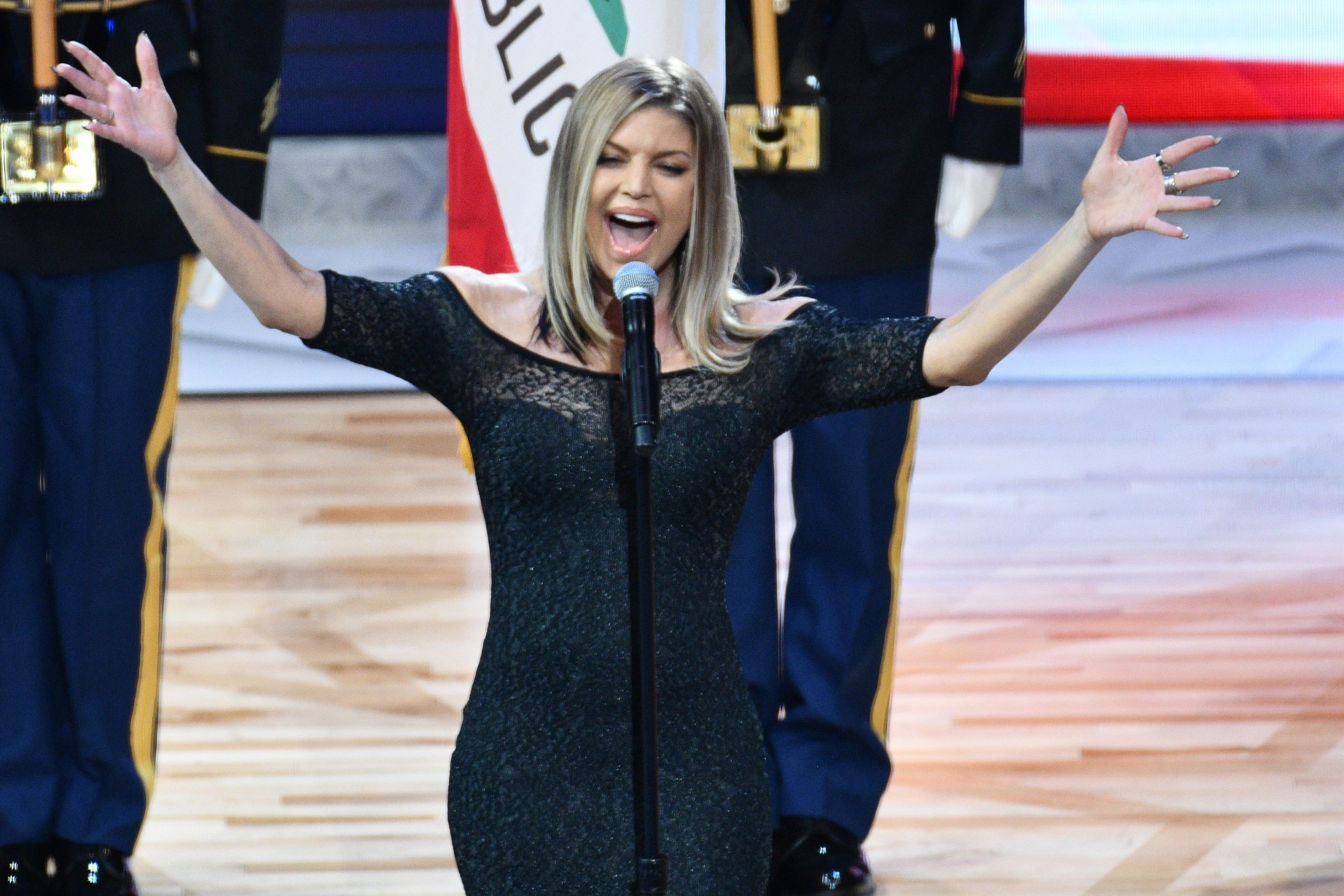 Singer Fergie has apparently squashed a recent, short-lived beef with several Golden State Warriors players which stemmed from her notorious rendition of the national anthem during the NBA All-Star Game last season.
However, there is one positive to come out of the incident...a new viral sensation known as the "Fergie National Anthem Remix Challenge."
We'll explain.
During an interview with FS1's Kristine Leahy last Friday, Fergie's ex-husband, actor Josh Duhamel, called out Warriors forward Draymond Green for laughing on camera during the singer's rendition of the anthem last February, which ended up going viral and became the center of numerous jokes.
"I thought he was kind of a p***k," Duhamel said of Green's reaction. "If he would have been a real man, he would have at least called her and said, 'Listen, I'm sorry that I caused all this.' That's what a real man would have done, in my opinion."
It's worth noting that Green was among several people captured on camera reacting to Fergie's rendition of the anthem, including Jimmy Kimmel, Chance the Rapper, LeBron James and teammate Stephen Curry. However, he's the only one mentioned critically by Duhamel.
Hours later, Green and his Warriors teammates responded to the actor's criticism by dancing to DJ Suede the Remix God's remixed version of Fergie's national anthem performance in the visiting locker room at Madison Square Garden following a dominant win over the New York Knicks.
On Saturday, Duhamel seemed to be a good sport about the situation, tweeting "Note to self: Think twice before you call out the champs" below a gif of Warriors shooting guard Klay Thompson.
Fergie also showed that there were no hard feelings by tweeting Green and the Warriors "Happy Saturday," as well as acknowledging the new viral hashtag and claimed she "knew I wanted it to be special."
Several other notable celebrities have since participated in the viral challenge including Snoop Dogg.
As for the song's creator, DJ Suede the Remix God, he's relishing in its sudden success, although he doesn't seem to understand the concept of how it's become a "challenge."
"You really have to ask Steph Curry," he told GQ. "He got it to where it's at now. But I'd say that it's just to do whatever you want to do it, man. I see a lot of people doing dances—I think that's really what it's about."