Golden State Warriors Minority Owner Shunned After Pushing Kyle Lowry During Game 3
The NBA has barred Mark Stevens, a minority owner of the Golden State Warriors, from attending games for one year after he pushed Toronto Raptors guard Kyle Lowry during Game 3 of the NBA Finals on Wednesday night.
Stevens was first identified as a part-owner of the Oakland-based team in an Axios report Thursday morning. The Warriors subsequently confirmed in a statement that Stevens was involved in the altercation.
"Mr. Stevens' behavior last night did not reflect the high standards that we hope to exemplify as an organization," wrote the team. "We're extremely disappointed in his actions and, along with Mr. Stevens, offer our sincere apology to Kyle Lowry and the Toronto Raptors organization for this unfortunate misconduct. There is no place for such interaction between fans—or anyone—and players at an NBA game."
The NBA announced later on Thursday that Stevens will be banned from attending games for one year and fined $500,000 for pushing Lowry.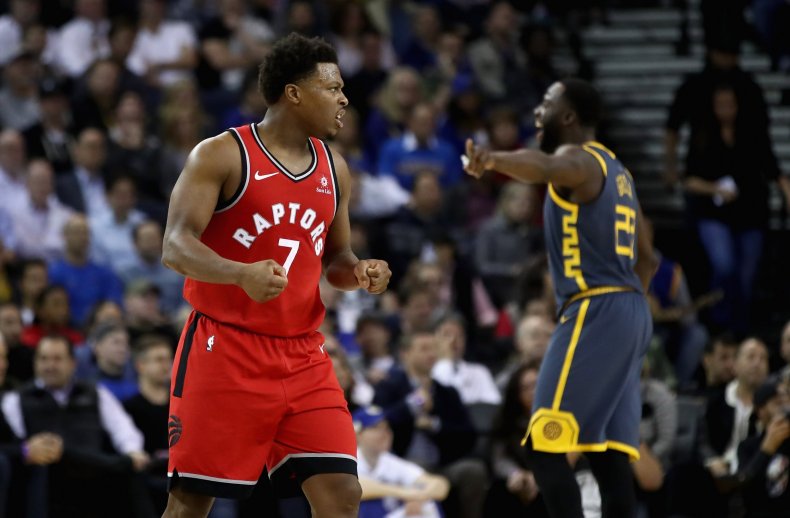 In a conversation with Scott Van Pelt on SportsCenter Wednesday night, Lowry said: "[Stevens] reached over and put his hands on me for no reason. Then he said a couple of, you know, some vulgar words to me and repeated them, repeatedly ... Luckily, you know, they threw him out ... I can't do nothing to protect myself. But you know, the league does a good job and hopefully they ban him from all NBA games ever."
On Thursday morning, Toronto Star sports columnist Bruce Arthur said on Twitter that a source "claims Stevens told Lowry, several times, 'Go f*** yourself" after Lowry went into the first row of seats chasing a loose ball.
Stevens joined the Warriors ownership team in August 2013, when Vivek Ranadivé bought a stake in the Sacramento Kings and had to divest his share of the Warriors. He is the managing partner at venture capital firm S-Cubed Capital. Stevens made his name in the tech industry before that as a partner at venture firm Sequoia Capital, where—according to his official bio—he steered a number of startups that were subsequently sold to media and tech giants like AOL, IBM, Broadcom and eBay.
Lakers player LeBron James chimed in on the situation Thursday, calling for stronger action by the Warriors in a pair of tweets. In the first, he agreed with journalist Nathaniel Friedman that Lowry would be arrested if the Raptors star had gone to Stevens' workplace and shoved him.
In the other, James replied to Rachel Nichols (of ESPN's The Jump)'s reposting of the Warriors statement and said that the statement "still ain't enough! They did exactly what they had to do. Get in front of it before anyone else and plus there's only 4 games left(2 max in GS)."
While Stevens has ultimately been the one receiving the brunt of criticism for the shoving incident, some voiced a separate concern about the way media outlets initially portrayed the brief confrontation. A number of websites had used a photograph of Lowry leaning in toward Stevens while being held back to illustrate their early stories of the event.
Daily Beast editor Marlow Stern expressed on Twitter that Axios's use of "a photo of the black dude pointing angrily at the white co-owner of the team after the white dude shoved him is a choice, and a [very] bad one." Stern questioned why editors had elected to use that photo when there were other images from the game that clearly showed Lowry being shoved.