California College Counselor Blames 'Displacement Of European-Americans' For Racist Video Rant
Video of a California college counselor telling a couple to "go back to your home country" is being shared widely on social media.
The now-viral video rant was first posted to Facebook on Thursday by Long Beach, California resident Tony Kao. The counselor in the video was soon identified by fellow Facebook users as Tarin Olson, a counselor at Golden West College in Huntington Beach, California.
The video was recorded on Kao's phone last week as he, his wife and their infant son were walking through a residential area of Long Beach. The video opens with Olson asking, "Oh, you're going to take my photo now? Wow, you're disgusting," as she briskly begins walking away from the couple.
"I want you to tell everybody why you told us to go back to our country," Kao is heard asking. "Not when your wife is photographing," Olson responds.
"It's unbelievable at this time and stage, when we're born and raised in the United States, and you told me to go back to our country?" Kao told Olson. "I never voted for you!" she shoots back, as the video ends.
It's unclear what was said to ignite the confrontation, given that the video recording only appears to show the latter part of the argument. Olson said this truncated version of the incident has "twisted" her words to support Kao's side of the argument.
"I feel my perspective will be twisted if discussing the skewed video which cut out part of the incident," Olson responded to CBS Los Angeles Sunday. If you would like to have a full normal interview about the displacement of European-Americans then I gladly am available to enlighten the public."
Olson's comments in the video and her reaction to CBS LA was soon discovered by her employer, Golden West College, which responded to the incident in a Sunday Facebook post.
"It has recently come to our attention that there was a video posted on Facebook of a GWC faculty member making comments that the College does not condone or support. Golden West College believes in an inclusive and welcoming environment for all students," the school's official Facebook page posted Sunday.
Following the widespread sharing of the initial video post, Kao put up a second Facebook post update in which he lamented that racism is still rampant in 2018.
"First, I wanted to express our sadness of experiencing racism first-hand with our baby who was exposed to this at such a young age in public and in broad daylight," Kao wrote. "Second, we wanted to express our surprise that this type of racism can exist in Long Beach of all places."
Despite the video and Olson's reaction, Kao wrote Sunday that it was not his intention to get her career or employer involved in the situation. "[I had] NO intention of besmirching the offender's personal life or career." He added that the public should not encourage more hatred against her because, "there's enough of those feelings in this world."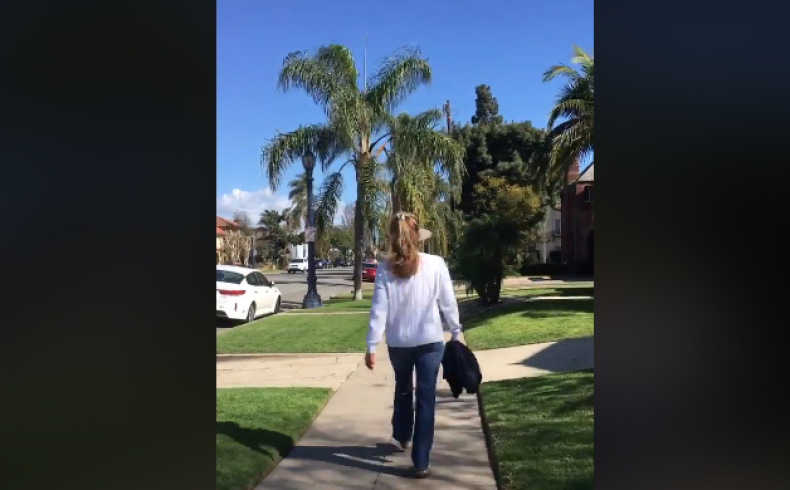 Update: Golden West College acknowledged the outpouring of comments they've received Monday and that they are continuing their internal investigation into the recorded incident. The school wrote on Facebook that they are saddened by the "painful and hurtful" comments made by Olson in the video.
"Golden West College takes all of the recent concerns and comments expressed by members of our community very seriously," the school posted to Facebook Monday evening. "The recent video posted online of a faculty member's comments in public are extremely disappointing and do not reflect the values or mission of the College.
"We are reviewing all internal policies and viable options for next actionable steps. We do not anticipate the faculty member in question to be on campus this week and because this is a personnel matter, additional details may be limited as further review continues," the school added.