Goldie the Dog Rescued From Large Pipe After Becoming Stuck
Rescuers in Colorado saved a dog named Goldie from a large pipe after the poor pooch became stuck.
The dog had reportedly become trapped because the pipe was slick and the pooch, a female, was either scared or could not work her way out, resulting in a rescuer having to go in after her headfirst.
Video shows a group of five rescuers pulling the dog from the large pipe, which they said was a culvert, with a sixth rescuer attached to a rope eventually emerging from the structure with the dog in tow.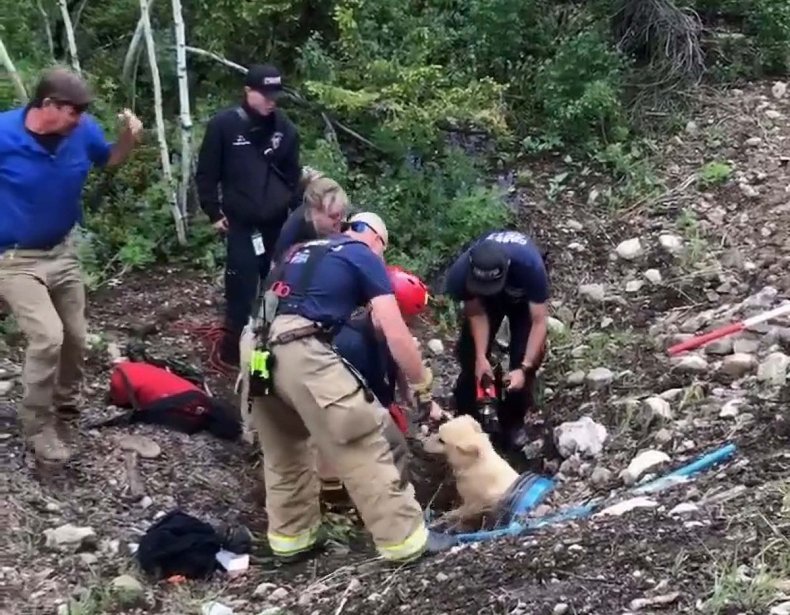 Cheers and sighs of relief can be heard from the dog's unnamed owner, who was filming, and from the rescuers as the dog is retrieved from its tight spot.
The footage was obtained from the Crested Butte Fire Protection District, which said on Sunday: "It's not always about rescuing a cat in the trees. This lucky dog made it out safely from the culvert thanks to our team and a tall, slender FF/EMT Liam Reily. Great job."
Crested Butte is a town in the Rocky Mountains in Colorado. Culverts are structures that are typically built to channel water past obstacles or to channel subterranean waterways.
Zenger News contacted the Crested Butte Fire Protection District for further comment, and it said: "This incident took place in Crested Butte, CO in the neighborhood of Skyland near Grant Lake. The rescue was called in at 10:53 hours on 06/19/22."
It added: "The owner called 911 when their dog (Goldie) entered the culvert and was unable to get her out. The culvert was slick and she was either scared and/or couldn't get grip to work her way out."
It also said that the "rescue itself was quick. Maybe 15 minutes."
It explained: "The culvert in which the dog was found spanned maybe 100 feet or so and was only 18-20 inches in diameter.
"Crews we able to shine lights down the culvert from both ends while FF/EMT Liam Reily snaked his way in with a rope tied around his ankles."
The fire department also said: "Goldie was approximately 50 - 60 feet in. He was able to grab hold of Goldie while the team pulled both of them out. Goldie and their owners were very thankful for the rescue and everyone went home happy."
Crested Butte, which is located in Colorado's Gunnison County, was once a coal-mining town. It has since been converted into a ski resort town and is a prized destination for avid mountain bikers.
This story was provided to Newsweek by Zenger News.