Goldman Sachs CEO Lloyd Blankfein Blasts Trump's Decision to Withdraw From Paris Climate Accord in His First Tweet Ever
In his first tweet ever, the chief executive of Goldman Sachs slammed President Donald Trump on Thursday for his decision to withdraw from the Paris climate accord.
"Today's decision is a setback for the environment and for the U.S.'s leadership position in the world. #ParisAgreement," Lloyd Blankfein wrote in a tweet that garnered over 2,500 retweets within two hours.
On Thursday, Trump announced the U.S. was withdrawing from the Paris agreement in a move that reversed a prior decision by his predecessor, President Barack Obama, who had hoped the agreement could help combat climate change.
Related: Trump's vow to replace climate accord won't work
A Goldman Sachs spokesman reportedly confirmed the Twitter handle, @lloydblankfein, belongs to the Goldman Sachs chief and he had sent it out.
Blankfein joined dozens of states and companies on Thursday trying to lower greenhouse gas emissions, according to The Washington Post. Among them: New York Governor Andrew Cuomo, who said on Thursday the state would invest $1.65 billion in renewable energy and energy efficiency. In the lead-up to Trump's decision, Fortune 500 companies such as Apple and Royal Dutch Shell had urged the president to remain within the accord, the newspaper reported.
Trump has multiple ties to Goldman Sachs, often considered the world's most powerful and influential bank. Secretary of the Treasury Steve Mnuchin was once the bank's chief information officer, and Trump senior adviser Steve Bannon has also worked there. Gary Cohn, the bank's former chief operating officer, heads the president's National Economic Council.
As Newsweek reported on Thursday, Bannon, Trump's nationalist adviser, advocated leaving the accord, while Cohn, along with other administration officials, wanted to remain a part of it.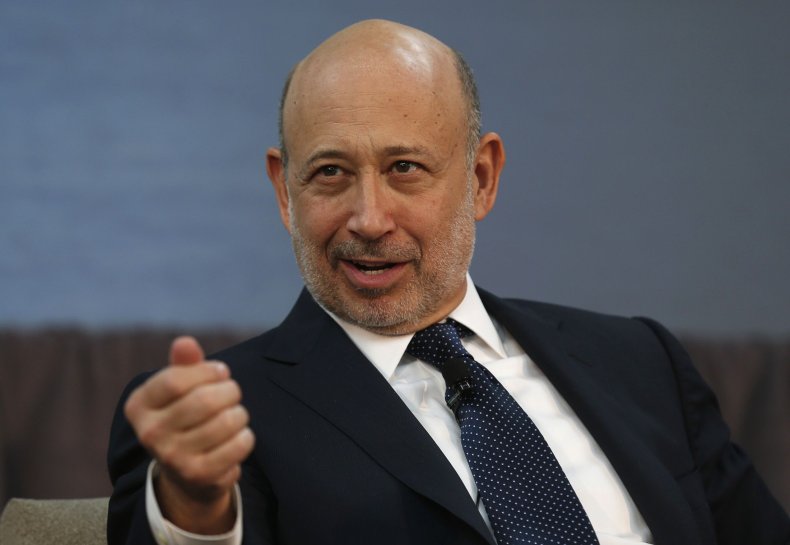 While Blankfein has sent just one tweet about climate change—or any other issue—Trump has tweeted many, many times about global warming, according to an exhaustive record compiled by Vox.
"It snowed over 4 inches this past weekend in New York City. It is still October. So much for Global Warming," the New York real estate mogul tweeted in November 2011.
About two years later, he hit a similar note: "They changed the name from 'global warming' to 'climate change' after the term global warming just wasn't working (it was too cold)!" he tweeted in March 2013.