Golf Courses Reopen in Massachusetts, Maryland and Vermont as Lockdowns Eases—Here's Where You Can Play
Golf is returning to certain states this month, with charity tournaments scheduled and courses set to open after being closed for weeks.
This week, Washington reopened its golf courses, with golf clubs allowing single players and pairs were allowed to make their way around the course at spaced out intervals, with only members of the same household allowed to play in groups of four.
Some states have allowed golf courses to remain open throughout the statewide stay-at-home orders or have since amended orders to allow them to open, including Alabama, Arizona, Colorado, Connecticut, Delaware, Florida, Georgia, Idaho, Indiana, Iowa, Kansas, Kentucky, Louisiana, Mississippi, Missouri, Nebraska, North Carolina, North Dakota, Ohio, Oklahoma, Oregon, South Carolina, South Dakota, Tennessee, Utah, Virginia, West Virginia, Wisconsin and Wyoming, according to The Golf News Net.
New York opened its courses on April 17 and Minnesota allowed its course to reopen on April 18. Illinois, Nevada, New Mexico, and Pennsylvania allowed gold courses to reopen on May 1 and the governor of Michigan amended the stay-at-home order to allow golf courses to open to walking players.
New Jersey reopened its golf courses on May 2, and Washington reopened its courses on May 5. Vermont and Maryland will open its courses today, May 7, and New Hampshire will open its courses on May 11. Massachusetts residents are expecting an announcement about their golf courses today.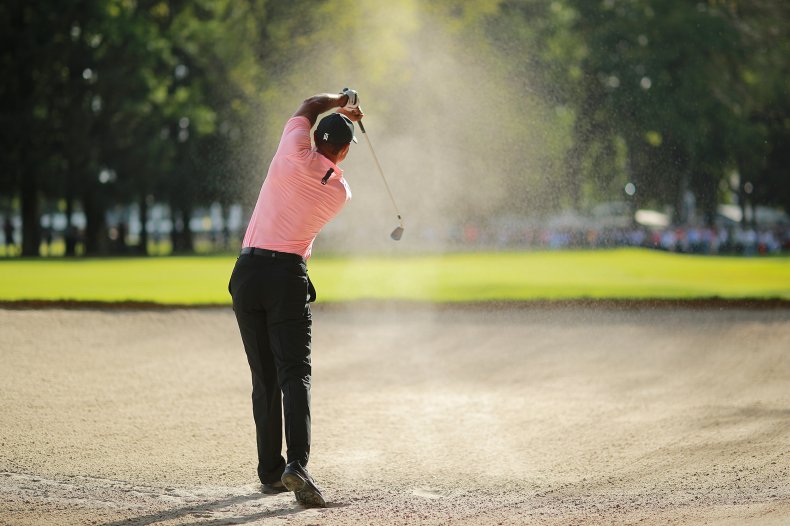 Massachusetts
Golfers in Massachusetts are expecting an announcement on the reopening of golf courses on Thursday. Governor Charlie Baker said in a press conference on Wednesday: "So we've been looking at, first of all, some folks came in and did talk to the advisory board.
"I think that was a good meeting and we've been talking to our colleagues around the Northeast region about what their policies and practices are, and incorporating that into our decision making as well."
But two Massachusetts golf clubs, Kettle Brook Golf Club in Paxton and Wachusett Country Club in West Boylston, have told members that they can start booking tee times for Friday, 10 days before the state is set to lift its restrictions on non-essential businesses.
Maryland
Maryland Governor Larry Hogan announced yesterday that the state would begin easing restrictions, including allowing outdoor activities like golf. As of 7 a.m. today, May 7, state parks and beaches have reopened for activities like boating, camping, fishing, and tennis.
The full list of outdoor activities now permitted are walking, hiking, running, biking, or individual and small group sports such as golfing, tennis, and similar activities, outdoor fitness instruction; recreational fishing, hunting, shooting, and archery; recreational boating; and horseback riding.
However, the governor has said that Maryland is not ready to enter phase one of its reopening plans.
Vermont
Low-contact sports, like golf courses, skate parks, and tennis courts, are allowed to reopen in Vermont from today, May 7, however, clubhouses, locker rooms, and lounges will remain closed. Groups of four will be allowed to play together, but the courses will only be open to Vermont residents. Tee times will be spaced out and golfers are encouraged to walk.
Governor Phil Scott said at a press conference yesterday: "I want you to enjoy your friends and family and enjoy Vermont, but it's important to do it safely. We need Vermonters to use common sense during these visits."
New Hampshire
New Hampshire golfers can return to the courses on May 11, though with new rules to help maintain social distancing. Firstly, golfers will make tee times online or over the phone and no gathering will be allowed. Golfers will have to handle their own bags and keep a six-feet distance from other players.
Golfers are encouraged to walk around the course but single-rider carts, which will be regularly sanitized, will also be available. The courses will open to New Hampshire residents and club members only.
Charity tournaments are also scheduled for later this month. A golf tournament between Tiger Woods and partner Peyton Manning and Phil Mickelson and partner Tom Brady is set to happen sometime mid to late May to benefit coronavirus relief efforts.
Another charity tournament will take place at 2 p.m. ET, on May 17, between Rory McIlroy, Dustin Johnson, Rickie Fowler, and Matthew Wolff, at Seminole Golf Club. Additionally, the PGA Tour is set to resume on June 11 at the Colonial in Texas.