Golfer—and UNICEF USA Supporter—Does U-turn on Playing in Saudi Arabia | Opinion
Golfers are coming under increasing pressure not to play in Saudi Arabia, as the country uses the game to sportswash away its terrible human rights abuses.
As part of reforms to boost tourism and entertainment, the desert kingdom plans to increase its number of golf courses from five to 13 by 2030, with help from great names of the past like Jack Nicklaus and Greg Norman.
Most players ignore the pleas of human rights campaigners not to go to Saudi Arabia, saying politics and sport should never mix.
But some big names from the present have stayed away, most notably Tiger Woods and Rory McIlroy who said "one hundred per cent, there's a morality to it."
One high profile boycotter in 2019 was the Englishman Paul Casey, who as well as being ranked No. 22 in the world, was also a USA supporter for the children's charity UNICEF.
At the time Saudi Arabia was carrying out a devastating bombing campaign in Yemen, which had turned the poor country into "the world's worst humanitarian disaster," according to the U.N.
"Signing a deal and being paid to be down there ... I would be a hypocrite if I did that," said Arizona-based Casey at the time. "Anyone who says sport isn't political, that's rubbish. Sport is very political.
"I'm glad I took a stance, more so if it highlighted the issues within the region, especially next door in Yemen."
So what made Casey change his mind this week and announce he was competing in the Saudi International golfing tournament alongside top American players like Dustin Johnson, Bryson DeChambeau, Phil Mickelson, Tony Finau and Patrick Reed?
After all, bombs are still falling on Yemen and, according to UNICEF's own website, nearly 100,000 children under five are at high risk of dying of acute malnutrition.
On the one hand it's hard to get too angry because at least he's not hiding behind the old "sports and politics don't mix" excuse.
But you also feel like saying: "I admire your principles. Why not just stick to them?"
One reason Casey gave for his U-turn is highly debatable.
He says that golfers, or any sports stars, who publicly stay away from Saudi Arabia are only serving to harden the resolve of the authorities there not to stop their human rights abuses.
Far better, he argues, is to visit the Saudis and talk to them. "Engagement and inclusion is really what it's all about," he claimed.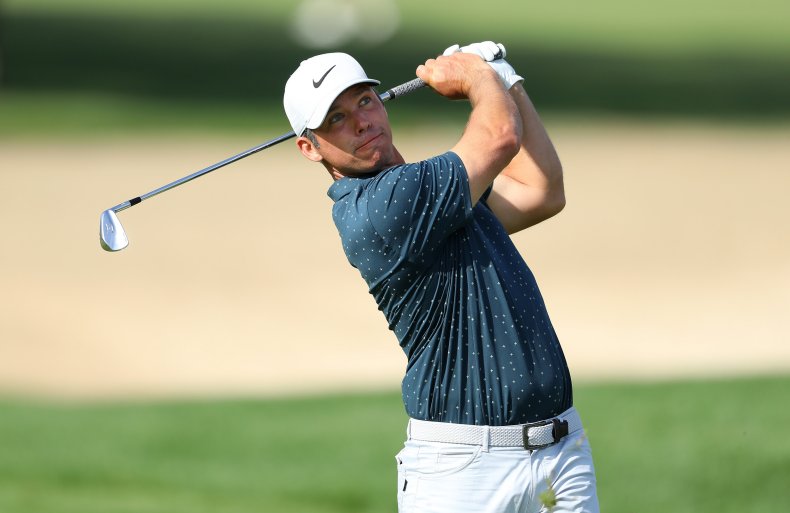 But this work behind the scenes is precisely what does not work, according to campaigners, who say the Saudis only sit up and take notice when people speak out in public.
"Private meetings, private calls, private advocacy, doesn't change anything. The only thing that changes is when you come at their reputations, which is what they most hope to improve," said Hiba Zayadin, a researcher of the Human Rights Watch's Middle East and North Africa Division.
Amnesty International used to urge sports stars and entertainers to boycott places like Saudi Arabia before realizing that this was not realistic: The lure of the Saudi riyal was too great and they would go anyway.
Instead, they asked those who went to speak out while they were there about human rights abuses, whether it was children being bombed in Yemen, women's rights activists being thrown in jail or dissident journalists being bumped off.
Kerry Moscogiuri, Amnesty International U.K.'s Campaigns Director said: "Paul Casey's decision is obviously a matter for him – what we'd say to Paul and other golfers is that you need to be aware of how your attendance will be used by the Saudi authorities to try and sportswash the country's appalling human rights record.
"Paul Casey and everyone involved in the European Tour – the top players, the management and the sponsors – ought to be prepared to speak out about human rights in Saudi Arabia."
We'll have to wait and see if Mr. Casey takes the Saudis to task while he's at the Al Murooj Golf Course this weekend, but I'm not holding my breath.
The other reason he gave for changing his decision from two years ago is also dubious.
"Things are not black and white. It's very much a grey area. There's not a country on the planet that meets every single rights of a child, not a single country on the planet. And so all you can hope for is that a country is on a path towards meeting as many of those as possible," he said.
But there is also no other country that is bombing its neighbor back to the Dark Ages like the Saudis are doing in Yemen.
For a UNICEF supporter to claim that Saudi Arabia is just like any other country when its five-year bombing campaign has left more than 200,000 dead, many of whom are children, just beggars belief.
Along with China and Russia, Saudi Arabia has an appalling human rights record and to deny this does Mr. Casey no credit.
Go and play your golf tournament, but please don't insult our intelligence by claiming otherwise. It's just weasel words.
Anthony Harwood is a former foreign editor of the Daily Mail.
The views expressed in this article are the writer's own.