Gonzaga, Baylor to Finally Meet This Season at NCAA Final Four 2021
March Madness has waited two Aprils to get here, but another national championship game is set. And it took madness to get there. After a blowout in one national semifinal, they needed overtime in the second game to determine the national championship.
The Monday matchup was widely expected, and it will be highly-anticipated, as both teams have been ranked Nos. 1 and 2 all season.
The Baylor Bears and Gonzaga Bulldogs will meet for all the marbles. The national championship game will be Monday night.
Baylor, who was the second-ranked team most of the season and recent winner of the South region, crushed old in-state foe Houston, 78-59, in a game that was more lopsided than the score indicated in the first national semifinal.
Gonzaga, the tournament's top-overall seed and No. 1 team in the West region, struggled to beat a feisty No. 11 UCLA team, 93-90, that was one of the last at-large teams selected to the tournament.
The UCLA Bruins had to win a First Four game over Michigan State just to make the field of 64 teams. UCLA then went on to beat BYU in the first round, Abilene Christian in the second round, Alabama in the Sweet 16 and then Michigan in the Elite 8.
Gonzaga and UCLA fought a battle that was tighter than the 11-point spread. Once they went to overtime, Gonzaga took a 90-85 lead, but the Bulldogs hit a buzzer-beating 3-pointer to win.
Gonzaga will be making its second national championship appearance, with its only other appearance in 2017 against North Carolina. That season was Gonzaga's only other Final Four appearance as well.
Baylor is making its first national championship game appearance since 1948, when they lost to Adolph Rupp's Kentucky team, 58-42. Baylor last made the Final Four two years later and the Bears ended that 71-year drought last weekend.
Gonzaga and Baylor will meet Monday, April 5, at 9:20 p.m. on CBS.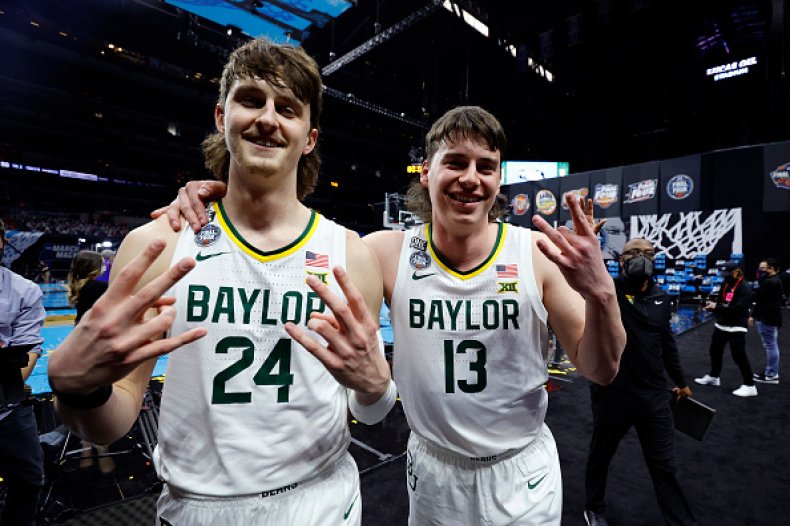 The two teams were scheduled to play earlier this season, but COVID-19 protocols eventually cancelled the game just a few hours before their scheduled tipoff on December 5, 2020. The teams had been ranked No. 1 (Gonzaga) and No. 2 (Baylor) for most of the regular season, and they entered the tournament as the two top seeds.
Gonzaga has gone 31-0 this season, and Saturday night's win was only their second single-digit win. The other was an 87-82 win over win over West Virginia in regular season. The Bulldogs were the West Coast Conference regular season and tournament champions.
Baylor is 27-2 on the season, and the Bears were the Big 12 regular-season champions.