Gonzaga, Baylor and Michigan Headline Elite 8 in 2021 NCAA Men's Tournament
The field of 68 teams in the 2021 NCAA Men's Basketball Tournament has whittled down to eight, and four heavyweights remain in the hunt along with two longshot Cinderellas.
The Sweet 16 wrapped up Sunday night and the Elite 8 begins Monday evening. All games for the remainder of the tournament will be played at Lucas Oil Stadium in Indianapolis, Indiana.
Three top seeds remain in the hunt for a national championship. Gonzaga, Baylor and Michigan were the top overall seeds in the tournament, and each are in the Elite 8. All three teams looked impressive in their Sweet 16 wins. The other top regional seed was Illinois, which was bounced from the tournament in the second round by in-state rival Loyola Chicago.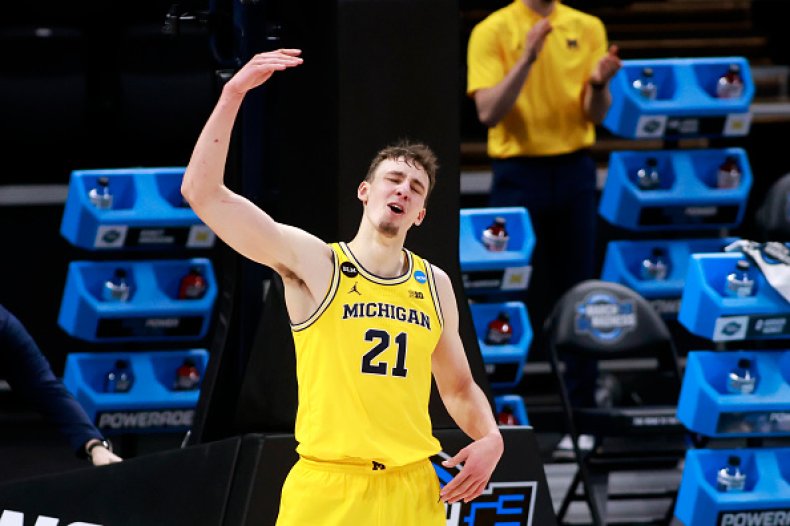 Arkansas, the No. 3 seed in the South Region, used a big second-half comeback to squeak by No. 15 Oral Roberts on Saturday night.
Houston, the No. 2 seed in the Midwest Region, convincingly won over No. 11 Syracuse, setting the Cougars up against surprising Oregon State, which is a 12 seed, and the lowest-seeded team remaining. The Oregon State Beavers, which needed to sweep through the Pac-12 tournament just to qualify for the NCAA tournament, has beaten No. 5 seed Tennessee, No. 4 Oklahoma State and No. 8 Loyola.
UCLA was one of the last teams selected at-large into the tournament, and they had to play in the First Four set to just make the first round. The Bruins defeated Michigan State in the First Four to get the No. 11 seed in the East Region, and then they took down No. 6 BYU and No. 14 Abilene Christian to get to the Sweet 16, where they beat to No. 2 Alabama in an overtime thriller.
USC knocked off Oregon in the final Sweet 16 game, which gives the Pac-12 three teams in the Elite 8 (Oregon State and USC).
Here is the schedule for the next two nights of regional finals (all times ET):
Monday, March 29
Midwest Region
No. 12 Oregon State vs No. 2 Houston
7:15 p.m., CBS
South Region
No. 3 Arkansas vs No. 1 Baylor
9:57 p.m., CBS
Tuesday, March 30
West Region
No. 6 USC vs No. 1 Gonzaga
7:15 p.m., TBS
East Region
No. 11 UCLA vs No. No. 1 Michigan
9:57 p.m., TBS
All NCAA men's tournament games this season have been played entirely in the state of Indiana, with the vast majority of them in Indianapolis. The women's tournament is being played entirely in the greater San Antonio area. The NCAA created these bubble scenarios as the COVID-19 global pandemic continues. Last year's tournaments were cancelled because of the pandemic.