Gonzaga Can Pull Off a Rarity in Upcoming NCAA Basketball Tournament
The Gonzaga men's basketball team has a chance to do something that hasn't been accomplished in the last 45 years. Should the Bulldogs win their next eight games, they would become the first men's college team since 1976 to go undefeated through an entire season, including the regular season, conference tournament and NCAA tournament.
Then again, it's March, and there could be lots of madness.
Gonzaga (24-0) will play Saint Mary's in the West Coast Conference semifinal tournament Monday night at Orleans Arena in Las Vegas. The winner advances to Tuesday's conference championship to face the winner of Pepperdine and BYU in the other WCC semifinal on Monday.
Selection Sunday is one week from today on March 14, and the Bulldogs will undoubtedly be the No. 1 overall seed if they win the WCC tournament. Regardless, they'll still be a No. 1 regional seed along with Baylor and probably Illinois and Michigan.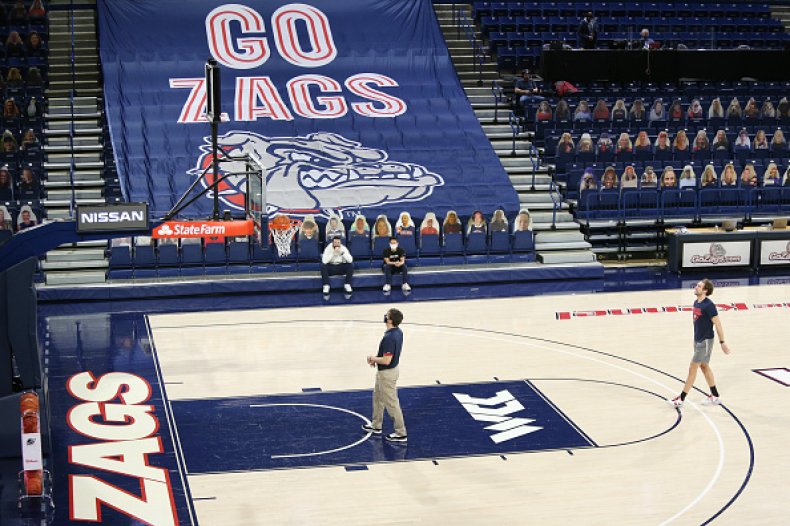 Gonzaga is the only undefeated team remaining, and they would become the 20th team to ever enter the NCAA tournament with an unblemished record. It's been six years since the Kentucky Wildcats went unscathed (38-0) all the way to the Final Four, where they lost to the Wisconsin Badgers in Indianapolis.
In 1991, the UNLV Runnin' Rebels took a 34-0 record into the Final Four, where they lost to the Duke Blue Devils. That game was also in Indianapolis, where this year's Final Four will be played. The entire 2021 tournament will be played in Indiana, with the bulk of games in the metro Indianapolis area, because of COVID-19 protocols.
The Indiana Hoosiers are the last team to go an entire season and end with a national championship and perfect record. They weren't the only undefeated team in the Final Four that season, though. Rutgers went 31-0 before getting bounced by Michigan in the national semifinal. Indiana then had a huge second half in the championship game to oust their Big Ten foe.
Indiana was the last team to go undefeated, and only the seventh to do it. San Francisco was the first when the Bill Russell-led Dons went 29-0 to cap a perfect season in 1956. The next year, North Carolina went undefeated, beating the Wilt Chamberlain-led Kansas Jayhawks in the 1957 championship.
Here are the only NCAA men's teams to win an undefeated Division I basketball national championship.
1956 — University of San Francisco
1957 — University of North Carolina
1964 — UCLA
1967 — UCLA
1972 — UCLA
1973 — UCLA
1976 — Indiana University
Wichita State went 35-0 in 2014 before falling to Kentucky in the second round.
The NCAA tournament 2021 begins March18 with the First Four, and the first round begins the next day, March 19.