'The Good Doctor': Richard Schiff Speaks After Coronavirus Hospitalization
Richard Schiff, the actor best known for The West Wing who is currently playing Dr. Aaron Glassman in The Good Doctor, has had a medical scare of his own.
After he and wife Sheila Kelley (who also plays his wife on The Good Doctor) contracted COVID-19 on Election Day (November 3), the actor has revealed that he is being treated in hospital for the coronavirus.
In a November 10 post, the actor tweeted: "On Election Day I tested positive for Covid-19. This has been the most bizarre week of our lives. @thesheilakelley is also positive. This is tough. We are determined to find a way to health again. We root for everyone out there who are struggling with this thing. Love from here."
This was followed by a November 13 from Kelley reading: "Covid update. Richard is definitely slammed a bit harder than me or @schiffboat Gus [Schiff and Kelley's son] and I are having a better day than yesterday. @Richard_Schiff had a better day yesterday. Please send lots of prayers."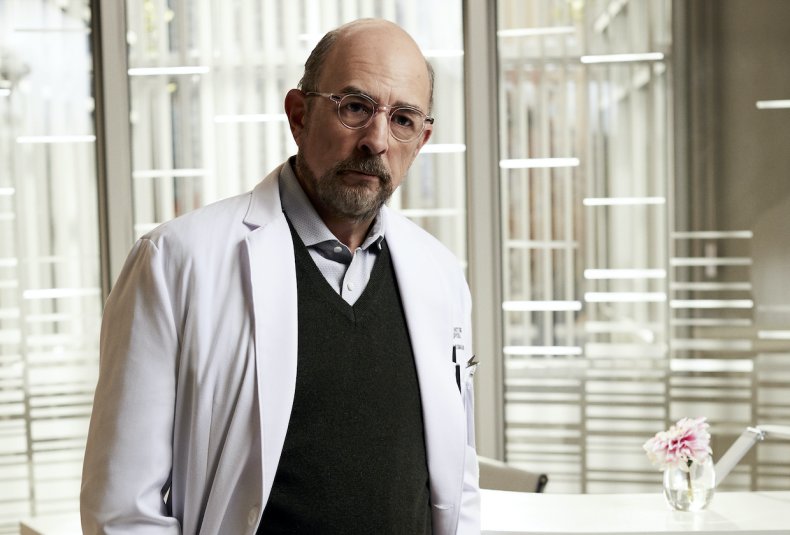 Schiff followed this up with a tweet on November 16 which said: "Covid update. Thank you all for so much love and support. You're making it so much easier for @thesheilakelley and me.
"I am in the hospital on Remdesivir, O2 and steroids showing some improvement every day. Sheila is home and doing better but still fairly ill. Love you all."
That same day, Kelley wrote on Instagram: "The last 72 hours have been tough. LOML [love of my life] @therichardschiff is now in the hospital on oxygen and remdesivir. Thank you all of you for the prayers and love. We feel them. He's doing better. Getting stronger.
"My son and I are still riding this strange covid coaster of up and then down and all around."
Later in the post, she added: "Where did we catch it? I don't know. Could've been the gym. Could've been take out. It's impossible to know."
One place it seems they did not catch the virus, however, was the set of The Good Doctor. Per Deadline, the show will remain shooting, with the production schedule adjusted to film around the two absences.
Other TV shows have not been so lucky. Netflix's Dear White People was the latest series to shut down after multiple COVID tests came back positive. Other shows that have also had to suspend production in recent months are ABC prison drama For Life and The CW's Charmed.
At the start of the season, the ABC medical drama began with a coronavirus plotline that saw Schiff's Dr. Aaron Glassman shielding at home after his character's cancer scare in the previous season.
The Good Doctor Season 4 airs Mondays at 10 p.m. ET / 9 p.m. CT on ABC.