'The Good Doctor' Season 4: Why Dr. Melendez Was Killed Off
The Good Doctor Season 4's first episode on ABC saw the cast fairly busy with the COVID-19 pandemic, but that does not mean the events of the last season finale have been forgotten. In that episode, Dr. Neil Melendez (played by Nicholas Gonzalez) succumbed to injury after a massive earthquake hit San Jose, and the Season 4 premiere saw Dr. Claire Browne (Antonia Thomas) and Dr. Audrey Lim (Christina Chang) continuing to mourn his loss.
After the Season 3 finale, The Good Doctor creator David Shore revealed to Deadline exactly why it was that Melendez that ended up being the victim of the earthquake. He said: "None of it is personal. You know, Nick was fantastic, and there's nothing I can say to you that will make you go, 'oh, yeah. Okay. It had to be that way.'
"We wanted to lose a character that we would feel something about, and feel pain about, and certainly, he's a character that so many of them have been in touch with. Lim had a relationship with him; Claire was starting a relationship with him; Shaun [Freddie Highmore] obviously had his thing with him, although their paths don't really cross in the finale. I think that would have been largely true for any of our characters, but it's particularly true for him."
Gonzalez, meanwhile, said of his exit from the show to TVLine: "It was a creative decision [that] just kind of came at a good time, you know? There's a lot about this job that I loved and was honored to do, and a lot of that came out of the family that we created behind the scenes. But there also comes a time when you feel it's time to move on, and I feel like I'm leaving Good Doctor at a really great place."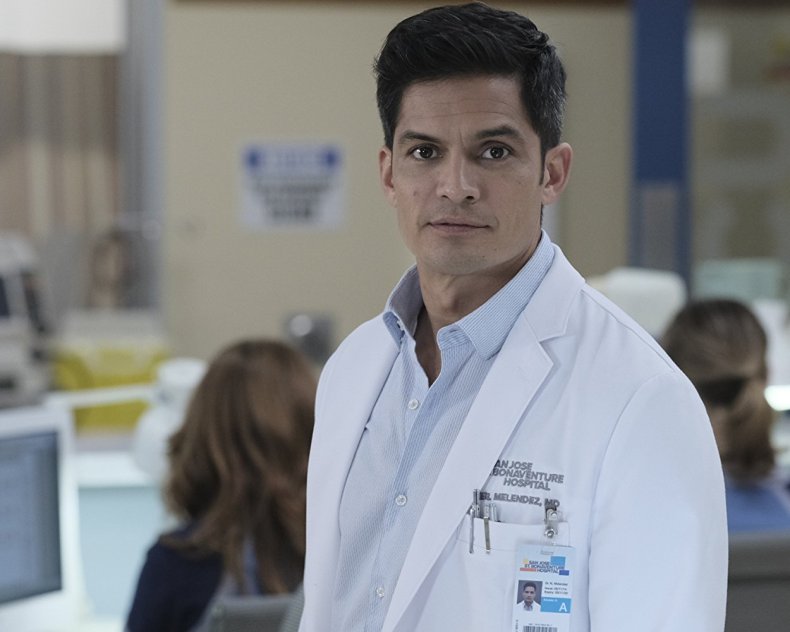 In the same interview, he later added, "it's been a joy to do the show, but at the same time, as an artist, you feel like you're just raring to get out there and take on the next challenge."
WARNING: The remainder of this article contains spoilers for The Good Doctor Season 4, Episode 1
Though Gonzelez will not be part of the main cast of Season 4, in Episode 1, "Frontline Part 1," he made a surprise appearance.
After Claire went to sort through the belongings of COVID patients, she heard Melendez's voice telling her things will be OK, before turning around and seeing him standing there.
Though he is only appearing as a figment of Claire's imagination, it has not been ruled out that he could return in the future in times of stress for the doctor, just as Shaun's brother sometimes appears to him.
Shore said of bringing the character back in a TVLine interview: "Claire's storyline is very much about trying to bring solace to people who have lost somebody [and] doing what you can do. Melendez is one those people [for Claire], more so than anybody else in our hospital at that moment, given the way we ended last season.
"Liz Friedman, who co-wrote the episode with me, called me up one day and said, 'I think we should see Melendez,' and I went, 'That's a good idea.' We've done this before, obviously, with Shaun and his brother, and it seemed like an interesting way for this [grief] to manifest."
Asked about how willing Gonzalez was to return, Shore said: "He was immediately on board. He may have been surprised that it was this soon, but he didn't hesitate. It was wonderful."
The Good Doctor Season 4 airs Mondays at 10 p.m. ET / 9 p.m. CT on ABC.