Good Friday Live Stream 2018: Watch Pope Francis's Service at St. Peter's Square
Good Friday, a day of fasting and penance in the Christian faith, commemorates the crucifixion of Jesus Christ. The holiday, which lands on March 30 this year, is celebrated on the Friday right before Easter Sunday.
For Christians, Good Friday marks the day Jesus was crucified and died at Calvary. According to the Bible, Jesus was betrayed by his follower Judas and later sentenced to death. Christians believe that the son of God died on this day for their sins.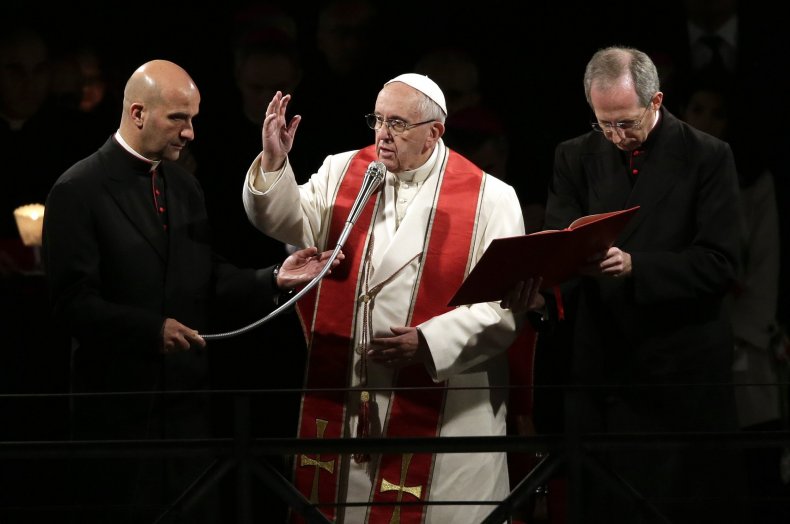 Good Friday also marks the start of the Easter weekend. The Sunday following Good Friday, known as Easter Sunday, marks Jesus' resurrection. The day is not typically a day of celebration, but rather a day of prayer and fasting.
Catholics observing Good Friday are also required to forgo eating meat on Fridays during Lent, including Good Friday. According to the Roman Catholic Church, Catholics ages 18 to 59 should fast on Ash Wednesday and Good Friday.
In a homily on February 2015, Pope Francis noted that Lent was not just about "not eating meat on Fridays" but instead said Catholics should focus on making sure they focus on treating others well.
Pope Francis is expected to give the Liturgical Celebration of the Lord's Passion at 5 p.m. CEST (11 a.m. ET).
The head of the Catholic Church will then travel to the Colosseum in Rome to officiate at the Via Crucis, or the Way of the Cross. The Vatican said the pope will "offer a reflection at the conclusion of the service, followed by his Apostolic Blessing."
A live stream of St. Peter's Square at the Vatican is available to watch on Good Friday live here: