Good Hair Revisited: NEWSWEEK and the 'Today' Show Examine Our Mane Issues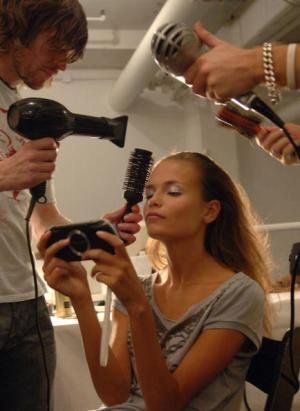 Last year, NEWSWEEK hosted Good Hair Week, a series devoted to examining the complex relationship women (and men) have with their hair. This week, the Today show takes on the same theme, and I've been making a few appearances during the week to give my take. That take, basically, is this:
Because we can change it, the way our hair looks is viewed as a choice we make—to wear it conservatively, to dye it green, to cut it short or grow it long in defiance of what societal standards are. That choice helps others decide what they think about us and who we are. So because our hair is always, always saying something, it's often difficult to ignore it.
Glamour editor in chief Cindi Leive, who spoke on Today's live panel this morning, said it best (though she was paraphrasing media writer Rachel Sklar): your hair issues are never just about your hair. That's why NEWSWEEK's Good Hair Week led to a lot of fantastic writing, as well as plenty of controversy.
Caroline Dworin bemoaned her curls:

Were I to express, without irony, how very funny-looking a creature I really am underneath it all, the Average American Woman of healthy self-esteem might conclude that the problem here is emotional. But the Average American Woman does not have what I have growing from her head.
Joshua Alston reminded us that hair issues know no gender:
Still, I too struggle with my hair on a daily basis—even though I don't have much to speak of. My hairline began to retreat in my mid-20s, so I gave in and started shaving it bald. I know that to most people that seems like I've liberated myself of the hair issue entirely, but I have as much trouble keeping the hair off my head as most folks do maintaining what they have. Black men struggle with razor bumps, the painful and unsightly rashes that break out when coarse hair is shaved and grows back.
Allison Samuels thought Zahara Jolie-Pitt's hair needed some TLC:
Hair that is nice, neat, and cared for also gives African-American girls the confidence that they can fit into the world at large without being seen as completely different ... In recent pictures it's clear Angelina Jolie hasn't taken the time to learn or understand the long and painful history of African-American women and hair. If she had I can't imagine she would continue to allow Zahara to look like she has in the past few months. Photos of Zahara show the 4-year-old girl sporting hair that is wild and unstyled, uncombed and dry. Basically: a "hot mess.''
And the blogosphere fought back in a big way, with several leading voices guest-writing for NEWSWEEK. Author Roslyn Hardy Holcomb was one of many who weighed in:
What we've been doing for generations has resulted in millions of black women with "hair issues." Isn't it time that we tried something else? We can perpetuate the madness that currently exists, or we can address the issue and try to rectify it. Is it possible that seeing Zahara Jolie-Pitt and other little black girls for whom hair is just hair can help us get over this insanity?
I'll be on another (pretaped) segment tomorrow in the 8:00 hour talking about the stigma of gray hair, and will post a follow-up tomorrow. But in the meantime, check out more of the great essays from our Good Hair Week.