Lil Kim, Kehlani and More Female Hip Hop Stars Open Up on Lizzo's 'Good As Hell' Podcast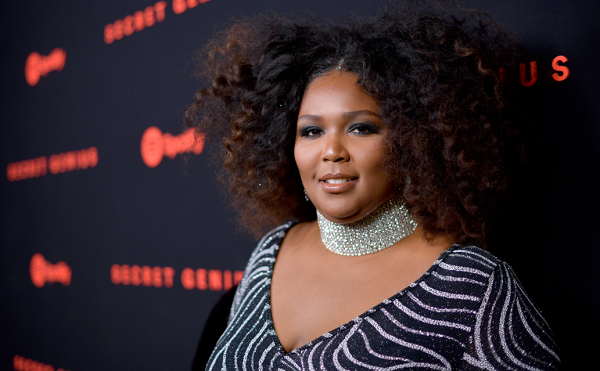 The rags-to-riches stories of hip-hop's male legends—Jay Z, Sean "Diddy" Combs, Tupac Shakur, the Notorious B.I.G., N.W.A.—have been told in films, documentaries and books. But where is the love for hip-hop's women? Not only are their stories rarely told, more often than not, when they are mentioned, it's in relation to the men who have "made" their careers, or helped them along the way.
Good As Hell, a new podcast series hosted by rapper and singer Lizzo, is looking to change that. "Forget what you thought you knew about the women in hip-hop. Unlearn the history and re-appreciate and repurpose these women in the culture," Lizzo, born Melissa Jefferson, told Newsweek during a recent phone call.
Lizzo got her start in Minnesota in 2012, performing with rap and R&B group The Chalice. She's since become rap's unofficial advocate for girl power and body positivity, releasing three solo projects, including 2016's Coconut Oil EP. She also contributed her voice to characters on Adult Swim's Brad Neely's Harg Nallin' Sclopio Peepio.
Her new podcast debuted on Spotify on January 30 with rap superstar Lil Kim, who detailed her rise to fame, as well as the subsequent ups and downs in a nearly 25-year career. Miami rapper Trina, who made her debut in 1998, will share her journey on Good As Hell's next episode on Thursday.
"You don't hear these stories," Lizzo said. "You don't hear about Queen Latifah's come up. You just know her as the Queen now. We didn't hear about Lil Kim's come up, or at least not from her side. All we know is that Lil Kim got her start because of Biggie Smalls. I wanted to give a space for these women to tell their stories."
Initially, the 29-year-old host wanted Good As Hell to be a fictional reality series about female rappers trying to break into the industry. But when she realized she didn't actually know how hip-hop's leading ladies got their start, she created the current platform, a half hour podcast that features conversations between Lizzo and a guest.
Hip-hop is particularly challenging for women, "who are expected to be so strong, and we have such a defense up because we're so attacked all the time," said Lizzo. More impressively, she added, "we don't complain about the attacking or try to make ourselves the victims. We actually push through, and we always come out stronger. But sharing our vulnerabilities and talking about what makes us happy, how we overcame our shortcomings and excelled in our careers—that's important and it needs to be seen in mainstream media as well."
In addition to conversations with established stars, like Da Brat, the podcast features newer artists, like Awkwafina and Junglepussy and Kehlani, an Oakland-born singer who's been working in music since 2009. "I'm really excited about Kehlani's [episode]," said Lizzo, "because she, like Lil Kim, has faced so much adversity so young because of fame."
Kehlani launched her singing career with the former R&B group PopLyfe and appeared on America's Got Talent in 2011. Bad management and terrible contracts had her going solo in 2014, which led to her first Grammy nomination in 2015, for the mixtapeYou Should Be Here. A year later, the singer was making a different kind of news, as the third party in a scandal with ex-boyfriends PartyNextDoor, a Canadian musician, and NBA star Kyrie Irving. The media scrutiny was so intense, the then 21-year-old Kehlani attempted suicide.
"It's interesting to hear Lil Kim speak retroactively about [controversies that come with fame] and then have Kehlani, at 22 and right in the middle of it," said Lizzo. "She's got a lot to learn and she's got a lot more life to live. So to see her create and continue to develop, and to hear Lil Kim reflect on her similar experiences—it's really cool to draw that line and see those parallels."
Lizzo hopes that Good As Hell, in addition to giving women in hip-hop a chance to share their stories, will empower and inspire the younger women coming up."Thirty years from now, I want young girls to have audio files of these conversations with Lil Kim and Trina and Kehlani and JunglePussy, so they can sit and listen to women who helped pave the way."