T.J. Holmes has been criticized for his "horrendous" anniversary dedication to his wife two years before his romance with Good Morning America co-host Amy Robach.
The anchors reportedly grew close in March, while training for the New York Marathon and were then spotted on a romantic getaway two weeks before Thanksgiving.
Then this week, a number of photographs were released of the pair on various dates in New York City.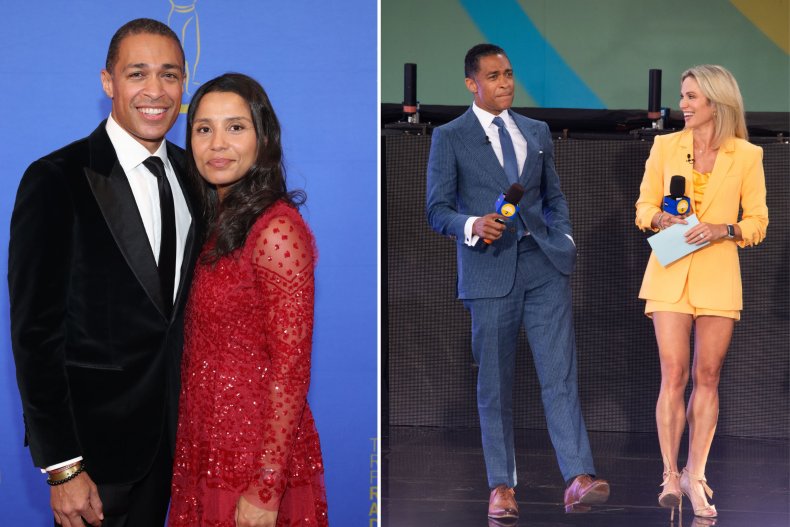 Some sources suggested Holmes and Robach had already separated from their spouses before starting their relationship. Robach, 49, is married to actor Andrew Shue, while Holmes, 45, is married to attorney Marilee Fiebig. The couples married in 2010.
While both anchors have deleted their Instagram accounts, some people managed to dig up an anniversary post Holmes made about Fiebig in 2020.
The post appeared on his since deleted Instagram account, where he participated in the "decade challenge" showing a photo of Fiebig 10 years apart.
Holmes was marking their 10 year anniversary together saying her "patience" with him was "incomprehensible."
"This particular #decadechallenge is a little late, but... 10 years ago, Marilee Fiebig married me. And despite my best efforts, she remained married to me for the past 10 years," he wrote. "That's not hyperbole. I'm not being dramatic. I gave her plenty of reasons, excuses, and opportunities to walk her fine a** out the dooooooor.
"But instead, with her built-in black woman superpower, she showed a grace and patience that's incomprehensible. Asking her for another 10 years would be asking too much. Another 10 months? That may even be a stretch."
"If she gave me another 10 weeks, I should consider myself lucky. If she puts up with me for another 10 days, I'd be grateful. But if she would even spare another 10 minutes of her time for me today, I should consider myself blessed. This MARILEE FIEBIG HOLMES, y'all. And I, T.J. Holmes, do solemnly swear... that I... was HER #decadechallenge."
Author Bolu Bablola retweeted a photo of the Holmes' Instagram post alongside a photo of him with Robach.
"The way i haven't stopped thinking about this horrendous caption since last night, it haunted my dreams, one of the most hateful things i've ever read [SIC]," she captioned her tweet.
Many people replied to the original tweet, agreeing it was poor form to brag about how badly he had treated his wife.
When a man basically brags about how badly he's treated a woman and doesn't deserve her but still has her gives me ick," wrote one Twitter user.
Another added: "When you spot comments from someone's husband or boyfriend on social media saying something along the lines of, "I don't deserve you" or "Thanks for putting up with me" that relationship is a whole red flag."
And a third commented: "'My wife: her good qualities are that she hasn't had the courage to leave me yet.' neat."
Holmes and Fiebig share one daughter, Sabine, born in 2013. His is also father to Jaidan and Brianna Holmes from a previous relationship.
Robach is mom to daughters Ava, 20, and Analise, 16, from her first marriage to Tim McIntosh.
Newsweek has reached out to Holmes for comment.