'Good Omens' Season 2 Release Date, Cast, Trailer, Plot — All You Need to Know
There is very good news for fans of Neil Gaiman's Good Omens on Amazon Prime. In June 2021, fans' prayers were answered and a second season was given the green light, despite the show being intended to be a one-off, limited series. Now, filming for Season 2 is underway in Scotland, and details about the highly-anticipated new series are starting to be released.
Newsweek has everything you need to know about Good Omens Season 2 so far, including release date, cast, trailer, plot, and more.
When Is Good Omens Season 2 Out?
Unfortunately at the moment, Good Omens Season 2 does not yet have a release date. However, the good news is, filming is currently underway meaning a 2022 release date is most likely on the cards.
If Season 2 follows the release pattern of Season 1, fans could possibly see Good Omens land on Amazon Prime in 2022.
When Good Omens Season 2 premieres, all six episodes will be available to watch via Amazon Prime Video. You can sign up to Amazon Prime Video now for $8.99 where Season 1 is also available to watch.
U.K. viewers will also be able to watch the series via BBC Two and the BBC iPlayer.
Who Is In The Cast Of Good Omens Season 2?
David Tennant and Michael Sheen will be reprising their roles as the demon Crowley and the angel Aziraphale.
Tennant and Sheen will be joined by many members of the cast from Season 1 as well as some new faces, who are set to cause more chaos on Earth, heaven, and hell.
Gladiator's Derek Jacobi will be back as Metatron alongside Sherlock's Mark Gatiss as Harmony, Killing Eve's Steve Pemberton as Glozier, and Inside No.9 star Reece Shearsmith as William Shakespeare.
Also returning to Good Omens Season 2 are Jon Hamm, Miranda Richardson, Maggie Service, Nina Sosanya, Doon Mackichan, Gloria Obianyo, Liz Carr, Quelin Sepulveda, and Shelley Conn.
There are a host of new faces joining the cast of Good Omens, currently in undisclosed roles. Fans will be treated to performances from Outlander's Tim Downie, The Magicians Pete Firman, I May Destroy You's Andi Osho, and Pirates of the Caribbean's Alex Norton.
Neil Gaiman, writer, and co-showrunner, said today: "We are so thrilled that we were able to get so many fabulous actors to return to the Good Omens family. Some of them are reprising roles, some of them are playing completely new characters. And we are just as thrilled by the people coming to the Good Omens team for the first time. We have an ensemble cast of astonishing talent, and seeing what they're giving us is a daily treat. I can't wait until the rest of the world gets that treat, too."
Douglas Mackinnon, director, and co-showrunner added: "We are happily working our way through filming Good Omens 2 in Scotland and these new cast arrivals will only increase the pleasure of it all. The remarkable Scottish crew are loving making the magic that is Good Omens and we can't wait to share our stories with the world."
Unfortunately, Benedict Cumberbatch and Frances McDormand will not be reprising their roles as Satan and God, respectively.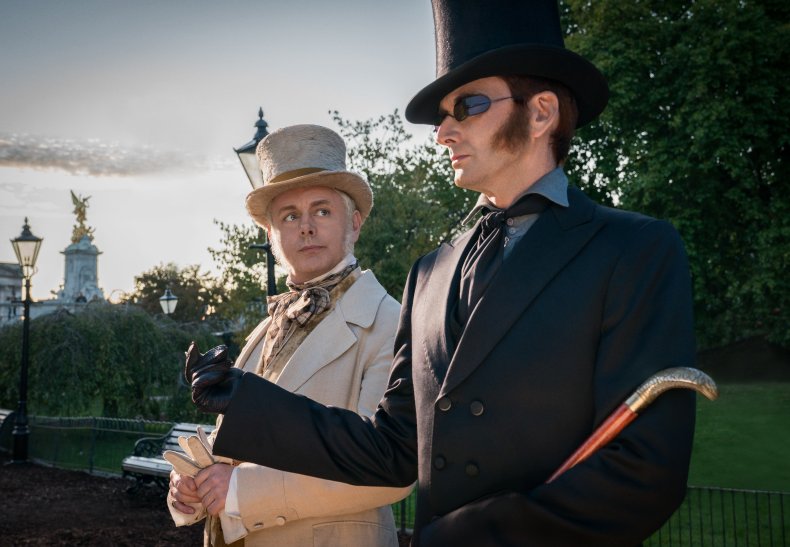 What Will Happen in Good Omens Season 2?
The second season of Good Omens will continue to explore the weird and wonderful friendship between the angel Aziraphale and demon Crowley as they navigate life in London's Soho after they stopped the arrival of the apocalypse in Season 1.
However, as they settle back into their mortal lives, they receive an unexpected visit from a mystery messenger, who presents the duo with a captivating mystery.
The new series will go beyond the original source material, the 1990 novel "Good Omens: The Nice and Accurate Prophecies of Agnes Nutter, Witch" written by the late Terry Pratchett and Neil Gaiman, which followed the journey of Aziraphale and Crowley as they tried to stop the arrival of the Antichrist and prevent Armageddon.
Is There A Trailer for Good Omens Season 2?
No, unfortunately, there is not a trailer yet for Good Omens Season 2.
In the meantime to keep fans in suspense, co-showrunners Neil Gaiman and Doughlas Mackinnon have been sharing some behind-the-scenes snaps on the set of Good Omens.
Mackinnon shared a close-up image of Tennant as Crowley and Sheen as Aziraphale, with the simple caption: "They're back. @neilhimself."
Gaiman posted an image of Crowley and Sheen in full costume on the set of Good Omens Season 2. In the image, Tennant is sporting Crowley's bright red hair and Sheen can be seen with Aziraphale's bleach blonde curly head of hair.
Gaiman wrote: "You waited. And now you see @michaelsheen and David Tennant, being perfectly effable. (On our Soho set. The bookshop is on the left. Could that be a pub on the right? #GoodOmens Season 2 @PrimeVideo."
Good Omens Season 1 is streaming on Amazon Prime Video now.