Everything That Belongs in Hell, According to 'The Good Place'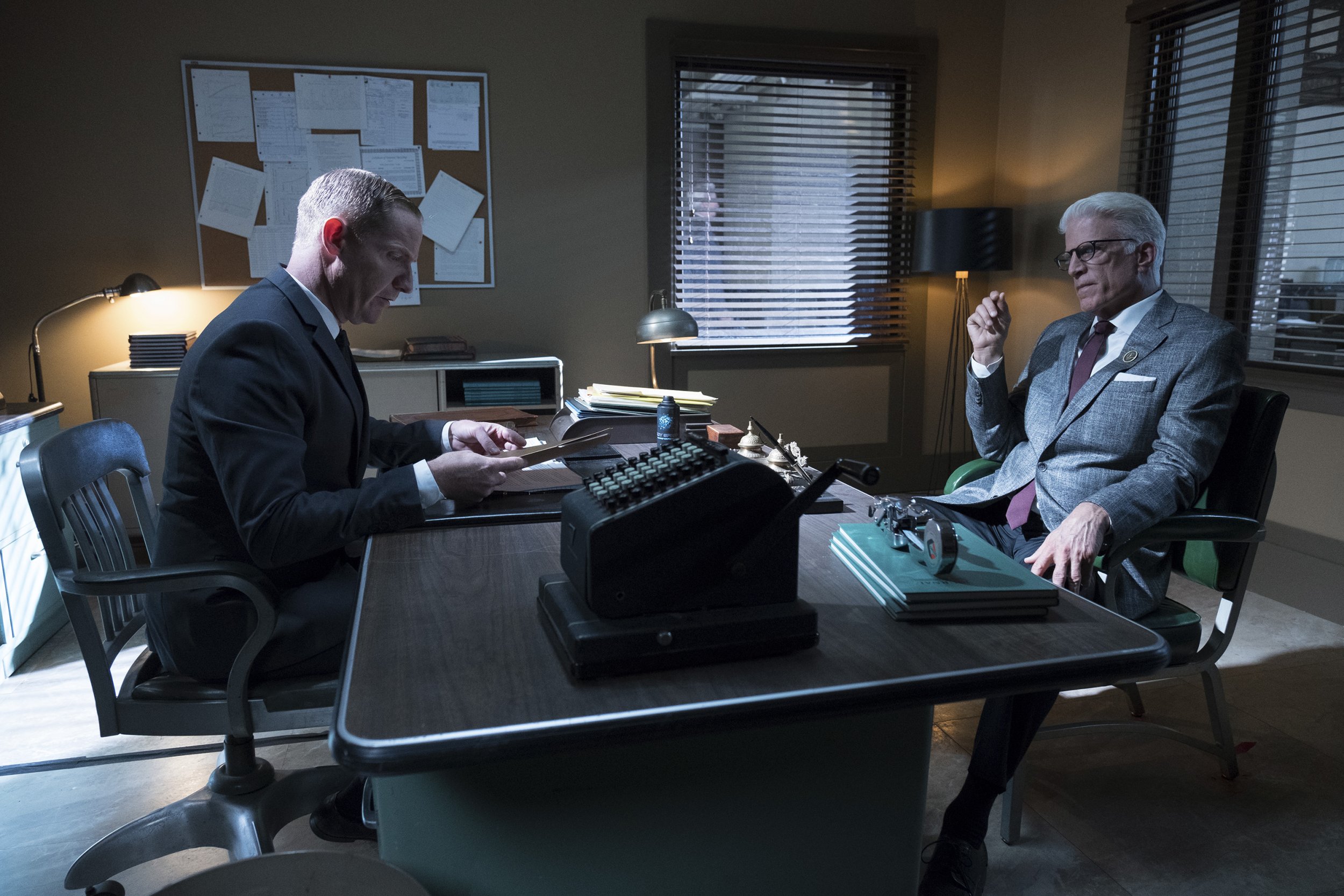 NBC's high-concept sitcom The Good Place keeps finding ways to surprise viewers, and Thursday night's episode, "Rhonda, Diana, Jake and Trent," took Kristen Bell and the gang where they've never gone before: the actual Bad Place.
Fans may recall the first season finale twist—that the non-denominational Heaven where Eleanor (Bell) was accidentally sent is in fact a version of the non-denominational Hell in disguise. But the Hell she visits this week has no disguises, just lots and lots of Axe Body Spray.
Showrunner Mike Schur and his writers use the episode to make a lot of jokes about things you might find in actual, literal Hell. At one point, Eleanor, Chidi (William Harper Jackson), Tahani (Jameela Jamil) and Jason (Manny Jacinto) visit The Museum of Human Misery Hall of Low-Grade Happiness, which Michael (Ted Danson) describes as "the least horrifying room" in the Bad Place. Included:
A gift shop
The first person to floss in an open-plan office
The first man to send an unsolicited picture of his genitals
The first waiter to approach a table of diners with an empty plate and sarcastically say, "I guess you hated it."
The first white person to wear dreadlocks
The first person to call ultimate frisbee "ultimate"
The first man to say "Well, actually..." to a woman
The first person to say "I need a vacation—from my vacation!"
The gags continue outisde of the museum. Here's a complete list of everything Hell-worthy, according to The Good Place:
Transformers-scented Axe Body spray (which makes you smell the way Transformers makes you feel)
Pirates of the Caribbean 6
Soul food from Maine
Bagels from Arkansas
Hawaiian pizza
Egg salad from a hospital vending machine
Toilet mirrors
References to Taco Bell
The episode ends on yet another twist. (No spoilers! But if you are smitten with Danson's demon-turned-good routine, you will fall head-over-heels after tonight.) There will be more as the season goes on, though perhaps not to the extent of the Season 1 finale. In a previous interview with Newsweek, Schur said, "The only reason we got away with that twist was because nobody was looking for it. But now they are."
Still, only four episodes into Season 2, and we're hopping dimensions. Buckle up,Good Place fans, it's going to be a bumpy ride.