'The Good Place' Never Won Any Emmys, and Fans Aren't Happy
Fans of The Good PlaceThe Good Place are today lamenting the sad and surprising fact that the thoughtful NBC comedy never won any Emmys throughout its four seasons.
Last night's 72nd Emmy Awards was the Michael Schur show's last shot an accolade—but sadly it was not to be.
The 2020 Emmy's (deservedly) belonged to Schitt's Creek, with the Dan and Eugene Levy comedy sweeping the categories, taking home a staggering nine trophies.
This is more than any other comedy series has won in a single season, beating The Marvelous Mrs. Maisel which previously won eight awards in each of its first two seasons.
The beloved Canadian show also broke another record by winning all seven major comedy awards. Schitt's Creek won for outstanding comedy series, writing and directing, and Dan Levy, Annie Murphy, Eugene Levy and Catherine O'Hara all won for their lead and supporting performances.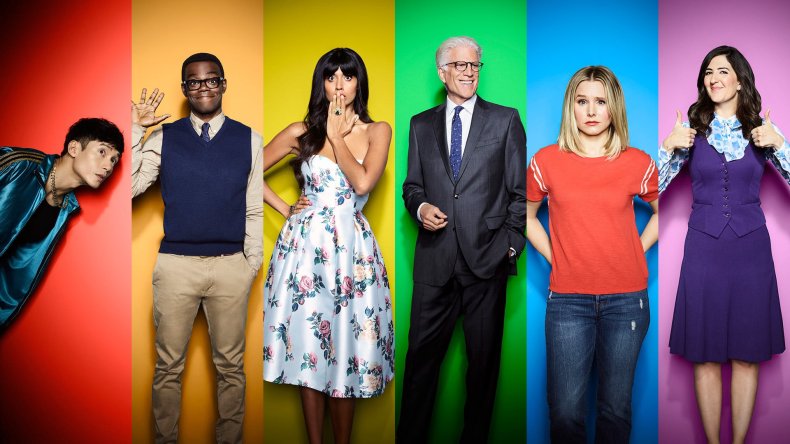 The Good Place had been a consistent critical favorite throughout its four-year run, with a fervent and dedicated fan base to boot.
But the Kristen Bell-fronted series struggled to shine at the Emmys, going out without a single win despite numerous nominations for acting, writing and Outstanding Comedy Series.
Last night, The Good Place was nominated for: Outstanding Comedy Series, Lead Actor in a comedy series for Ted Danson, William Jackson Harper got nominated for Supporting Actor and D'Arcy Carden was up for Supporting Actress in a comedy series.
Many had hoped The Good Place would get the recognition it deserved, especially for its critically acclaimed finale.
The show began trending on Twitter as fans shared their frustrations with the snub, not just this year, but over the last four years.
TV writer Stephen Thompson tweeted: "I can't be mad about any of these Schitt's Creek wins; it's a wonderful show. But I *really* wish Michael Schur's script for The Good Place's finale had won. The degree of difficulty on that thing was remarkable, and he stuck the landing so hard. #Emmys."
While Buzzfeed's David Mack added: "I'm very happy for Schitt's Creek but i also feel bad for the team of the The Good Place, which was one of the defining pieces of TV art of the trump era."
Many were also dismayed that Janet star D'Arcy Carden didn't get any recognition for her iconic performance, with one person tweeting: "I do really, really hate that The Good Place ended without Darcy Carden winning an Emmy, because damn. What she did was special."
Another journalist, Evette Dionne tweeted: "Schitt's Creek is one of those shows that just makes people feel comforted and good, and it deserved its #Emmys sweep tonight. I also wish The Good Place had earned Emmys during its run because it was brilliant and good too."