All the Times 'The Good Place' Implied a Shared Universe With 'Parks and Recreation'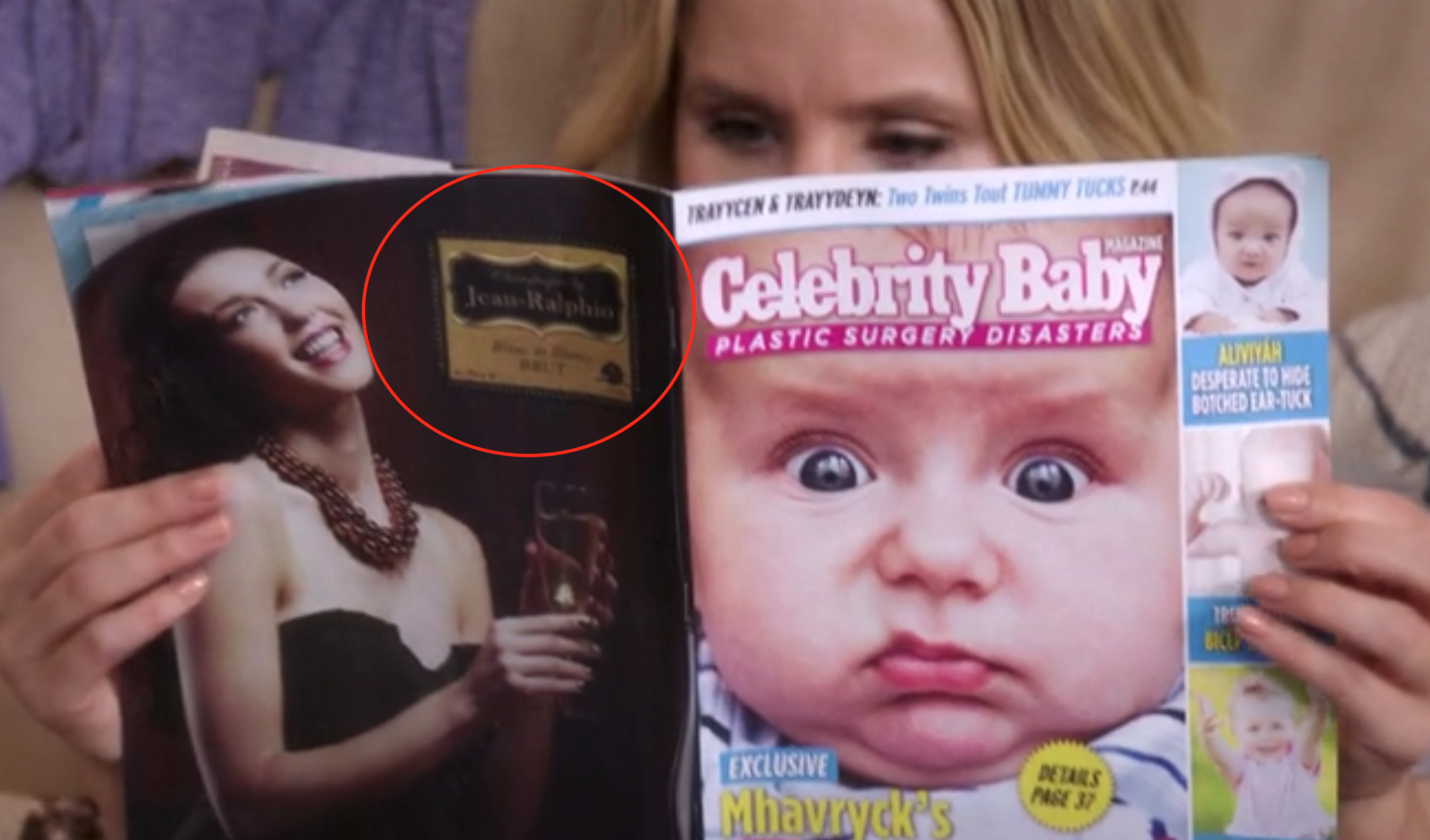 Though The Good Place is a half-hour sitcom, showrunner Mike Schur approaches it like an intricate season of Lost (and is arguably doing a better job of tying up the loose ends). Not only is each episode a plot-driven adventure, but fans are slowly piecing together a larger scheme. Look closely and you'll see that the comedy starring Kristen Bell and Ted Danson has been dropping hints since early on that it shares a universe with another Schur-created NBC sitcom: Parks and Recreation.
The "universe" of The Good Place is hard to lock down—everything takes place after Bell's character Eleanor dies, and the setting fluctuates between several non-denominational afterlife situations. It's all very theoretical. Parks and Recreation, on the other hand, takes place in the fictional but fairly ordinary small town of Pawnee, Indiana. So there is a pretty good set-up to be had between the shows: there's nothing in Park and Recreation that indicates The Good Place isn't what happens to you after you die.
In the interest of feeding the fan-theory flames, here are all the times The Good Place referenced Parks and Recreation—that this reporter could find, anyhow. (Newsweek reached out to Schur for comment on the theory, but was told he is taking a well-deserved break from interviews.)
Jean-Ralphio's champagne line
After the Season 2 finale, fans must resort to careful rewatches to get their Good Place fix. This led to an important discovery, pointed out by Twitter user @ShinraAlpha: a magazine Eleanor is reading features an ad for Jean-Ralphio Champagne. As in Ben Schwartz's Parks character, Jean-Ralphio Saperstein.
For much of the series, Jean-Ralphio was the wo-o-o-orst entrepreneur in Pawnee. But in a flash-forward scene in the Parks and Recreation series finale, we caught a glimpse of a Champagne bottle labeled "Jean-Ralphio."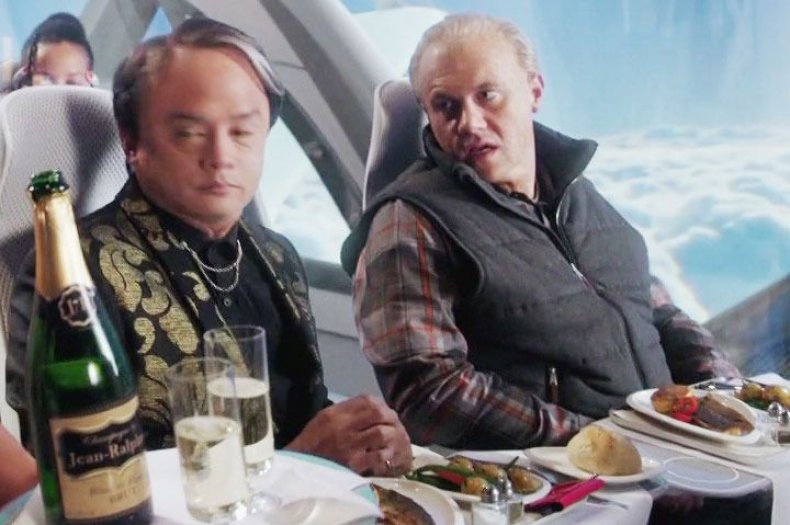 It's the exact same label on Eleanor's magazine. Looks like Jean-Ralphio's insurance fraud days are over!
Dennis Feinstein perfumes
The Jean-Ralphio reference doubles as a call-back to the Good Place Season 1 finale, which also featured a Parks and Rec-related Easter egg. In the flashback to how she died, we see Eleanor once again browsing her favorite magazine, Celebrity Baby. And the advertisement on the back cover? A perfume called Glyde, made by none other than famed Pawnee fragrance-maker Dennis Feinstein.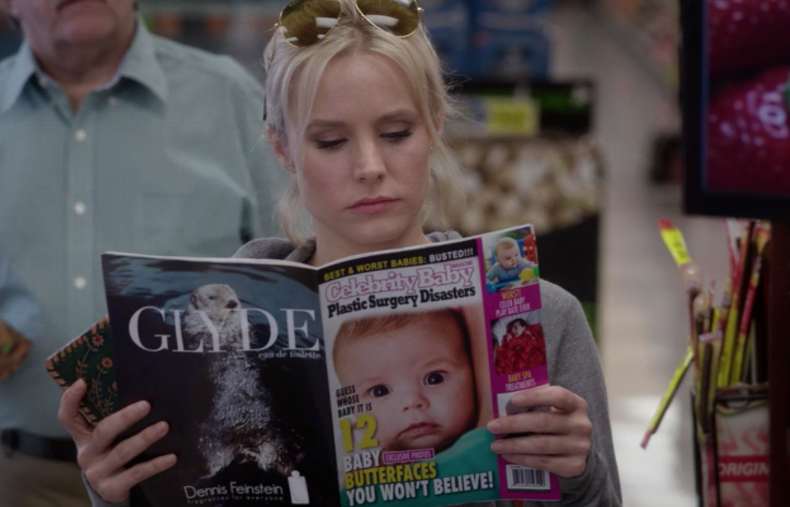 Played by actor Jason Mantzoukas, Feinstein was known for his many, let's say, unusual scent names, including "Spasm," "Butter, "Sideboob" and "Thickening." "Glyde" is a new one, and it seems to have something to do with otters. Good for Dennis for going national with his ad campaign.
This Parks crossover could get a little awkward, considering Mantzoukas also plays Derek, Janet's void-residing boyfriend, on The Good Place. (Maybe they're long-lost twins?)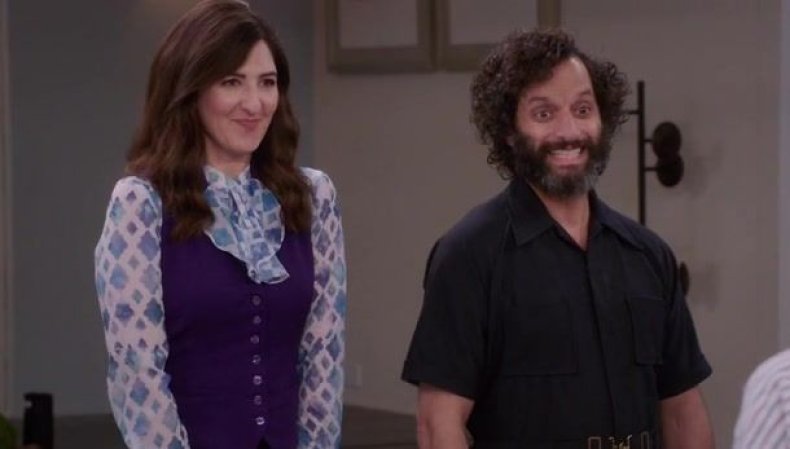 Swanson Safe Company
In Season 1, Episode 11 of The Good Place, we learn how Manny Jacinto's character Jason died: By suffocating in a safe in a failed attempt to rob a pizzeria. If you zoom in on the label of the safe Jason died in, you'll see it's made by Swanson Safe Company.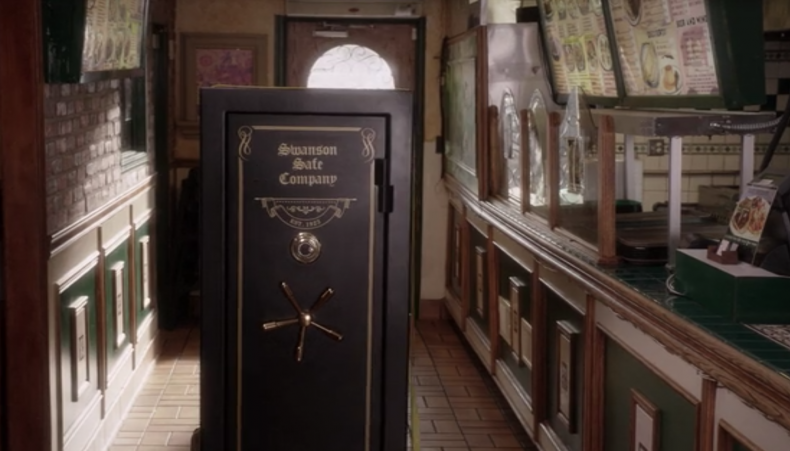 Swanson, you say? As in, Ron Swanson, former head of the Pawnee Parks and Recreation Department? There's nothing in the Parks and Rec canon that says Nick Offerman's character ever owned a safe company. But we do know that he worked in a sheet metal factory at the age of 9, and that his preferred money-saving method involves burying gold coins in the ground. Knowing Schur, this name choice is likely not a coincidence.
The Lerpiss Family
In Season 1, Episode 5 of The Good Place, "Category 55 Emergency Doomsday Crisis," Jameela Jamil's character Tahani sneaks a peek at the Good Place scoreboard, which ranks everyone by their supposed goodness. The third name on the list is Bjoern Lerpiss.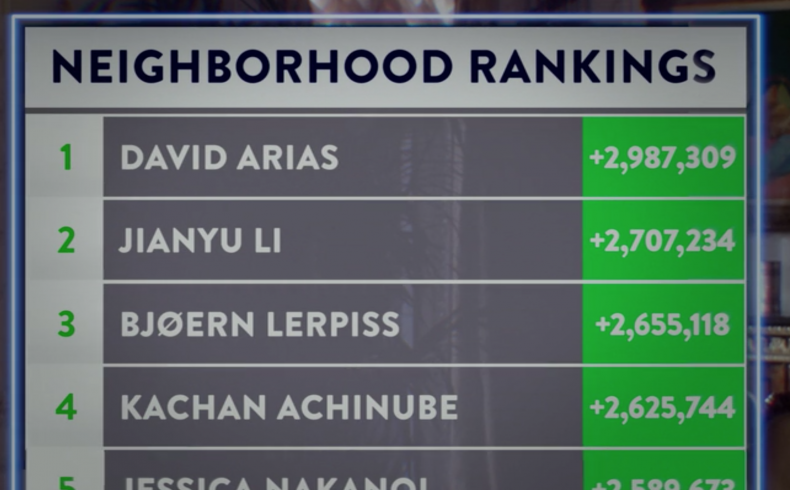 Bjoern Lerpiss appeared briefly in at least five episodes of Parks and Recreation, often with a comment on his love for Paunch Burger. He's played by actor Mike Mitchell, and apparently he's dead and in the fake Good Place by 2017.
The casual Parks fan may not recognize the name, but the Lerpiss's are all over Pawnee, Indiana. Schur once told Variety, "You've never heard the name Lerpiss on the show, but there are probably 10 or 12 characters who have had the last name. It doesn't play into any episode and there's no plot that relates to it."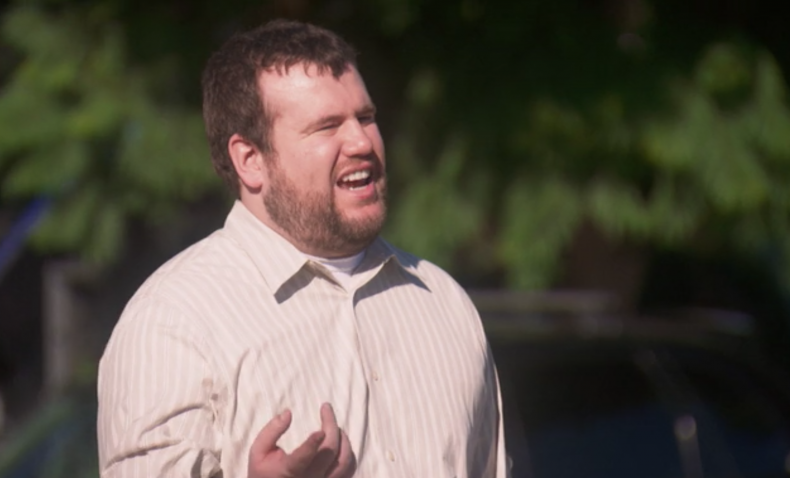 "If you look up Lerpiss on IMDb, we wrote character descriptions for them and how they're related to each other," Schur continued. "A lot of businesses in town are like the Lerpiss Moving Company or the Lerpiss Mortuary. There's a whole other show about this very dynastic but also completely powerless family in Pawnee." The IMDb descriptions are no longer available, but you can check out four of the Lerpiss backstories on the Parks and Rec Wiki page.
Finally, it's worth noting that Parks and The Good Place share many actors, including Bell, Mantzoukas, Adam Scott, Marc Evan Jackson, Jama Williamson, Jamie Denbo and Maribeth Monroe. Perhaps everyone in Pawnee died and became a part of this ethereal afterlife? We'll have to keep watching to piece together more clues.
The Good Place is expected to return to NBC for Season 3 next September. Keep your eyes peeled for more shared-universe moments.