When Will 'The Good Place' End? Producer Spills on Show's Ending, Fan Theories
As The Good Place continues to progress through Season 3, fans witnessed Eleanor, Jason, Chidi and Tahani aim to better themselves on Earth. Little do they know they've been sent back to Earth with Judge Gen's permission to earn their way into the real Good Place, that is until Michael and Janet are caught on Thursday's episode—titled "The Snowplow"—accidentally sneaking back into After Life to reset the four human's timelines to boost their chances in succeeding.
"No more waiting. This is all we have, Janet," Michael, played by Ted Danson, says to Janet, played by D'Arcy Carden. "We have Chidi and Eleanor and Tahani and Jason. And that is it. If we can't get them enough After Life points to get them into the Good Place, then there's no point in us even being here. We have to try."
To this, Janet simply says, "OK, let's do this." Eleanor (Kristen Bell) and the gang, however, catch Michael and Janet opening the door to the After Life. This led Eleanor to respond, saying: "What the hell is that?"
Holy mother forking shirt balls, to say the least. But where does The Good Place crew go from here?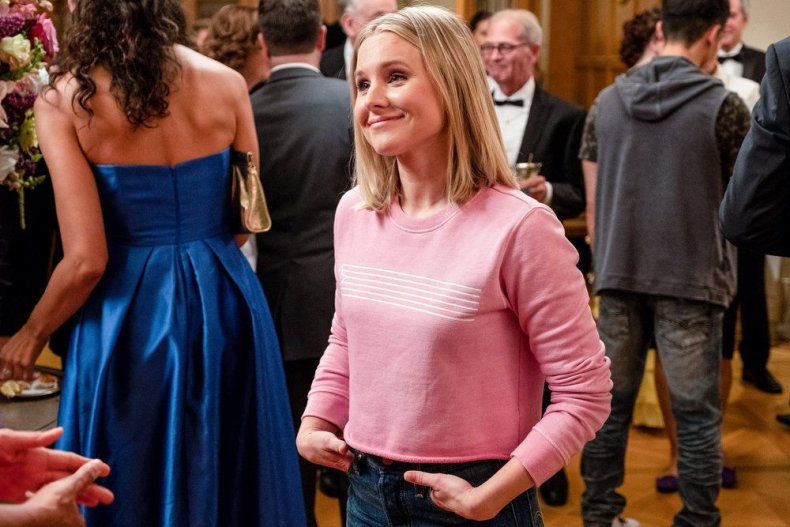 The Good Place, which is arguably one of the most intelligent show's on television today, never fails to surprise fans with its strong storytelling abilities and unexpected twists. A premise of this caliber doesn't necessarily lend itself to establish multiple consecutive seasons, however. In speaking with executive producer and frequent show director Drew Goddard about The Good Place, he explained to Newsweek what the show's intended timeline is in addition to sharing the truth behind one particular Reddit fan theory.
"So much of the show is this crazy genius of Mike Schur, who is the showrunner, creator [and] writer," Goddard said. "As a director, I want it to go forever. I keep saying to Mike, 'Hey, this cast is so good. This cast is so extraordinary. I'll watch them do anything for 30 seasons.'"
Added Goddard, "If it's up to Drew, I want the show to go 30 seasons long. But Mike would tell you he has a story to tell and he'll tell it however he thinks it can go. I'm certainly pushing for as much Good Place as possible."
The finale twists in Season 1 and Season 2 have inspired multiple fan theories. While some like Simone (Kirby Howell-Baptiste) being an angel could be on the right track, others like Janet being God are a bit more far-fetched. The most mind-blowing theory of them all, however, is whether the Good Place actually exists—a theory Newsweek asked Goddard to share his thoughts on as well.
"I think fundamentally at its core, the show is about flawed people trying to become better people. So it almost doesn't matter," Goddard said. "The secrets don't matter because at its core, where they are is less important than who they are. The thing I love about the show is it's all about these characters trying to figure out their lives, and I think that struggle will continue as the show goes on."
The Good Place airs Thursdays at 8:30 p.m. ET on NBC.