'The Good Place' Season 4, Episode 10 Release Date: When Does the NBC Show Return for Its Final Episodes?
After the release of The Good Place Season 4 midseason finale on November 21, the NBC show has just five episodes left before its series finale. However, fans have a little bit of a wait until they will get to watch Episode 10 of the current series.
The show will now be off-air until Thursday, January 9, 2020, when it will air at its usual time of 9 p.m. ET / 8 p.m. CT on NBC. International viewers will get the episode the following morning on Netflix. This means that The Good Place fans have seven weeks to wait until they get the latest chapter in Eleanor (played by Kristen Bell), Michael (Ted Danson) and the rest of Team Cockroach's attempts to forever change the way the afterlife is organized.
To tide fans over, however, the cast and crew have teased a number of details of the remaining episodes, which will end with a 90-minute special on January 30. In an interview with Newsweek published in October, showrunner Michael Schur said that the final episodes would be based on a moment in the "Jeremy Bearimy" episode of the series.
He said: "There's an aspect of that episode that sort of comes back," said Schur. "It's not actually related to the timeline, but there was a part of that episode where Michael and Janet were on their own sort of story as the humans learned the truth about themselves. They dispersed and Michael and Janet had hung back and engaged in a certain task."
This has since been revealed to be the manifesto that Michael and Janet (D'Arcy Carden) wrote in that episode, which was hidden in the void inside dozens of Janets in Season 4, Episode 8.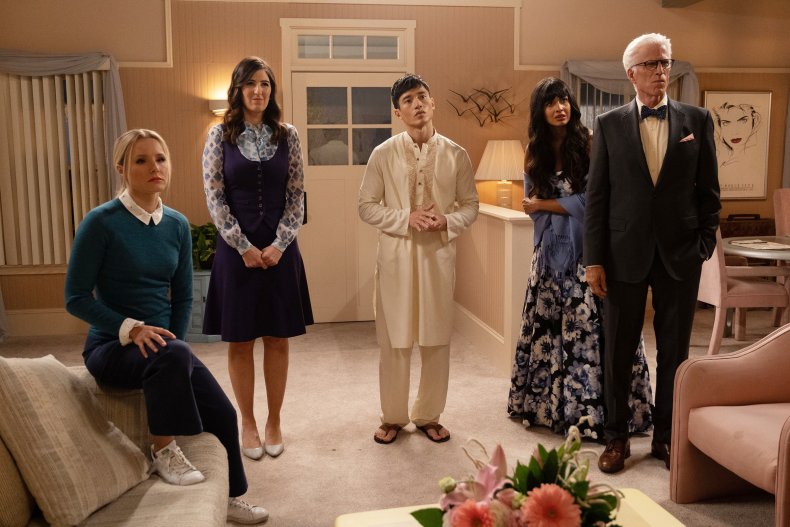 Chidi actor William Jackson Harper, meanwhile, told Entertainment Weekly of the final episodes: "It's completion of our journeys in a way that I find satisfying, hopeful, and goes beyond our conventional understanding of storytelling," while Bell added: "You will finally see what we owe to each other."
Speaking to Newsweek about the finale, Schur said: "Fairly frequently in Hollywood, there's a different story, which is you get a phone call that says, 'everyone go home, we're not paying any more money.' And so the idea that we could actually tell a story that you want to tell exactly the way you want to tell it and exactly over the length of time that you want to tell it is amazing."
The Good Place Season 4, Episode 10 will air on Thursday, January 9, 2020 at 9 p.m. ET / 8 p.m. CT on NBC