'The Good Place' Creator Reveals Which Previous Episode Has A Huge Series Finale Clue
A Season 3 episode of The Good Place could hold the key to what will happen in the upcoming final episode of the NBC show, creator Michael Schur has revealed to Newsweek.
When asked if there were any episode of the show that viewers should watch before the series finale airs in early 2020, Schur said: "There's a key element for the way the season unfolds that appears in the episode that airs this week, and it references an aspect of the 'Jeremy Bearimy' episode that we did last year."
Season 3, Episode 5, titled "Jeremy Bearimy," revealed how time works in the afterlife, with the squiggly timeline resembling the signature of someone called Jeremy Bearimy, including a dot above the 'i' that, in Michael (played by Ted Danson) and Janet's (D'Arcy Carden) words, "is Tuesdays. And also July. And sometimes it's never."
However, it is not the timeline itself that is key to the finale according to Schur. "There's an aspect of that episode that sort of comes back," said Schur. "It's not actually related to the timeline, but there was a part of that episode where Michael and Janet were on their own sort of story as the humans learned the truth about themselves. They dispersed and Michael and Janet had hung back and engaged in a certain task."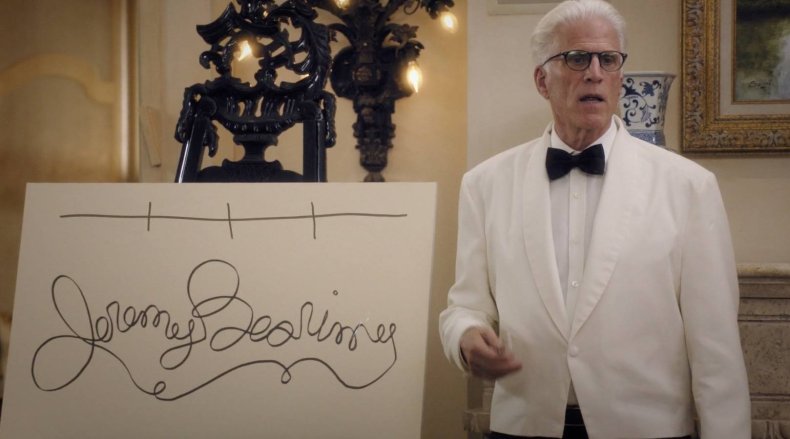 Though he did not confirm what task he was referring to, the Season 3 episode of the NBC show sees Michael and Janet compile a manifesto based on their work with Team Cockroach. According to Schur, "That little story sort of comes back into play tonight, and then also is carried forward for the rest of the year."
This was something fans had previously speculated about⁠. In Vulture's recap for "Jeremy Bearimy," for example, the reviewer wrote: "I also doubt we've heard the last of Michael and Janet's manifesto. If it doesn't factor into the way this season ultimately plays out, I'll ... well, I'll eat the manifesto."
It is not the first time this season the "Jeremy Bearimy" episode has been referred to, suggesting the writers really want to remind us about it. Episode 5 of Season 4, for example, was titled "Employee of the Bearimy," in reference to an accolade Michael won in his past for being a great torturer.
According to the showrunner, who is best known for his work on The Office, referring back to the Season 3 episode was part of a plan to bring the series to a neat close.
"That's why we named the episodes chapters instead of episodes or whatever, because it feels like a novel that is being carefully sort of laid out chapter by chapter," said Schur. "We wanted the end game in particular to pay homage to that and to make it feel like everything that came before matters and it's all part of one big long story."
The Good Place Season 4 airs Thursdays at 9 p.m. ET on NBC.