'The Good Place' Season 3: Where the Show Left Off
The Good Place, a sitcom that could arguably be considered one of the best comedic shows in today's television landscape, is known for its shirt-ton of twisty episodes. Season 2's February finale, however, was no exception to this pattern.
Created by Michael Schur of Parks and Recreation fame, The Good Place follows Eleanor Shellstrop (Kristen Bell) as she enters the afterlife in a place she believes to be heaven. She quickly realizes she's there by mistake and leans on her "soulmate" Chidi Anagonye (William Jackson Harper) to teach her lessons on morals and ethics as a way to earn her spot among her neighbors. Spoilers ahead, the show's Season 2 conclusion left the four human protagonists—Eleanor, Chidi, Tahani Al-Jamil (Jameela Jamil) and Jason Mendoza (Manny Jacinto)—entering territory they could've never imagined.
What Happened in Season 2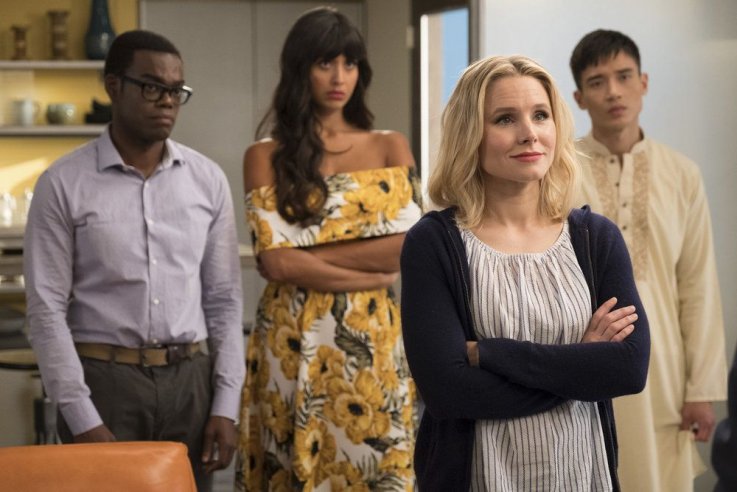 Long story short, everything's not-so-fine after The Good Place's forking explosive Season 1 finale. As the four humans discovered they were actually residing in hell instead of heaven as a part of Michael's torture plans, the gang's memories were instantly wiped clean. They were subsequently forced to start their journey in "the Good Place" over again.
Michael's own life is on the line in Season 2. After the initial reboot failed, he sneakily rebooted the humans hundreds of additional times. This also resulted in Janet (D'Arcy Carden) being rebooted as well, causing her to suffer from malfunction errors that even allowed her to maintain feelings for Jason.
The group of humans later discovered the truth behind Michael's repeated reboots, but they team up with him because he insisted that he could get them to "the real Good Place," which would additionally help him to avoid retirement. Like the humans, Michael also starts to take lessons in ethics taught by Chidi. He begins to form close friendships with group and Janet as well.
Season 2's Cliffhanger Finale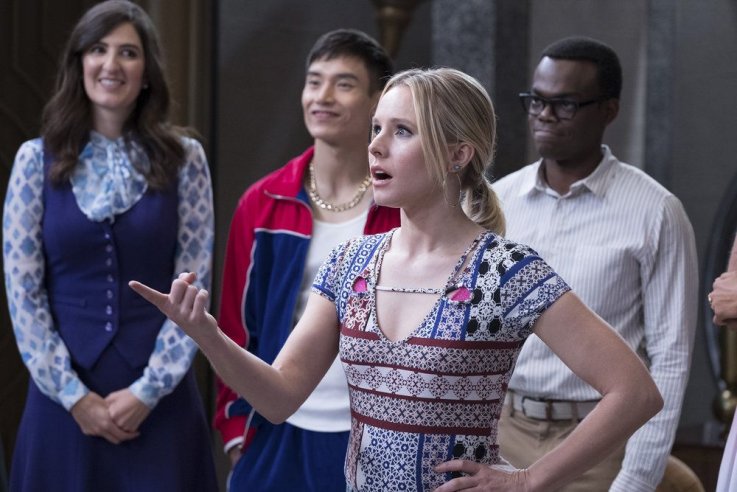 In the finale episode titled "Somewhere Else," Michael appeals to Judge Gen (Maya Rudolph) to save his human companions from the Bad Place. In his argument, he noted the system to get into heaven was flawed due to the group's improvement. After failing to complete simulations to get into the real Good Place in the previous episode (a simulation that Eleanor actually passed), Judge Gen compromised by allowing the quad to go into their own separate Medium places until she could determine what to do with them over a 1 billion-year period. Michael, however, offers up another alternative.
"I still believe that they would've become good people if they just gotten a push in the right direction," Michael said. With that, Judge Gen realized where Michael's mind was heading. She instantly said, "Oh no!" Michael, in turn, pushed forward with his argument.
"It's only four people," Michael explained. "It's clearly the best way to see if bad people can become good without knowing anything about what's waiting for them in the afterlife."
Michael rewound time and sent the humans back to Earth. In this test, the humans would be required to become better people on their own doing without any assistance. Judge Gen additionally said there would "have to be strict rules" in place and she holds "the right to change my mind at any point."
Holy forking shirtballs, indeed.
Spoilers on Season 3
The Good Place Season 3 will return to NBC with a 1-hour premiere on Thursday at 8 p.m. ET. Season 3 will pick up where things left off in Season 2.
The network unveiled a preview for Season 3's first episode on September 12, which showed the four humans at the scene of their deaths. Michael was granted Judge Gen's approval to go to Earth to "reverse the deaths," but he was not permitted to use his powers whatsoever to complete the task.
"It's kind of tricky," Michael said to the doorman, who guards the door to Earth. "It starts up a new timeline, so there might be some ripple effects. It's necessary for the experiment that we're doing."
'The Good Place' Season 3: Where the Show Left Off | Culture