'The Good Place' Series Finale: D'Arcy Carden on Filming the Show's Last Episode and the One Prop She Kept
After five years of being flung from Bad Place to Medium Place to (almost) the Good Place (and even back to Earth), the adventures of the cast of The Good Place have nearly ended. The finale airs on NBC on January 30. Across four seasons, Janet (D'Arcy Carden) has been an audience darling. Carden brings humor to a character that in another actresses hands could just have been Siri with a body.
In the lead-up to The Good Place, Carden spoke to Newsweek about the ridiculous character she was asked to audition for, the giant prop she could not resist keeping, and what it was like finding out about each and every twist and turn along the "Jeremy Bearimy" of the show.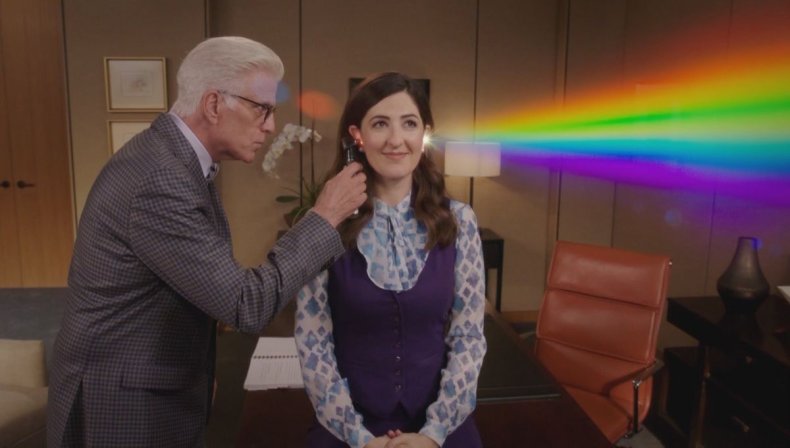 When did the writers first tell you how The Good Place would end?
Back when we started filming Season 4, [series creator] Mike Schur told us all individually before we started shooting. He had me come into the writers room and told me what the whole season would look like including the finale. I cried in there and then I went and saw my husband, and I told him what it was and I cried and then I looked up and he was crying.
The finale is really beautiful. I don't even need to build it up too much. It's just such a beautiful idea and thought. As a fan of the show it is a perfect ending, but also literally as a human being it made me think about things in a different way.
What was it like when you first read the script for the finale of The Good Place?
I cried through the whole thing when I read it. The cast was at Comic-Con that weekend. I was in a big van with William [Jackson Harper, who plays Chidi], and Manny [Jacinto, Jason] and Marc Evan Jackson [who plays Shawn on the show] and our significant others. And I read it.
It was a van that had backwards and forward seats. So I could see them all while I was reading it. It was making it very surreal and sad. I cried a lot in a very happy sad surreal way, tears were absolutely flowing.
What was the atmosphere like on set on the last day?
It was emotionally as high and low as could be. It was loving a group of people so much and feeling so proud of the work that we've done and feeling like this should go on forever or at least a couple more years even though we knew it was good we ended on our own terms.
I remember on the last day, again in a van, the cast was driving to our location. I was a little emotional and I made everybody go around the van and recall when we each met each other for the first time.
It was pretty sweet, everybody was feeling very, lovey and nostalgic. There was a lot of hand holding.
The shooting of the finale was a heightened version of the whole last season. We knew it was our last season, so we were very present.
We made a rule about no phones on set to really connect with each other even more. We were just taking advantage, taking it all in, and the finale was that times a million.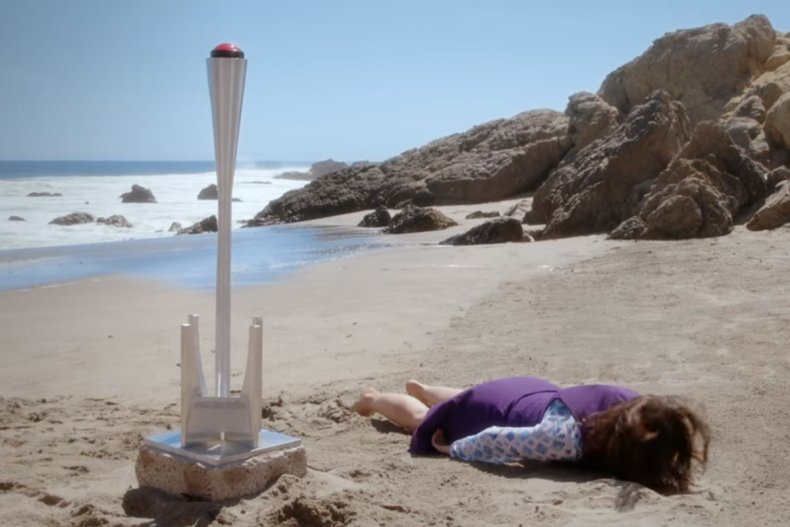 Did you get to keep any props?
I wasn't going to keep anything this big, but not that long ago I was at Universal and I happened to run into our wonderful, amazing producer Morgan Sackett. He whispered, "come with me," and I followed him into a room and there was the Janet kill button, that big tall thing that was on the beach [in Season 1, Episode 7] that when pressed, I die. He was like, "you have your car here today? You can take this home with you if you want it."' So in my office, I have this five foot tall killswitch. My nieces are really into hitting the button which I'm like, "I don't know man, we're not supposed to touch that, I might be murdered."
I kept a lot of written things. I have one of the letters that Chidi writes saying, "I don't know the answer but Eleanor is the answer," I probably will frame that at some point. I also have the "Eleanor — find Chidi" notes that Eleanor wrote in the [Season 1] finale. If you remember, Eleanor writes the note and crumples it up and she sticks it in Janet's mouth. We had to do that many times, so there are a bunch of notes, and instead of giving the note back to our props master, I asked if I could keep it, then I got them all framed and gave them to the cast as a leaving present.
Earlier in Season 4 we got to see the full array of Janets. Which was your favourite to play?
I really loved playing Disco Janet, it was so fun, that stupid sparkly costume and the roller skates and that wig. We don't even really get too much of a close-up on it but the makeup that they did for Disco Janet was so good, so '70s and over the top and sparkly. I was six foot something on roller skates so it was a funny couple days. There's not a lot that Janet did other than do the thumbs up and say "solid" but we really had some fun with her.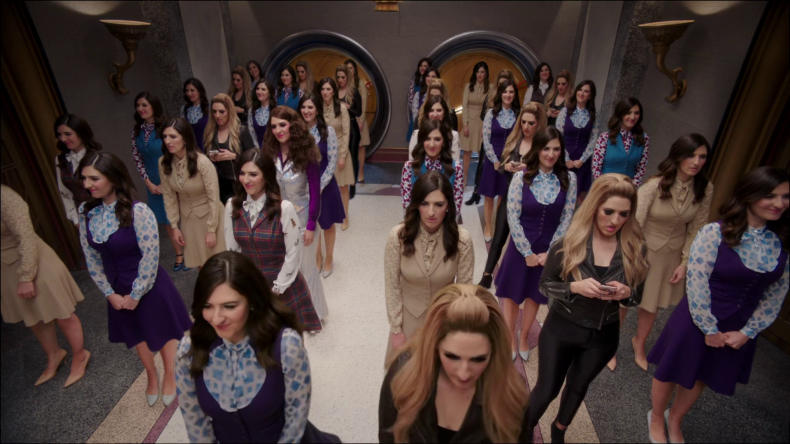 How will you be watching the Season 4 finale?
We will watch it together as a cast on Wednesday night. We do a live taping of Seth Meyers directly after the finale airs, so we'll have watched it together in New York the night before and I imagine it will be very fun and we'll probably have some wine and cry and laugh.
In an interview with Vox, you said that when you auditioned for the show, you were told it was for a fake show. What was the character like?
I didn't find out anything more about the show until I got officially cast. It was a month-long audition process, so for a good, solid month I thought I was auditioning for the part of a woman called "Janet della d'Annunzio" or some like funny sort of Italian last name. Then it said she was a, "violin salesman with a chequered past" which was absolutely just 100% Mike Schur fucking with the people that were auditioning.
I found out that I got it at like 11 at night, and then the next day I had a meeting with Mike and [executive producer] Drew Goddard where they just took me through the first half of the first season - we didn't find out about the twist until pretty deep into filming.
What was it like when you finally learned about the twist?
I knew that there was something going on because it was very secretive and one of the writers is one of my best friends and she wouldn't tell me anything. The first month or so I remember Will and Manny and I, especially Will and I, were really trying to figure it out. We were asking and snooping around trying to figure out what the truth was.
And then one day we were like, "you know what, if they're not telling us let's just let it go," we really kind of forgot about it. And then about halfway into filming, after a read-through or something, Mike called us into a room. It was very ominous and I think Manny later confessed he thought we were getting fired. Everybody had a different feeling going into it, and Mike sat us down and told us directly, you know, about the finale and the rest of the season.
We had the same reaction that everybody watching it had, which was like, clap your hand over your mouth shock. Kristen [Bell] took a video of us finding out which you can find online, it's a pretty funny video⁠ — in fact, that was another weird thing, Kristen held her phone up and started videotaping, and we were like "what the hell is going on?!"
What has been your favorite moment of playing Janet?
The writer truly gifted me with some gems. The "Janet(s)" episode was such a life highlight and getting to fight demons in a bar was like one of the most exciting things I've ever got to do as an actor. But I really, really, really love the episode in Season 2 "Janet and Michael" where, it was Michael [Ted Danson] and Janet figuring out their friendship. It was such a special week.
That episode turned out great, and being on that set with Ted every day and getting to, dig down with this legendary actor who had at that point already become such a good friend and discovering things with him...He's just the best there ever was. And I feel so lucky that our characters were so deeply intertwined. It was such a joy for me to get to do scenes one on one with him.
Interview was condensed and edited for clarity
The Good Place Season 4 finale airs Thursday, January 30 at 8:30 p.m. ET on NBC.