Good Samaritan Risks Life to Rescue Children From Burning Building
A Good Samaritan literally jumped into action when he realized that two young children were trapped inside a burning building Friday.
Police bodycam footage shows first responders arriving at an apartment fire in Mesa, Arizona, where the children, aged 2 and 6, were on the second floor. In the video, one of the officers throws rocks at a window to break through.
While the officer searches for a ladder to reach the children, the Samaritan runs onto the scene. He had seen the fire from an adjacent property and heard there were children inside.
The children's wails can be heard as the man yells: "The kids are in here!"
In one swift movement, the citizen scales a fence and hops onto a storage shed close to the window. He rips out the window frame and breaks the remaining glass that the officer had smashed.
The man then hoists himself into the window of the burning building, pulls out one of the children and hands them to the authorities. In a second part of the video, he goes back into the house for the second child and also hands them to police, Mesa police explained to Newsweek.
The two children were transported to a local hospital and treated for smoke inhalation, and have since been released, according to authorities. The father, who was working at the time, rushed to meet them at the hospital.
The children were being watched by a babysitter when the fire broke out, added police.
According to Mesa police, the good Samaritan "put his life on the line for these children." They added that he refused to be identified, choosing not to draw attention to himself and saying that "he only wanted to help rescue the kids if he could."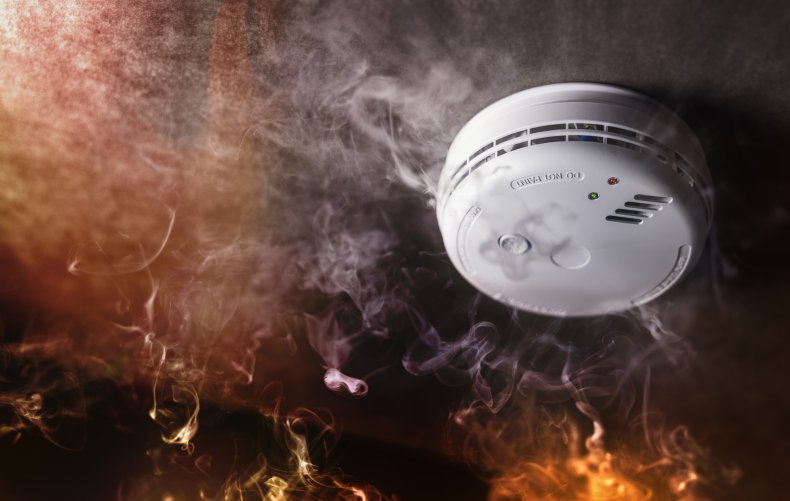 The bodycam video has reached 33,000 views on Facebook, with viewers and community members lauding the man for his bravery. Some have compared him to Spider-Man for his nimble climb up the wall to make his heroic rescue.
"Wow amazing work by this brave citizen and public safety," Phoenix City Councilman Sal DiCiccio wrote on Facebook.
Another commenter noted the citizen's fearlessness despite a lack of protective equipment: "What an outstanding hero that Good Samaritan was! He had no respirator..... NO protective gear and he jumped in to protect the two little girls!!! He wouldn't stop until he cleared the apartment."
According to the National SAFE KIDS Campaign and the United States Fire Administration, fires annually kill approximately 500 children ages 14 and under. The majority of these are residential fires, and most fire-related deaths are caused by smoke inhalation of toxic gases.