Good Samaritan Stops Overflowing Tank in Viral Gas Station Fail: 'Sad'
A man saved the day when he spotted an unattended vehicle's overflowing tank at a gas station, and luckily he captured it all on video.
The TikTok recounting the situation, captioned, "People just don't think #gas #easywithadobeexpress #gasstation #lol #gooddeed #smh #wow #payattention," has been viewed 4.8 million times and liked 441,100 times since it was shared on April 6.
According to Statista, the average price of a gallon of regular gas in April amounted was $4.12. Diesel cost $5.07 a gallon.
Gas prices were expected to increase along with the price of crude oil rising after Russia invaded Ukraine. Although prices have declined slightly, oil prices are expected to again rise as driving picks up with improved weather and the war continues.
TikToker @lifeis2enjoy shared the 30-second clip, which began by his truck. He walked to another vehicle where the sound of rushing liquid could be heard.
A Toyota Prius was parked by a gas pump, which had the fuel nozzle attached to the tank. However, gas was pouring out of the overflowing tank and onto the ground.
The vehicle was unattended, and the TikToker said the Prius owner was inside the gas station.
"When it rains it pours gas," the screen read in text overlay. "Do not leave the gas pump unattended. I saw dude inside drinking coffee and chatting with his friend. I guess now both of us are paying $140 to fill up."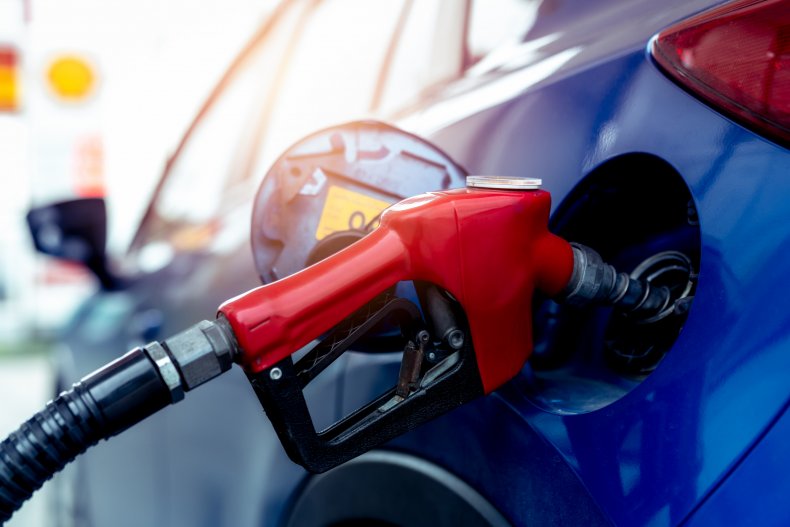 The TikToker walked to the nozzle and released the handle lock so the gas would stop coming out.
The man started to walk back to his truck, flipping the camera around to say, "What the f**k?"
He then started the process of putting gas in his own truck before the clip cut off.
More than 7,300 comments poured in over the good Samaritan's deed, and a discussion ensued over the viral moment.
Some people seemed to appreciate the TikToker's efforts. "You're a real one for stopping it though," a TikToker said. "A lot of people would just look at it and go."
Some people pointed out that many gas pumps now have an automatic stop feature that will halt the liquid from flowing out once the vehicle's gas tank is full. "Dang our pumps stop themselves when full," a viewer wrote.
Others wouldn't have done what the Prius owner did. "My anxiety would never allow me to leave that pump unattended, Lol," a TikToker admitted.
Many people had comments about the vehicle's owner. "He just undid all the money he saved over the years, Lmao," a viewer joked.
Another TikToker explained that even if the nozzle is supposed to automatically shut off, "you are supposed to not leave the pump unattended. Things fail sometimes, better safe than sorry."
Others thought the spill warranted personnel to come out in response. "That much spillage and the fire department will have to come out," a viewer wrote.
A TikToker also called the situation "sad," adding: "Now if someone comes behind him and smokes the whole station gone."
Newsweek reached out to TikToker @lifeis2enjoy for comment.
This isn't the only viral moment to occur involving vehicles. A woman showed how you can drain water from a car's door. In another video, a giraffe removed a wiper blade from a car's windshield. In addition, a clip of a car slamming into a parked car has made the rounds online.