Good Samaritans Help Arrest Suspect in Sex Attack on Minor at Denny's
Alert citizens jumped into action when they suspected a man was attempting to sexually assault a girl at a Denny's restaurant in Long Beach, California, police said.
A good Samaritan intervened in the early hours of Sunday morning, according to Richard Mejia, public information officer with the Long Beach Police Department. The person sought help from fellow citizens. Together, several people detained the suspect until police arrived at about 1:39 a.m.
Officers responded to the report of sexual assault on a minor at the Denny's location, police said, and found the suspect, identified as 33-year-old Jimmie Kirkwood, injured with stab wounds.
"At this time, it is unknown if the suspect sustained injuries during this incident or during an unrelated incident; the investigation to determine how he sustained the injuries is ongoing," Mejia told Newsweek in a statement.
Kirkwood was transported to a local hospital and arrested on suspicion of lewd and lascivious acts with a child under 14 years old, assault with the intention to commit rape, and false imprisonment, Mejia said. The suspect's bail was set at $100,000.
It is unknown where at the restaurant the alleged assault occurred.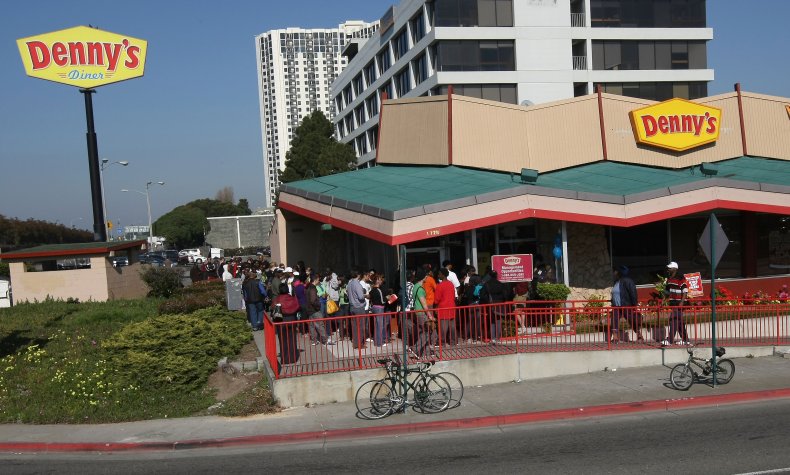 The circumstances of a citizen's arrest, in which one person physically detains another to arrest them without being held liable for assault, battery or false imprisonment involved in the act, can vary according to the state's legal definitions.
In California, a private citizen can detain a suspect in a public offense committed or attempted in their presence; a suspect in a felony committed outside of their presence; or a suspect in a felony when the citizen has reasonable cause to believe the person arrested was the perpetrator.
Pashen Black, a Denny's spokesperson, told Newsweek in a statement: "We are actively gathering more information about the incident that took place at one of our Long Beach, CA locations and will be providing whatever support we can to authorities as they conduct their investigation. Denny's top priority is the safety and wellbeing of our guests, and we will always work to ensure that priority is met."
According to the Rape, Abuse & Incest National Network (RAINN), one in nine girls and one in 53 boys under age 18 are sexually abused or assaulted by an adult in the United States, with females comprising 82 percent of all victims. In the majority of instances, the perpetrator is not a stranger. Child victims know their abusers in 93 percent of sexual abuse cases reported to police; in 34 percent, they are family members.
The long-lasting effects of child sexual abuse include a range of psychological challenges. Victims who suffered abuse as children are about four times more likely to abuse drugs and to suffer from post-traumatic stress disorder as adults, according to RAINN. A child victim is also three times more likely to experience a major depressive episode as an adult.
Update 4/5/22, 1:07 PM ET: This story has been updated with a comment from a Denny's spokesperson.