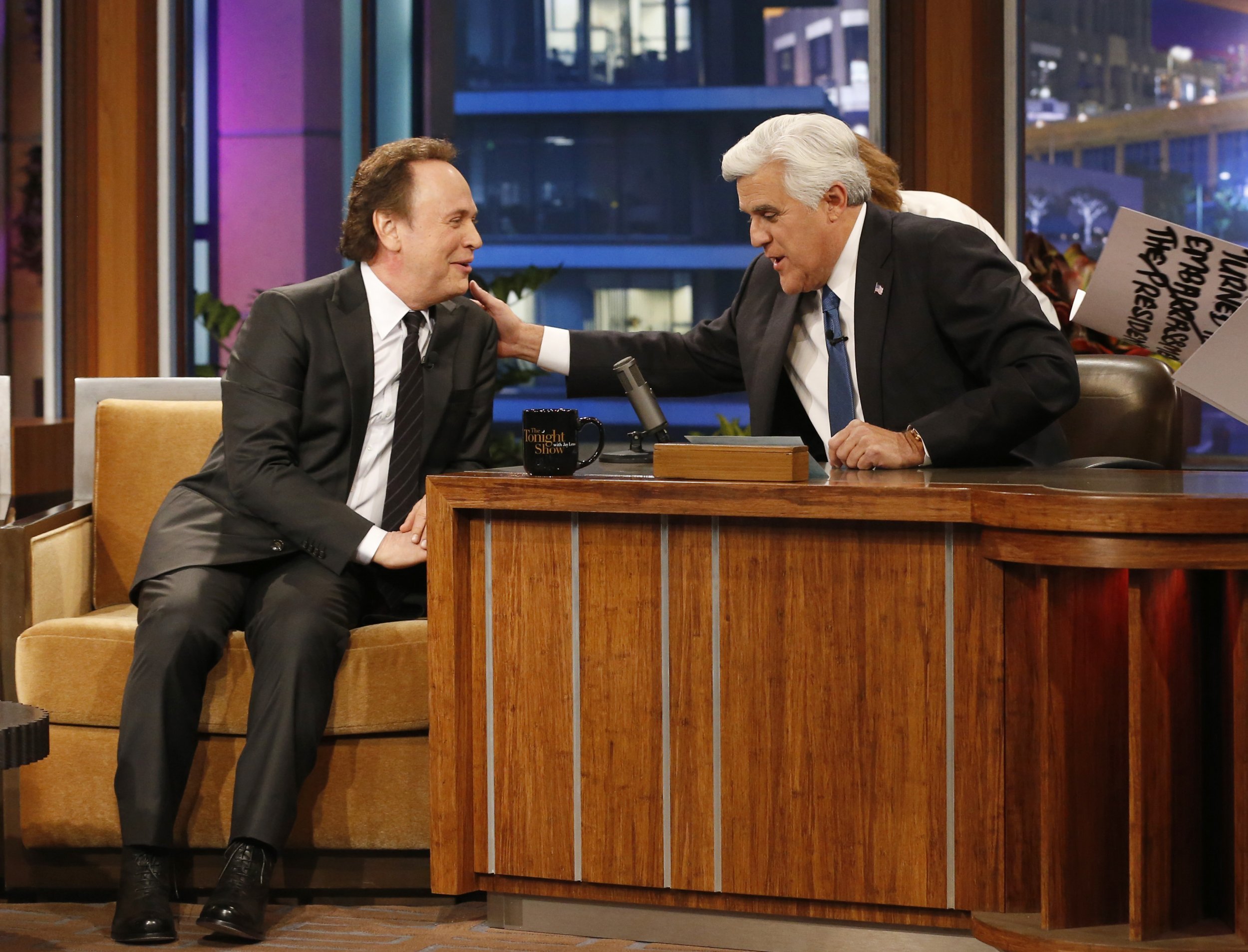 Because the show's title is Comedians in Cars Getting Coffee, Jerry Seinfeld, its host, recently phoned his old friend Jay Leno and invited him out to do just that. Leno hesitantly accepted, noting that he had never had a cup of coffee and that "I'm not addicted to anything," which is of course a lie.
Jay Leno is addicted to working, to performing stand-up comedy.
Leno bid farewell to The Tonight Show last night – again – after 22 years, joined by guests Billy Crystal and Garth Brooks, who had also been the guests on his first show on May 25, 1992. Crystal noted his old friend's tireless work ethic, how for years he has often hosted the nightly NBC program only to hop a flight to Reno or Las Vegas so he could perform on stage later that evening.
"More than anyone I know, you love being a comedian" said Crystal, who recalled that when visiting Leno's barren apartment in the 1970s the only decorative piece he spotted was a poster of comedian Robert Klein situated above Leno's bed.
Strange.
Leno has long been his own comedic San Andreas Fault, tectonic plates shifting against one another causing uneasy friction. On one hand, comics of his own generation who, like him, have since amassed wealth that their younger selves would have deemed incomprehensible -- contemporaries such as Seinfeld and David Letterman -- are quick to acknowledge Leno as the master of stand-up. On the other hand, the same comic who in the 1980s would appear on Letterman's late-night program toting a half-eaten meatball sub was ruthlessly ambitious.
"I used to tell Mitzi (Shore, owner of The Comedy Store) to put me on immediately after Richard Pryor," Leno recently told Seinfeld, which is like asking to pitch to David Ortiz in Fenway Park in October, "because that was the only way I was going to get better."
Those two Jay Lenos, the acerbically funny stand-up and the well-behaved steward of the most valuable franchise in late-night television, never truly coexisted (and hence the big rooms in Nevada and the comedy clubs of suburban Los Angeles became Leno's comedy mistress). Although Leno routinely edged out Letterman, the friend whom he had beaten out for the right to succeed Johnny Carson in 1992, in the ratings, there was always a sense that Jay Leno, host of The Tonight Show, had been sanitized for our protection.
In his monologue Leno joked about the changes that had taken place in society between his first show at 11:30 p.m. and his last – "marijuana was illegal and it was fine to smoke a cigarette indoors" – while noting his regret that O.J. had never found "the real killers." Later, when Crystal appeared, the guest forestalled his moment on the couch by reciting some of Leno's more memorable punch lines over the two-plus decades.
"Who said, after 9/11, that if you want to board a plane and your first name is Muhammad, then your last name better be Ali?" asked Crystal. "You did."
Crystal, who entered accompanied by two movers and slapped "Burbank Moving Company" stickers on everything, including the forehead of band leader Rickey Minor, was the ideal friend to walk Leno into the abyss. He reminisced without being maudlin and then, accompanied by the Shut Your Von Trapp Family Singers, a troupe that included Jack Black, Kim Kardashian, Sheryl Crow, Carol Burnett and, ultimately, Oprah Winfrey, he led a spirited parody of "So Long, Farewell" from The Sound of Music.
"There a sad sort of clanging
From the clock in the hall
And the bells in the steeple too
And all the executives that run NBC
Are popping in to say you're through."
The Tonight Show will celebrate its 60th birthday on September 27, and by then the show will have returned to its origin, New York, with Jimmy Fallon succeeding Leno as the sixth host in its run. It was telling last night that, in a pre-taped segment in which various celebrities advised Leno what to do next, that Fallon appeared last. And, unlike those who had preceded him and employed barbed wit – comedian Bill Maher bid Leno a heartfelt goodbye and then told the cameraman to keep rolling as he then welcomed him back for a third stint – Fallon was sincere.
"If a big story ever breaks and you have, you know, your head just full of jokes and you just have to get it out there," Fallon said, "you can always come home and tell them on The Tonight Show."
Those had to be the best the most reassuring words Leno heard on his last night.