Gooding & Co. Auctions off $107 million in Vehicles at Pebble Beach Concours d'Elegance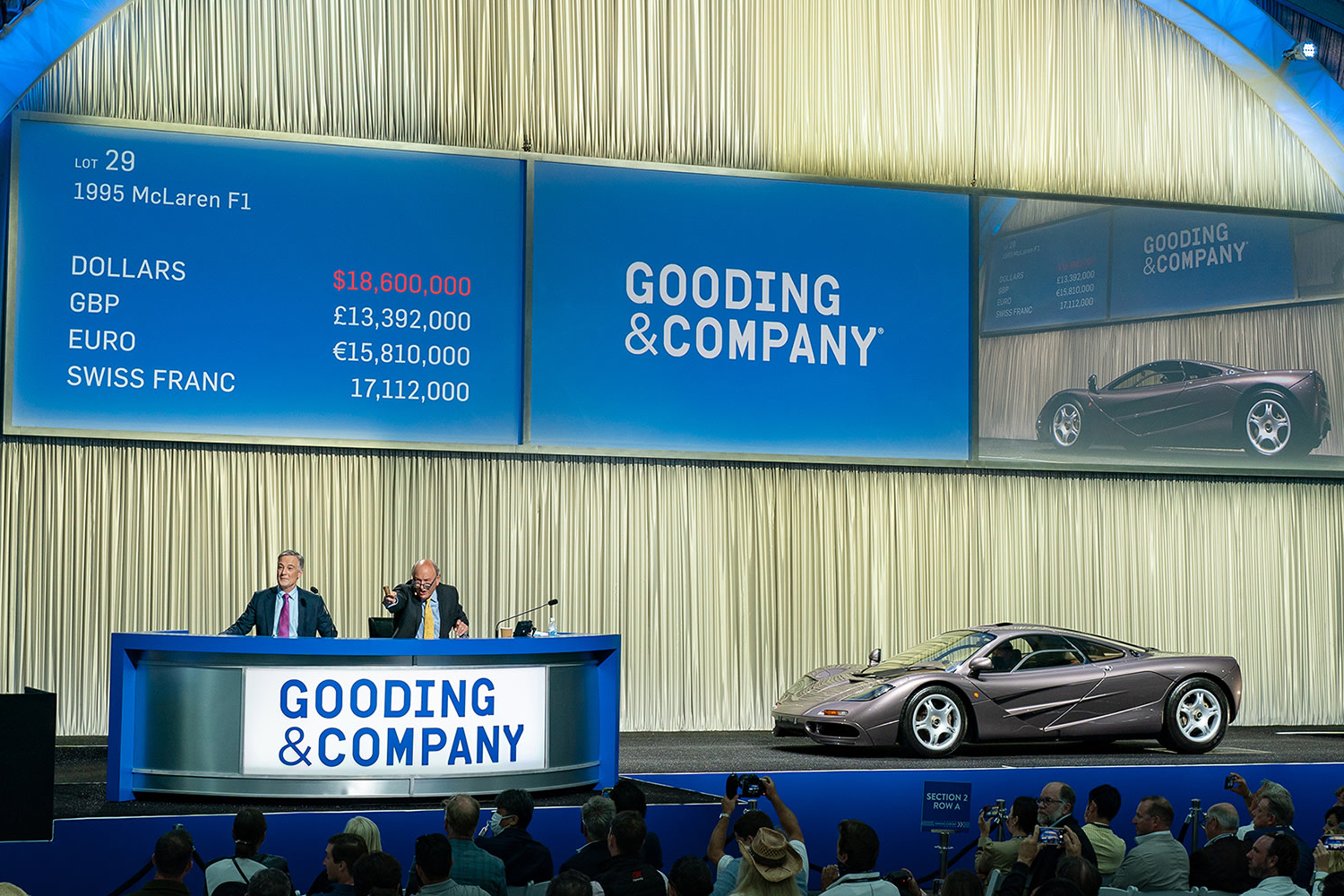 Gooding & Company hosted their 70th Automotive Week at Pebble Beach and capped the event with their annual auction totaling $107 million in sales, including one car that sold for over $20 million.
The 2021 results set a number of records. The Gooding & Company Pebble Beach auction did not take place in 2020 due to the pandemic, however in 2019, the auction totaled $76.8 million in sales, with an average price of $711,340 per car and 17 lots that sold at or above $1 million. This year's average price was $930,829 per lot with eight lots that sold at or above $3 million. Four of the lots were among the top 10 sales across all of Monterey Car Week.
A 1995 McLaren F1 sold for $20.465 million, setting a world record auction price for the model. The supercar was just one of only 64 ever built making this a once-in-a-lifetime opportunity for collectors. The monochromatic brown time capsule car boasts less than 390 km from new.
After receiving Pebble Beach's First in Class and being named a Special Award Winner, a 1930 Duesenberg Model J Disappearing-Top Convertible Coupe sold for $3.965 million. The car's very first owner in 1930 was a wealthy woman who had the car delivered to California after it was built in an Auto Salon in New York.
A 1963 Mercedes - Benz 300 SL Roadster sold for just over $3 million. Listed among the finest and most desirable 300 SL Roadsters in existence, this collectible was one of the last six built in the final week of 300 SL production.
Of the 23 Ferraris auctioned, there were three that sold for over $3 million.
A 1967 Ferrari 275 GTB/4, sold for $3.6625 million, was offered by the original owner who bought it at the Ferrari Factory in Maranello, Italy. The classic vehicle was restored by Junior's House of Color and Tony Nancy and certified for retaining its original body and drivetrain.
For almost a million dollars more, a 1958 Ferrari 250 GT Series I Cabriolet sold for $4.405 million. Among the one of the most beautiful sports cars of the 1950s, this Italian masterpiece was originally finished in Oro Andalusia, Spain and displayed at the 1958 Earls Court Motor Show in London, then completely restored by Motion Products Inc. going on to receive multiple First in Class and Platinum Awards at auto shows.
The most expensive Ferrari sold at the auction, the 1959 ​​Ferrari 250 GT LWB California Spider, sold for $10.84 million. The retired racing car is equipped with LWB covered-headlights, velocity stacks, a cold air box, hi-lift cams, a ribbed gearbox, a long-range fuel tank and an external fuel filler.
Of the handful of Aston Martin's sold at the auction, one sold for $3.305 million. The 1961 Aston Martin DB4 GT was one of 75 DB4 GTs built and just one of 30 left-hand drive models. Previously owned by famed race team owner Georges Filipinetti, the car was then sold to a Swiss owner, who held the car in their possession from 1962 to 2010.
One of the oldest cars in the auction to have seen some racing action, 1929 Bugatti Type 35B Grand Prix, was sold for $5.615 million. The classic automotive won both the French and Spanish Grand Prix in 1929, was featured on the cover of Road & Track in November 1951. The car still retains its factory engine.