Goodreads Best of 2013 Historical Fiction Finalists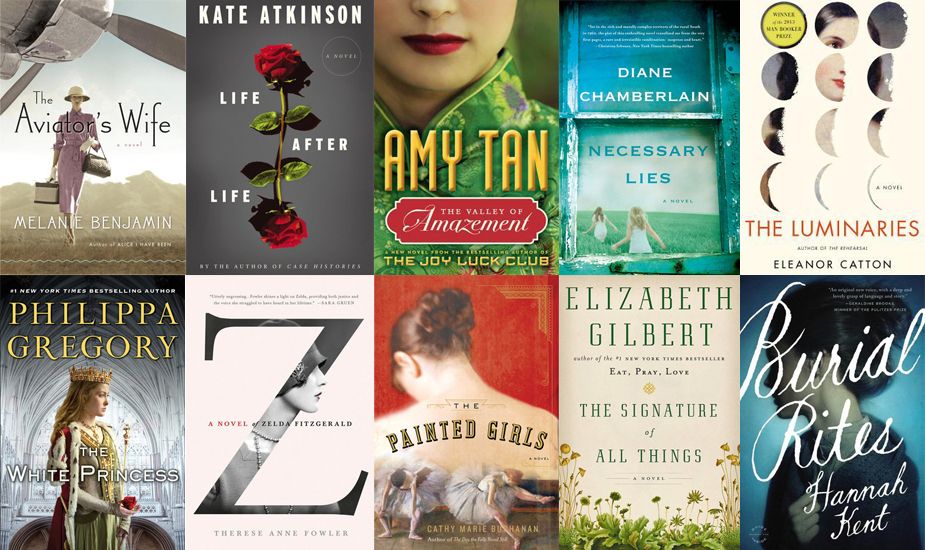 As part of a partnership with Goodreads, Newsweek is outlining information from Goodreads Choice Awards 2013 finalists in five separate categories over the next two weeks, providing summary and review details on everything from the latest hot memoir to the most critically acclaimed piece of historical fiction.
Here are the Goodreads Top 10 books in historical fiction, plus a Goodreads review and some entertaining reviews from Amazon. Go vote for your favorite!
BURIAL RITES - Hannah Kent
Goodreads Top Review:
This book is a stunning debut novel. Here's hoping Hannah Kent has other tales to tell. Her language is lyrical and the character of Agnes is complex and poignant. In a way, there is a cruelty in the way Kent draws the reader into Agnes' soul when one knows the inevitable heartbreak that lies in store for her. The other characters' gradual affection for the doomed woman is also cleverly evoked. At first I found the interpolation of official records to be distracting but ultimately I found myself returning to them to fully understand the attitudes of the time. We may never really know what Agnes Magnusdottir was like, or whether she was complicit in the murders, but Kent is to be lauded for this beautiful rendering of a woman whose life was beleaguered from childhood and had to survive the cold, harsh world of Iceland's landscape, prejudices and law." -Elisabeth Storrs
Our Favorite Amazon Reviews:
"It was full of gloom and tragedy, but I could not muster up any sympathy for any of the characters or any real interest in the overall situation."(firecat)
"Burial Rites, a document of historic value, extensively researched but Oh! so very dark, dismal and cold, like the country in which it is set."(Bonnie Williams)
LIFE AFTER LIFE - Kate Atkinson
Goodreads Top Review:
"So much great writing and characterization. Such an interesting premise and structure. Wonderful use of humor and irony (thank you, Teresa) throughout. Remarkable depictions of The Blitz. I want to give this book 5 stars. But I can't. A bit of editing would have helped. but that's a quibble. It's very difficult to go back over the same territory over and over again and keep it interesting. Atkinson did this amazingly well, tho there were moments of, 'oh not this again.' The real blooper for me was Ursula (view spoiler)
I also didn't love the way the book ended. Reading the book was like jumping out of an airplane and enjoying the ride (most of it), trusting that the landing will be a good one. Well, the parachute opened, but very late. The landing was abrupt. I think I still feel concussed. I just closed the book and I'm wondering, 'what just happened?' Like Ursula, I'd like to go back up and try that again. Maybe the outcome will be better the second (or third or fourth) time around." -Anne
Our Favorite Amazon Reviews:
"I finished it only because I bought it and I have an Obsessive Completion Disorder. Can't wait to be on to something else...." (aacgalhere)
"To all the cretins who quit this book early or skimmed it as a result of their own attention deficits: go back to your smartphones! You weren't meant to read, or can't read anymore, so pick up some EL James on audible and stop trying. For those who stick with it, who work to understand it, the pleasure is immense. It's easily one of the best five novels I've read in ten years." (Someone Like You)
THE LUMINARIES - Elenaor Catton
Goodreads Top Review:
"This is not an important book. There is no magnificent theme, no moral thicket, no people to emancipate, no countries to defend, no subtext to unravel, and no sizable payoff. Its weightiness is physical, coming in at 832 pages. And yet, it is one of the most marvelous and poised books that I have read. Although I didn't care for the meandering rambling books of Wilkie Collins, I am reminded here of his style, but Catton is so much more controlled, and possesses the modern day perspective in which to peer back." -switterbug (Betsey)
Our Favorite Amazon Reviews:
"I felt I was drowning in style and background, cleverness and wit but drowning all the same. I kept looking for a life raft but found none. I apologise for not finishing this clearly amazing piece of literature. It doesn't feel respectful but I felt I was having an affair with a book that is a very literate tortoise and unless you have more time than I have, I would look carefully at your diary and your patience." (Carol Oliver)
"Brilliant, thrilling, complex, complicated, dense, convoluted -- a work of great art." (Joe Gorman)
THE SIGNATURE OF ALL THINGS - Elizabeth Gilbert
Goodreads Top Review:
"Ambitious is the first word I think of with this novel. There were many times during my reading when I felt Gilbert nailed the intersection for which she was aiming: tension between science and the divine; strong heroine journey; historical development of science in the 1800s-- particularly women in botany; love triangles; father/mother/sister complexes; writing style born of Dickens-Austen-Alcott; and, a plethora of travel and transformation metaphors (Gilbert's evolution from "Eat, Pray, Love" is evident on at least half the book's 500 pages). I found myself dog-earring passages to re-read and taking notes for my own life....suffice it to say, I enjoyed the book. However, it falls long-winded in parts and can feel like Gilbert's trying a bit too hard." -Natalie
Our Favorite Amazon Reviews:
"This book had very little sex in it and yet it was all about sex. No one was happy and no one got what they wanted." (B. Bucklin)
"I never thought I would have the least interest reading about a woman scientist in the 1800's who was studying mosses. That being said, I could not put this book down." (Gabrielle Bassman)
Z - Theresa Ann Fowler
Goodreads Top Review:
"This is Zelda Lite. I think this novel will be absolute perfection for readers who just want a quick romp through the years of Zelda's life that are most relevant to her role as the wife of a famous and very troubled writer. There's almost nothing in the book about her life before she met Scott, and only a brief Afterword covering the years from when Scott died in 1940 until her death in 1948." -Jeanette
Our Favorite Amazon Reviews:
"Interesting novel about a very interesting couple. I have read a lot about Hemingway and he was not a fan of Zelda. Probably because she was not a fan of his." (Deb Farrell)
"Everytime I read it, I fell asleep." (Kathleen Everett)
NECESSARY LIES - Diane Chamberlain
Goodreads Top Review:
"I don't know why it has taken me so long to discover the wonderfully talented writer, Diane Chamberlain . But I am thrilled I have been introduced to her writing by a Gooodreads friend , who gave this book a glowing review. The story of two welfare families working so hard and doing what ever it takes to provide bare minimum food and shelter for themselves & their families is heartbreaking . But at the point in the story where we learn of the Eugenics Sterilization Program and the impact on these characters , it becomes a gut wrenching realization that this practice actually took place in this country. There are some pretty amazing characters in this book , all heroines in their own way : Mary Ellawho gives of herself to save her family , Ivy who sacrifices so much to escape a horrible fate , and Jane , the social worker whose courage is indisputable . Five stars , at least ! I will, for sure be reading more of Diane Chamberlain's books." -Angela
Read the full review.
Our Favorite Amazon Reviews:
Compelling, thought provoking and challenging as few books are. Necessary Lies is a novel based on historical truth about a time when human sterilization were performed without knowledge or consent. An amazing and captivating read about a little known Eugenics program- a disgrace in North Carolina's history." (Linda G)
"The story hit me particularly hard as I grew up during the time this program was utilized (1929-1975) and I have epilepsy. I COULD have been one of the recipients of this barbaric practice. Thank goodness we didn't live in North Carolina." (Cheryl Stout)
Goodreads Top Review:
"The Lindberghs had been married for almost 40 years when Tammy Wynette sang "Stand By Your Man" in 1968, but it's a song Anne Morrow Lindbergh could have written about her relationship with aviation pioneer Charles Lindbergh." -Jeanette
Our Favorite Amazon Reviews:
"I found this book remarkable from the beginning to the end. It's the story of a woman trying to find her own voice and her own life. She wanted more than to be the "Ambassador's Daughter", the "Aviator's wife" or the mother of her six children. She accomplished many things on this road and endured tragedy beyond comprehension. In the end, she took charge of her life and responsibility of her actions." (Susan Johnson)
"It was a compelling story and helped me to understand my daughter's need to separate from her husband and have a life of her own." (Pat Schroth)
THE WHITE PRINCESS - Philippa Gregory
Goodreads Top Review:
"The White Princess is the fifth book in Philippa Gregory's Cousins' War series, each book focusing on a different female lead; this book being the POV of Elizabeth, daughter of Edward IV and Elizabeth Woodville (whose story was told in The White Queen), and wife to Henry VII. The book begins after the battle at Bosworth field, and as interpreted by Ms. Gregory has young Elizabeth pining over her lost lover, Richard (her uncle!!)(view spoiler). Elizabeth, mom and all those younger sisters come to court with the expectation that she's going to marry Henry Tudor (view spoiler), but Henry and mom Margaret Beaufort don't seem to be in any hurry--->>>real spoiler (view spoiler)." -Misfit
Our Favorite Amazon Reviews:
"Though still a great read for her fans, this does seem to be the most repetitive of her narratives. Elizabeth comes across as stone-cold stupid, repeating everything people say to her and seeming constantly surprised by events that should be no surprise whatsoever. Since Gregory writes historical fiction, I support the author in choosing whatever version of events that she wants to believe… [...] But then...why not make her version of events supremely interesting?" (Brooklyn Mom)
"I am not even sure where to start with this train wreck of a novel. I almost didn't even read it after being disappointed with the first three in this series. I had passed on #4, but couldn't resist the story of Elizabeth of York. Little did I know that this book is really the story of her brother, Richard Duke of York, told from her insipid first person point of view." (Samantha Wilcoxson)
THE PAINTED GIRLS - Cathy Marie Buchanan
Goodreads Top Review:
"This is a brilliantly written historical fiction set in Paris in the 1880's. A story about the lives of sisters trying to make their way through life under less than ideal circumstances. Do the girls have control over their destiny or is it fate that delegates their position in life? Intertwinning the tale of the sisters' lives and true facts from historical documents, paintings, ballets, plays, sculptures, murder trials and more this notion is explored. A true page turner! This book filled with sister love and rivalry had me hooked from beginning to end. A wonderful read!" -Nancy
Read the full review.
Our Favorite Amazon Reviews:
"Buchanan's book is so grim and dreary that one wishes it came with a prescription for an SSRI. While her descriptions of life among the very poor working class in nineteenth century Paris are true-to-life and suitably grim, the slight story which she weaves about a trio of sisters with aspirations to dance at the Paris Opera Ballet is, in the end, less than satisfying." (Filumena)
"Beautifully written, The Painted Girls is a story of opposites: meek vs. strong, rich vs. poor, beautiful vs. ugly, good vs. bad. Anyone who is interested in learning more about the truth behind the glitzy veneer of the Parisian Ballet or anyone who just loves a complicated, endearing story of sisters would love this book. I now want to learn more about this time period and, for me, that is the true test of great historical fiction." (Colleen T.)
THE VALLEY OF AMAZEMENT - Amy Tan
Goodreads Top Review:
"Amy Tan is an amazing storyteller, and THE VALLEY OF AMAZEMENT exemplifies her skills. This is a multi generational story between mothers and daughters, as well as many other wonderful and important characters. The attention to detail and historical research that must have gone into the writing of this novel is mind-boggling. If you loved MEMOIRS OF A GEISHA, you will be fascinated by the details and lives of Tan's courtesans." (Denise)
Our Favorite Amazon Reviews:
"What a slog! Nearly 600 pages of plodding writing with unlikeable characters. As a former Amy Tan fan, I was looking forward to this book, but I had to force myself through the pages. Tan tells the stories of a mother and daughter in Shanghai at the beginning of the last century. Unfortunately, the great majority of the book (400 pages) is the story of the less interesting (and more unlikeable) daughter. I kept on reading only to get to the mother's story. Tan excels at mini-stories, fables, and backstories of minor characters. Whenever she launches into one of these, the writing is compelling. Unfortunately, these mini-stories are few and far between. I kept feeling that I had read a superior version of this book, and I realized that it was "Memoirs of a Geisha.' " (Micky)
I am always astounded by reviewers who compare, always unfavorably, the book they have to some book that they feel should have been written. Taken on its own, The Valley of Amazement is a marvelous, nutritious and fulfilling novel, a ripping good yarn. It has, of course, the elegantly simple and lucid prose that Ms. Tan is noted for, as well as the touches of magic and the unique characters she always seems to find. But it also has a sweep and range that Tan has heretofore not managed, all the time preserving the intimate connection of the reader to the scenes, the times, and the actors portrayed. It needs to be a mini-series with high production values produced by HBO or Showtime. I would predict an Emmy. Don't listen to any of the naysayers, who should, perhaps, themselves write a book that will satisfy their desires rather than be petulant that Tan didn't write it. Read it and decide for yourself. You will be, well, amazed." (ASA DEMATTEO)