Goodreads Best of 2013 Nonfiction Finalists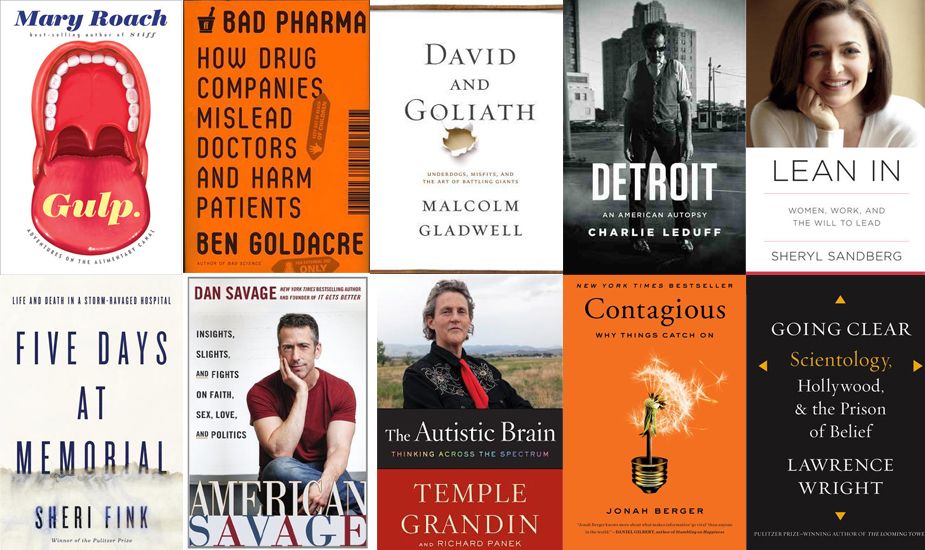 We know you're all over the news, but are you caught up on your reading? As part of a partnership with Goodreads, Newsweek will be outlining information from Goodreads Choice Awards 2013 finalists in five separate categories over the next two weeks, providing summary and review details on everything from the latest hot memoir to the most critically acclaimed piece of historical fiction.
We're starting you off with nonfiction. Here are the Goodreads Top 10, plus a Goodreads review and some entertaining reviews from Amazon. Go vote for your favorite!
Newsweek subscription offers >
Goodreads Top Review:
"Interesting and disturbing. Does someone share a link on FB for social credit, or are they moved by something to the point they feel they must share it? (This may explain why some of my FB friends feel the need to fill the news feed with dozens of pictures & links on any given day). And, totally unrelated, why do I occasionally crave a Kit Kat bar?

'Contagious: Why Things Catch On' addresses these questions and much more. And it makes me wonder how far into our psyches, and social media, are marketers willing to go to try to sell us something. It also answers the whys and whats of the way we sell. Why do certain ads work? Why are marketers so eager for things to spread by word of mouth? What drives the number of times and ways we'll recommend something?

While I found it disturbing at how manipulative marketing can be, I also found it fascinating how much some of it worked. If my job were in sales, I'd have probably read it over again before moving on to the next book."- Sheila
Read the full review.
Our Favorite Amazon Reviews:
"I've learned more in the first half of this book then I ever did in school and in life." (Michelle)

"If this material is enough to cover an entire Wharton MBA course, then I'm not sure what that says about Wharton's program. There is just not that much information in this book far beyond common sense most people already intuitively know." (I am C, Not X)
FIVE DAYS AT MEMORIAL by Sheri Fink
Goodreads Top Review:
"This is easily one of the best narrative nonfiction books I have ever read. It tells the story of what happened in one New Orleans hospital during Hurricaine Katrina, where doctors and other medical staff were accused of euthenizing patients. The book is divided into two sections. The first is an account of what happened in the hospital during the storm. The second recounts the legal process in the years afterward. Dr. Anna Pou, a doctor who was working in the hospital during Katrina, and later arrested, is a focal character. The author relies on the viewpoints of many different people to tell a necessarily complicated tale, but she has done an excellent job at weaving all the narrative threads together into one compelling story." - Kirstin
Read the full review.
Our Favorite Amazon Reviews:
"This book should be read by every hospital administrator and crisis management specialist in America. Additionally physicians, nurses, and public servants should read this. None of us are as prepared for the next natural disaster as we should be." (C. Flannery)

"Not for the faint of heart,this book will scare the holy hell out of you. It takes you back to the Holocaust where a flick of the wrist meant who lived or died. Just make sure you are not really, really sick when you go to a hospital in a flood plain. How these decisions escaped prosecution is beyond me. No one has the right to play God." (mekamoo123)
GOING CLEAR by Lawrence Wright
Goodreads Top Review:
"In 'Going Clear,' Lawrence Wright does something that surprised me: he managed to make Scientology (or, at least, the people who run the Church) more repellant to me than they were going in, but he also manages to satisfactorily explain how such an organization could come to be and why people would follow it. This is a masterful feat." - AdamRead the full review.
Our Favorite Amazon Reviews:
All I can say is wow! I will never look at Tom Cruise or Jenna Elfman with any respect again. A GREAT INVESTIGATIVE BOOK and a better HORROR story."

(

Steven Lorenz

)
"When a pulitzer prize winning journalist embarrasses himself with such a poorly researched and obviously slanted piece of writing as Going Clear... , and when he uses this much paper to rehash and revisit inuendo and second and third hand 'facts' that have been around for years, he should be required to forfeit his prize, to apologize for wasting readers' time, and to do community service planting trees." (eddie)
DETROIT: AN AMERICAN AUTOPSY by Charlie Leduff
Goodreads Top Review:
"Here is an elegy for a city, and the funeral oration is delivered by the long-lost son of Raymond Chandler and Hunter S. Thompson.

This book hit me. It is not from the journalism as prose-poetry style, although that helps. It is not exploitative 'ruin-porn', the stuff of a cottage trade of tourists playing paintball in factories without roofs and taking photographs of the natives like a safari. Or of the jounralists who visited Detroit in 2008, saw things were bad, and then left without asking why.

Here is instead a story of real breathing people. Of too short lives and forgotten homes, of dead children and firefighters with holes in their suits and weeping grandmothers and the weary resignation which often precedes an acceptance of death. I quote: "Detroit is full of good people who know what pain is." -Hadrian
Read the full review.
Our Favorite Amazon Reviews:
"Charlie's news stories are freaking HILARIOUS, and what he's doing for Detroit is amazing. I bought the book because I like the guy (check out his mugshot online... best EVER!), and wasn't disappointed. He's a very passionate, dramatic writer, as one would guess, and tells his personal tale of being a reporter who returned to his home city after being away for several years, only to be shocked and appalled at what it had become." (Peter Trzos)

"And we are worried about what is happening outside our country??? Read this, perhaps you will want to start thinking about what is happening here." (Stephanie Bennett)
BAD PHARMA: HOW DRUG COMPANIES MISLEAD DOCTORS AND HARM PATIENTS by Ben Goldacre
Goodreads Top Review:
"I think this book may have an enormous impact in public health. Read the first chapters and was already amazed, enthralled and utterly shocked by some of the revelations. It doesn't surprise me that drug companies are withholding data from public scrutiny but it sickens me to learn that publicly funded regulators are also in the game... Now that I have finished it, I have a much deeper knowledge of how Big Pharma actually harms patients and, better still, a list of actions anyone can take to help improve the situation. I agree with the author in that transparency is key to change things and that can only come from a change in the (non-) regulation that it is now in place. We, the public, have the responsability of demanding that change from our politicians. I also agree that massive leaks, wikileaks style, from industry insiders could help to discourage shameful practices from all the agents involved in public health." -Pedro Molina
Read the full review.
Our Favorite Amazon Reviews:
"If you take a witches brew of 'life saving' meds like I do, well sometimes ignorance is bliss. The best reason to buy it is to reward the author for his many long hours of research." (Thomas B. Roach)

"An aspirin will never be the same again..." (Nigel)
Goodreads Top Review:
"Mary Roach has done it again. She has created a book that I purposely read slowly so I could savor every bite, picture, and footnote. This time she takes us on a trip down the Alimentary Canal, from nose, tongue, and teeth to the bitter end of the trail with all the explorers, characters, scientists, and even Elvis to enlighten us on our way. Roach has a way of taking you along this field trip asking all the questions that you know you wouldn't have the guts to ask, of the professionals who are passionate about your gastrointestinal tract. As always, I learned a lot, laughed a lot, and dreaded to see the last page. If you've ever had a colonoscopy, constipation, heartburn, or were interested in medicine or history, this book is for you." -Anita
Read the full review.
Our Favorite Amazon Reviews:
"Bought as a drunk Amazon book purchase, and when it arrived with tanning lotion and a bathing suit a size too small (clearly trying to tell myself something when drunk), started reading and then DEVOURED this book. Completely totally worth it. Crazy interesting and exceptionally well-written. I've never written an Amazon review in my life, but I'm legit recommending this book to everyone I know." (Johnny)

"One of the very few books I have ever thrown in the garbage before finishing it. She spends pages describing the dress of the scientists she interviews, constantly tries to be cutesy. The Hello Kitty version of the digestive system." (MichaelC)
Goodreads Top Review:
"I like Dan Savage. While he is by no means perfect, he & I are pretty well aligned on our political & social views and dammit he's also really hilarious. I especially loved/was infuriated by the chapter on Obamacare: Still Evil. Less Evil. But Still Evil. Although the wee Catholic girl in my head was shocked into silence at the blasphemous exchange between Jesus & Peter LaBarbera at the end ('Imagine a ripped, bearded Jake Gyllenhaal in the role of Jesus . . . '), the older, much more liberal & progressive actual me laughed my a** off.

Here's the rub: if the owner of the pizza store my husband works at decided that she could give him health insurance if she raised the price of her pies by $0.14 per pizza - if my husband, who has not had insurance since he was 18 years old, could possibly have coverage for an extra fourteen freaking cents a pizza - then every time I ordered a from her store I'd toss down an extra $10 just to help out the effort. That any business owner in this country could balk at something that simple & fundamental is absolutely mind-boggling to me. Get bent, John Schnatter." -Melissa
Read the full review.
Our Favorite Amazon Reviews:
"Look, you're either into Savage, and agree (basically) with most of what he believes, or you don't. For people in the former group, and people who value differing opinions, this is an interesting and thoughtful book. For the latter group, this will be a tough, infuriating read." (Michelle R)

"Dan Savage has fallen in love with Dan Savage heads over heels and he spends most of the book dissing other advice columnists and talking about how great Dan Savage is. As you can imagine, that is intensely boring. Apart from all the self-love, there are some good nuggets about relationships hidden somewhere in there, but I don't think it's worth buying this book." (April Rains)
THE AUTISTIC BRAIN: THINKING ACROSS THE SPECTRUM by Temple Grandin
Goodreads Top Review:
"Her best yet. So many times while going through this, I pictured Obama after the Zimmerman verdict was delivered, trying to get a country to understand what it's like to live as a black man in America. Temple takes on a task no less daunting in trying to help Neurotypicals appreciate the experience of a life lived inside the head of someone on the autistic spectrum. She describes how even her own assumptions about autistics were off the mark initially. Explaining the difference between the inside person and the outside person, the one who feels and the one we observe, and listing examples of how the inside person is just as 'normal' as the people who make the rules and decide what's acceptable behaviour and not, she makes her case. Think all autistics are incapable of deciphering facial expressions? Think some can't understand as much as anyone else if the presentation of images are slowed down? Think again. That's what you'll do over and over. You'll gain a new way of looking at 'normal' in the process. The autistic spectrum has just as much variance as neurotypical when you consider that normal is just a mathematical concept that does not exist in the real world. Ever met a family with 2.4 children? Then why assume all people with an autistic spectrum diagnosis have a normal way of seeing the world? When she takes the DSM-5 to task, I wasn't just smiling, I was cheering." -Burt
Read the full review.
Our Favorite Amazon Reviews:
"For a parent whose child has recently been diagnosed with Autistic Spectrum Disorder, I highly recommend starting with this book. Reading this book has made me accept and understand my 3-year-old son's diagnosis and it gave me a peek at what could possibly be going on in his brain. All the worries that came flooding as I got that first diagnosis (PDD-NOS) has left me clutching on to this book. By the time I got a second opinion and confirmation of a diagnosis (ASD) after DSM-5 was released, I was already fully informed because of this book. By then, I was able to take the doctor's advice with grace and acceptance instead of shock and denial. This book has made me and my family focus on "what can we do now to make it the best possible scenario for my child." (Ang Pamilya)
She gives her old pat and simplistic solutions about how easy it is for persons with autism to find work. As a person on the spectrum who had to retire at age 51 due to multiple problems in the workplace and numerous terminations, I know there are no simple answers and obsessions usually cannot be channeled into careers and social skills as easily taught as she makes them out to be. The example of the autistic being suitable as an airport screener due to good attention to details misses the boat in that the people contact under adverse circumstances on this job would tax the autistics lack of social skills."(Jonathan Mitchell)DAVID AND GOLIATH by Malcolm Gladwell
Goodreads Top Review:
"Gladwell is taking a lot of heat for biasing the examples he chooses in his books to make points that are often later shown to be somewhat tenuous. That may be the case, but he is a heck of a writer. He knows how to tell a compelling story and the conversations he sparks go on for years.

Whatever harm that may come from the lack of rigorousness in his brand of pop-psychology is easily overshadowed by the positive cultural impact that comes from people giving serious consideration to his ideas and how they apply to their personal lives and to society on a larger scale. As with any book, don't read it passively, decide what you buy and what needs to be further examined. Enjoy it, it's a fun read." -Marcus
Read the full review.
Our Favorite Amazon Reviews:
"I am always stunned that readers still think that Gladwell's books are anything more than entertainment. I spend so much time trying to teach undergraduates critical thinking skills that are undermined by this type of book." (Reader)

"No as good as his other books. Read something else. If you want more words giving the same low opinion, read the economist review." (B Gil)
LEAN IN: WOMEN, WORK, AND THE WILL TO LEAD by Sheryl Sandberg
Goodreads Top Review:
"I highly recommend this book. As a single mom near the bottom of the socioeconomic ladder, the negative reviews would have led me to believe 'Lean In' wasn't for me and that only an elite few could relate. To the contrary, I found that Sandberg lends a clear, relevant, necessary voice to issues of leadership and equality for women and men and understanding for parents working in and out of the home.It's a quick yet engaging read. She's the first author I've read who shared what may be our generation's earlier view of feminism - yep, good, done, thanks - and the fear I always had of being labeled a feminist. But I am." -Hillary
Our Favorite Amazon Reviews:
"I love it when 'silver spoons' tell the rest of us how to live. Gurl friend, come live in the ghetto a few years. Make that a better place, then write about it." (Antonio Padua)

"I read this book many nights at 2 a.m. as a salve for sleeplessness, and found incredible comfort in Sandberg's work. Overachieving women, take heart: you are not alone. This book was like a hug for me --- one I didn't want (I can do it all myself, thank you very much); one I didn't seek out (yuck, another best seller from this genre?); and one that surprised no one more than me (so. . . I was reading this book called 'Lean in,' and...). But in the end, I surrendered to it, and was strengthened by Sandberg reaching out." (Red Rover)
Note: How Goodreads ranks their reviews is their "special sauce" and "a closely guarded trade secret" but they use the length of the review, number of people who liked it, recency of the review, and the popularity of the reviewer to show us the most interesting content.
Goodreads Best of 2013 Nonfiction Finalists | Culture