Goodyear Workers Rally Against Trump's Boycott, Union Says It Should 'Scare the Hell' Out of Working Americans
Politicians and workers rallied in Akron, Ohio, on Thursday against President Donald Trump's call to boycott Goodyear tires—a move Bill Conner, sub-district director for District 1 for the United Steelworkers, said should worry everyone, not just Goodyear employees.
Speaking at the rally, Conner said it was a "sad day" for the United States when the president promotes a national boycott of an American company and American workers. He noted that Trump railed against the company before confirming the information he had was factual and that his attack "scares the hell" out of Conner.
"And it ought to scare the hell out of every working man and woman in this country," Conner said.
On Wednesday, Trump posted on Twitter that people should not buy Goodyear tires after WBIW reported a presentation at a Topeka, Kansas, plant included a slide that said "Make America Great Again" attire was unacceptable. Goodyear denied that the slide was created or distributed by the corporate office or used as part of diversity training. But, they stood by asking employees to "refrain from workplace expressions in support of political campaigning for any candidate or political party."
Trump stood by the call to boycott the company during Wednesday's briefing, saying that he wasn't "happy" with the company because they're "playing politics." While MAGA, "Blue Lives Matter" and "All Lives Matter" were considered unacceptable, WBIW reported the slide said "Black Lives Matter" and "Lesbian, Gay, Bisexual, Transgender Pride" was allowed.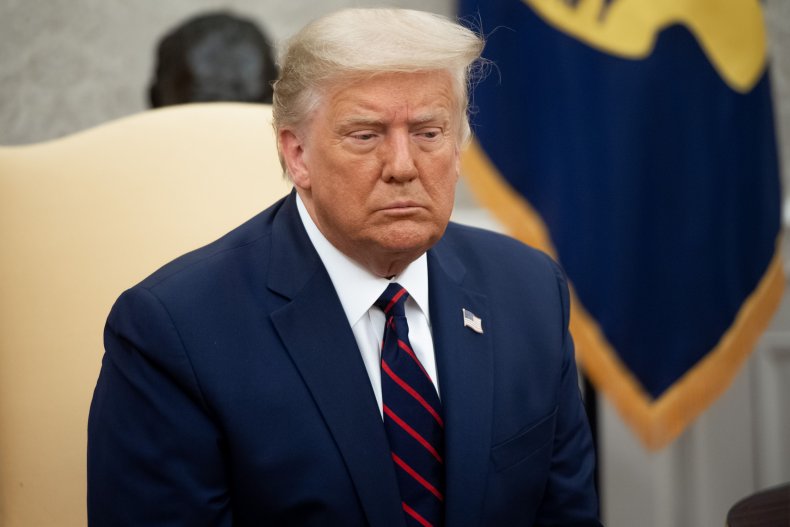 Goodyear denied they were "anti-police" and affirmed support for law enforcement and equality, but the alleged difference in tolerance showed there was "something wrong with the top of Goodyear," Trump said. While the president affirmed his support for a boycott, he said the form it takes is "up to people."
In calling for people to stop buying Goodyear tires, State Representative Tavia Galonski said at the rally that Trump was trying to "hand a pink slip to 3,300 workers," referencing the amount of Goodyear employees in Northeast Ohio.
"I'm not going to let it happen on my watch," Galonski said. "What I'd like to say is, 'Don't buy Donald Trump,' because basically he's been selling you a bill of goods for over four years."
One sign at the rally didn't mention Trump by name but asked: "Who made your limo tires?" According to ABC News,"The Beast," a nickname given to the president's armored limousine, has custom Goodyear tires. The company touted itself in a 2009 statement as the "exclusive tire" for the president of the United States' limo and the "standard tire" of the Secret Service.
While Trump was quick to rally against Goodyear, he's also been critical of "cancel culture." At a Fourth of July event at Mount Rushmore, Trump said cancel culture's push for people to lose their jobs and demanding "total submission from anyone who disagrees" is the "very definition of totalitarianism." He added that it's a movement "completely alien" to America's culture and values and has "absolutely no place in the United States of America."
Goodyear isn't the first product Trump's taken issue with. Since assuming the presidency, he has encouraged people to boycott Harley Davidson, CNN and Oreos.
At the Akron rally, people held signs, including one that said to "Cancel Trump" and another that promoted voting for former Vice President Joe Biden and Senator Kamala Harris. At the end of his speech, Conner said: 'Go Biden.'"
Newsweek reached out to the White House for comment, but did not receive a response in time for publication.