Google Accused of Not Fixing 'Illegal Advantage' Competition Problems
Google Shopping, the company's online shopping search engine, still unfairly favors Google's own results instead of competitors in the European Union (EU), a study has claimed.
The research of over 10 billion search clicks, conducted by Lademann & Associates and commissioned by 25 comparison shopping sites, showed that under 1 percent of traffic using the shopping search site currently goes to competitors like Idealo or Kelkoo.* A judgment from the European Commission in 2017 fined Google a then-record €2.4 billion ($2.8 billion) for abusing its search dominance and using an "illegal advantage" in prioritizing its own shopping results.
Google was told that it should "offer the [advertising] space on the same terms to Google Shopping and its competitors" and the search site says it has taken measures to fulfill the ruling's requirements but competitors are not convinced. Google has been fined a number of times by the European Union in antitrust rulings since.
"Google is still in the mood that Microsoft once was, they think [they are] above the law," lawyer Thomas Höppner, of international law firm Hausfeld who is advising the companies, tells Newsweek. "They are fully aware of the huge information asymmetry between them and any regulator. So they believe that if they only blur the water enough, they will get through with it. Unfortunately, for too long this strategy has actually worked pretty well for Google."
The study says that in the three years since the ruling, search visibility and profitability of competitors has halved.
This mirrors similar action expected in the U.S., with the Trump administration working towards, it is believed, antitrust action to protect competition in big tech markets like search and social media. The Justice Department and the Federal Trade Commission have been engaged in widespread antitrust investigations of the big four tech companies, looking at whether Google, Amazon, Facebook and Apple, or GAFA as they have come to be known, have worked to limit competition or otherwise illegally interfered in the market.
"No rival demands any fixed share of the traffic, let alone free traffic," Hopper says. "They just want to be treated fairly, equally, within Google's general search results pages – because this is the gateway of the vast majority of consumers to the Internet. If you are not found there, you simply do not exist in their world – even if you are much better than Google's favored service."
There is still legal action ongoing, with hearings already haven taken place, but a judgment is not expected this year. In November 2019, Europe's competition commissioner Margrethe Vestager said this "overhaul" that Google said it had undertaken was not working. Opinion is split within the EU, however, as the director-general of the EU's competition unit, Olivier Guersent, said officials were seeing "positive developments" and cited data saying that nearly half of clicks went to competitors' sites.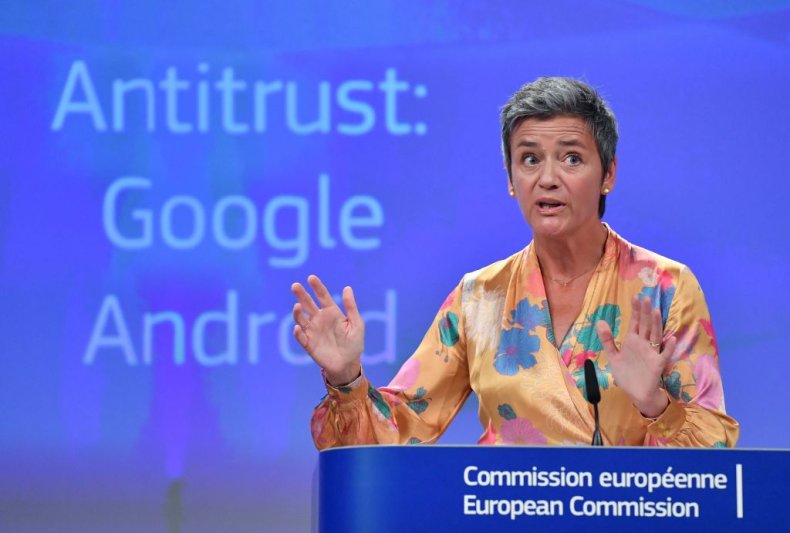 "There is no such intensive monitoring," Höppner says. "For instance, the Commission has not yet requested relevant data from affected companies. Thus far, all the Commission looked at was data conveniently provided by Google."
Google said that it did not accept the findings of the study.
"These figures ignore the facts of the Shopping decision," a Google statement said. "The remedy has worked successfully for three years, generating billions of clicks for more than 600 comparison shopping services, and is subject to the intensive monitoring of the EU Commission."
The fine in this anti-competition case could set new records if Google is found to be in continued breach of the original ruling.
If Google and Alphabet "were to fail to comply with any of the requirements set out [in the Decision], the Commission hereby imposes a daily periodic penalty payment of 5% of Alphabet's average daily turnover in the business year proceeding such a failure to comply," the original ruling said.
Alphabet's total revenue was $161.9 billion in the 2019 calendar year, according to its own reports, with "Google Search and other" making up $98 billion of that total.
*Survey methodology and notes
The study, "Google's (Non-) Compliance with the EU Shopping Decision"
is "a study based upon empirical data of 25 comparison shopping services" and is not available in the public domain for now but has been received by Newsweek.
For its methodology, it states: "The data basis consists of various traffic and revenue measures for all markets in which Google operates the CM [content module] and across all devices (desktop and mobile).
"The analysis is based upon 400 MB raw data, assessing a total of 10.5 billion clicks on Google (5.9 billion clicks on generic search results, 1.3 billion clicks to merchants ("leadouts") and 3.3 billion clicks on Google Ads (ex AdWords). This relating to over 1 billion in total revenues
"Crucially, 99% of the clicks that ultimately lead the user to a website outside of Google go directly to a merchant's website, where the product can be purchased (see "buy-page-condition" above). On such merchant's website, however, users cannot further compare products and prices.
"They can only purchase the individual product. If the user does not find what s/he was looking for on this page, s/he needs to click back to Google's Shopping Unit. This is how users search for products today: they click back in forth within Google's Shopping Units and between the unit and the various merchants' websites with individual product offers; each click triggering a payment to Google. During this entire customer journey, from entering the first search query to finally purchasing the product, the user has only ever seen one frontend for the comparison of the products and prices: Google's Shopping Units.
"If the user makes a purchase, s/he must have consumed the comparison service somewhere. The only service that can have satisfied a user's demand for a product or price comparison between entering a query on Google Search and purchasing a product on a merchant's site is Google's provision of Shopping Units.
"Since no other CSS [cascading style sheets] is involved in this customer journey, there can be no doubt that the provision of Shopping Unit as such constitutes the relevant CSS."