Google Adds Electric Vehicle Charging Station Info to In-car Maps
The number of vehicles with Google's vehicle operating system ecosystem built in has expanded to Honda, General Motors, Polestar and Volvo models. Now, electric vehicles born under those company's brands will come with added functionality.
After the system updates to include the latest changes, models with Google Maps built-in will allow users to map a route that includes charging stops and filters for speed of charging location. Additionally, charging locations will appear in search results.
Regular electric vehicle drivers who don't use the Tesla Supercharger network are likely to embrace the new functionality.
"From our experience testing electric vehicles at EV Pulse, the biggest cause of range anxiety isn't the actual range of the vehicle, but rather not knowing where to charge or if the charging station will be available," Chad Kirchner, vice president of content at EV Pulse told Newsweek.
"By Google adding charging station information to route planning, it allows other automakers to achieve a Tesla-like experience with up to date charging information and dynamic routes that are based on the actual car's range, weather, elevation changes, and more. It will also encourage people to use the Google built-in navigation instead of relying on Apple Car Play or Android Auto."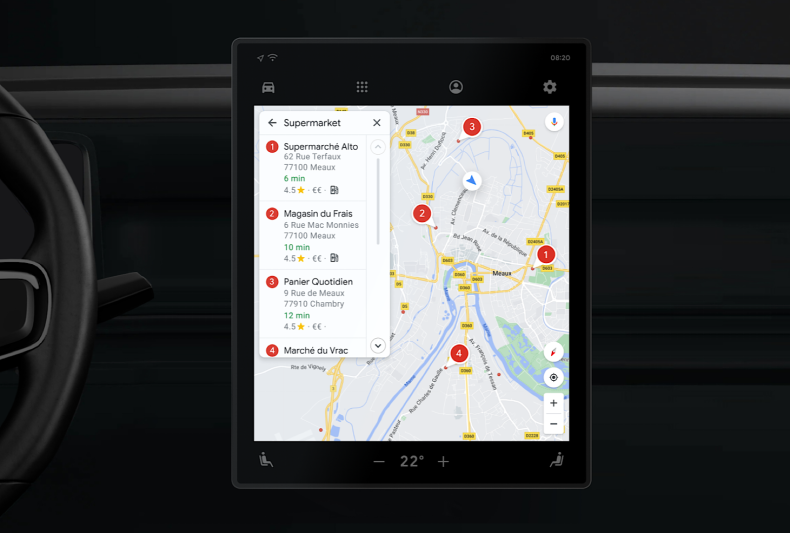 With the new charging stop technology, Google Maps will suggest the best electric vehicle charging stop to a user based on a number of factors including current traffic, the vehicle's charge level and expected energy consumption.
Filtering search results will allow users to find chargers that are capable of delivering a charge of 150 kilowatts or higher. Not all stations will deliver that level of charge, however, based on a number of circumstances including battery state of charge, temperature of the battery and surroundings, and station capacity.
Maps will also show places that have charging stations on-site when a user is searching. If they're looking for a supermarket, and it happens to have an EVgo charger, that information will be displayed.
Google's latest update positions them to match technology that companies like Ford already offer in their vehicles despite that automaker not utilizing Google built-in.
Last year Apple showed off what an Apple branded built-in vehicle ecosystem could look like in a vehicle. It is unknown if or when that technology will make it into a car.
Updates to Google built-in will be happening in the next month over the air. Automakers offer these updates complementary on most newer model vehicles that come equipped with a modem.