Google, Apple, Microsoft Leaders Condemn Trump Admin's H1-B Visa Ban
Tech industry leaders are speaking out against President Donald Trump's decision to temporarily suspend new work visas, preventing hundreds of thousands of people outside the U.S. from accessing job opportunities in America.
In a proclamation issued on Monday, the president temporarily barred visas for workers across several industries. That includes highly skilled tech workers who come to the U.S. under the H-1B visa program, with many finding employment at major tech companies, including Google, Apple, Microsoft and Amazon.
In a statement issued on Monday, Department of Homeland Security Acting Secretary Chad Wolf said the president was "taking decisive action to put American families and workers first in the reopening of the economy" in the midst of the coronavirus pandemic.
Leaders in the tech industry did not appear to see it that way, however, with Apple CEO Tim Cook expressing disappointment in the decision.
"Like Apple, this nation of immigrants has always found strength in our diversity, and hope in the enduring promise of the American Dream," Cook said in a tweet. "There is no new prosperity without both. Deeply disappointed by this proclamation."
Google CEO Sundar Pichai also expressed dismay at Trump's order, writing in a tweet of how "immigration has contributed immensely to America's economic success, making it a global leader in tech, and also Google the company it is today."
"Disappointed by today's proclamation," he said. However, the Google CEO said the company would "continue to stand with immigrants and work to expand opportunity for all."
In a separate statement, Google spokesperson Jose Castaneda echoed Pichai's statement, telling Newsweek: "Immigrants have not only fueled technological breakthroughs and created new businesses and jobs but have also enriched American life. America's continued success depends on companies having access to the best talent from around the world. Particularly now, we need that talent to help contribute to America's economic recovery."
Brad Smith, the president of Microsoft, suggested it was an untimely decision.
"Now is not the time to cut our nation off from the world's talent or create uncertainty and anxiety," Smith said in a tweet. "Immigrants play a vital role at our company and support our country's critical infrastructure. They are contributing to this country at a time when we need them most."
The message was retweeted by Satya Nadella, Microsoft's CEO.
Leaders in the tech industry were far from alone in condemning Trump's decision, with immigration advocates accusing the president of using the coronavirus pandemic to enforce his hardline immigration agenda.
In a statement shared with Newsweek, Beth Werlin, executive director of the American Immigration Council, said she believed the ban "targeting temporary workers, students, and visitors who participate in international exchange programs is a thinly-veiled attempt to radically shift immigration policy by proclamation."
"This is not about public health or the economy," Werlin said. "Many of the people the administration is banning are family members of those on the front lines combatting the virus. While President Trump says he wishes to reignite our economy, this ban will prevent businesses and universities from filling critical gaps."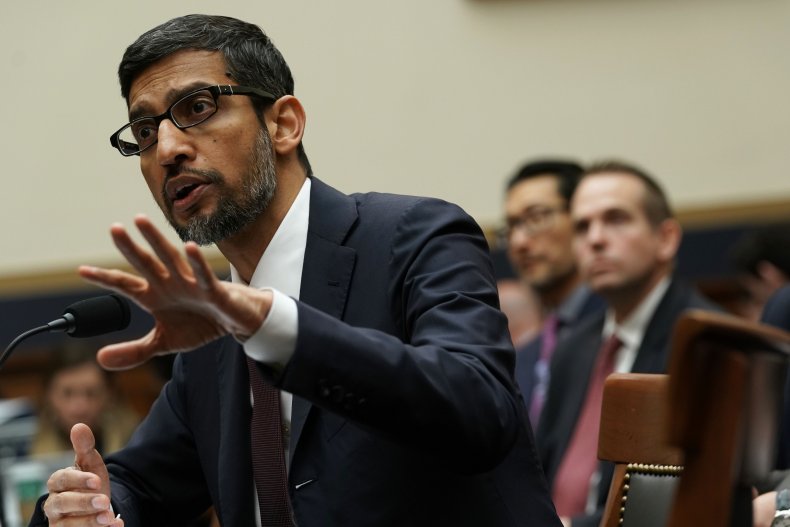 "The ban is a threat to our American tradition of immigration," Werlin said, calling on Americans to "stand in opposition to the president's latest action to advance his well-documented anti-immigration agenda."
According to the Trump administration, the suspension, which will be kept in place until at least the end of the year, is expected to impact as many as 525,000 people.
As the below two Statista graphs show, applicants from India account for the bulk of H-1B visa approvals, with 71.7 percent of H-1B visa recipients in fiscal year 2019 coming from India.
Meanwhile, the greatest need for high-skilled workers is in computer-related occupations.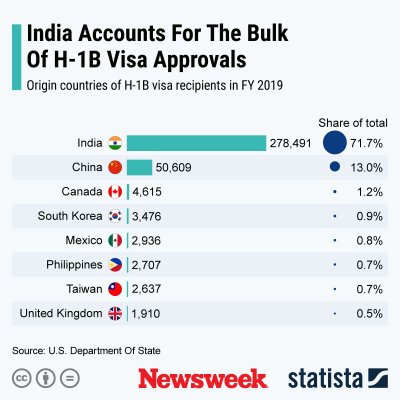 In addition to H-1B workers, H-2B workers, or seasonal workers who are employed in healthcare, hospitality and the food processing industry, will be affected.
The decision further affects J-1 short-term exchange visas, which are provided to university students and childcare providers, with a provision for potential exemptions, and L visas, which are typically given to high-level employees at multinational corporations.
The proclamation also affects tens of thousands of people who will see a ban on some new green cards extended under the order.
Newsweek has contacted Apple, Microsoft and the White House for comment.