Google Brainstormed Ways to Combat Trump's Travel Ban by Leveraging Search Results for Pro-Immigration Causes
Google employees brainstormed ways to mitigate the effects of Donald Trump's travel ban in 2017 by altering search functions to show pro-immigration organizations, new emails showed.
The company's internal email chain, obtained and reported on by The Wall Street Journal, shows employees at the multibillion-dollar technology company discussing how to combat Trump's travel ban against seven Muslim-majority countries, including Iraq, Syria, Iran, Libya, Somalia, Sudan and Yemen.
Google workers talked about how they could alter their search functions to show their users how to contribute to pro-immigration causes. They also discussed how to alter the search engine so that people could easily contact their lawmakers and government agencies to ask questions about the ban, the emails showed.
Employees also suggested ways to "leverage" Google searches so that they could counter "islamophobic" search results from people looking up terms like "Islam," "Muslim" and "Iran."
In one of the emails, a Google employee wrote that it would "require a full on sprint" to make any of the suggested proposals happen. "But I think this is the sort of super timely and imperative information that we need, as we know that this country and Google would not exist without immigration," the employee added.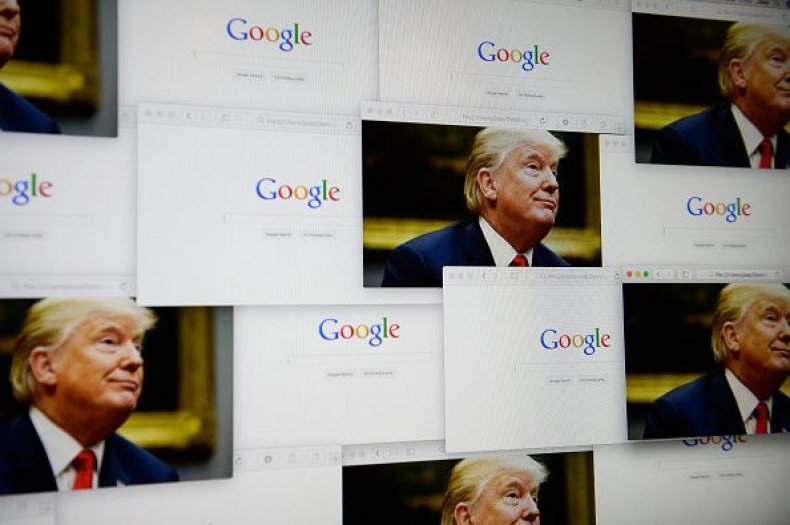 The emails were written in late January 2017, just days after the president signed his first travel ban. But none of the plans discussed ever came to fruition, the company told the Journal.
"These emails were just a brainstorm of ideas, none of which were ever implemented," a Google spokesperson told the newspaper in a statement, adding that the company has "never manipulated its search results or modified any of its products to promote a particular political ideology—not in the current campaign season, not during the 2016 election, and not in the aftermath of President Trump's executive order on immigration. Our processes and policies would not have allowed for any manipulation of search results to promote political ideologies."
Google, along with Apple, Facebook and other technology companies, filed a joint amicus brief challenging the travel ban, stating that it "inflicts significant harm on American business, innovation and growth."
Google has come under fire by the Trump administration and Republican lawmakers who claimed that the search engine was biased toward conservative voices. The company denied the president's allegations, and other tech companies vouched for Google.
President Trump has accused the company of rigging search results to intentionally suppress positive stories about and reactions to his administration. In a series of tweets, Trump said that Google only shows the results of the "Fake News Media" so that nearly all the stories about his presidency are "BAD."