Google: Censored Version of Search Engine 'Important to Explore' CEO Says
Google's chief executive said Monday that it was "important to explore" a censored version of its search engine designed specifically for the Chinese market.
This week, CEO Sundar Pichai, 46, told attendees at the Wired25 summit in San Francisco that Google was still active in China—despite its search engine going offline there in 2010. For the first time, Pichai also opened up about the motivations behind developing the censored Chinese search engine.
Code named Dragonfly, the secretive project was exposed by The Intercept last August. Citing internal documents, the news outlet reported that Google planned to blacklist websites, censor search terms and work in alignment with the nation's strict internet laws.
"We wanted to learn what it would look like if Google were in China. So that is what we built," Pichai said. He claimed the search engine could serve more than 99 percent of queries.
"We want to balance it with what the conditions would be," the CEO said. "It's very early. We don't know whether we would, or could, do this in China, but we felt it was important for us to explore. I take a long-term view on this and I think its important for us given how important the market is and how many users there are. We feel obliged to think hard about this problem."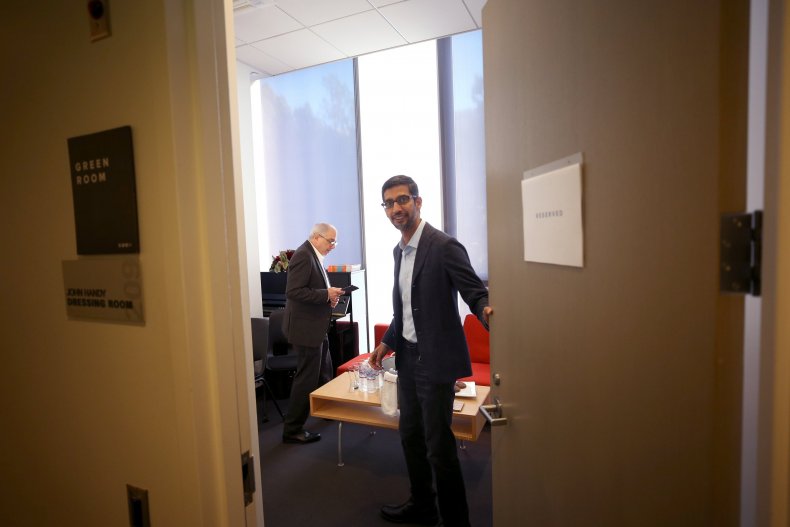 The chief executive said there were "many areas" in which its version of a search engine could provide information better than what was currently available on the market. As an example, he said that when people currently search for cancer treatments, some results could be fake.
Pichai, appearing to address criticism, noted that Google had to "follow the rule of law" in every country it operates in. In 2010, it left the Chinese market over cyberattack and censorship fears.
According to the Council on Foreign Relations, the government in China—with the help of its so-called "great firewall apparatus"—used censorship to stifle any potential dissent. "Its tactics often entail strict media controls using monitoring systems and firewalls, shuttering publications or websites, and jailing dissident journalists, bloggers and activists," the Council on Foreign Relations reported.
In a detailed analysis published last year, web watchdog Freedom House said China had been ranked as "the world's worst abuser of internet freedom" for the third consecutive year.
The Intercept report about Google investigating a China comeback sparked criticism online. Concerns were also raised inside the company that freedom of expression could be at risk.
"Our industry has entered a new era of ethical responsibility: The choices we make matter on a global scale. Yet most of us only learned about Project Dragonfly through news reports in early August," staffers wrote in a letter, which was published in full by BuzzFeed News.
On Sunday, a former Google engineer published a Twitter thread that claimed that in 2006 he was asked, and had refused, to write code that would help censor news results for users in China. "Doesn't surprise me Google is back at it," he wrote. "'Don't be Evil' is a Google myth."