Google CEO's Quora Account Hijacked by Zuckerberg Hackers
Google CEO Sundar Pichai appears to have been hacked by the same group that took over several of Mark Zuckerberg's social media accounts earlier this month.
The Hacking group OurMine claims to have hijacked Pichai's Quora account as a demonstration of its capabilities. Since breaking into Zuckerberg's accounts, OurMine has rebranded itself as a security company that searches websites for vulnerabilities and offers solutions to fix them.
Pichai's Quora account was linked to his Twitter account, meaning the posts made by OurMine to Quora were published on Twitter for his 508,000 followers to see.
"We got access to Sundar Pichai accounts!" the group wrote in a blog post on Monday. "Today, we checked Sundar Pichai Security, and we got access to his Twitter and Quora accounts, his security was really weak. [sic]"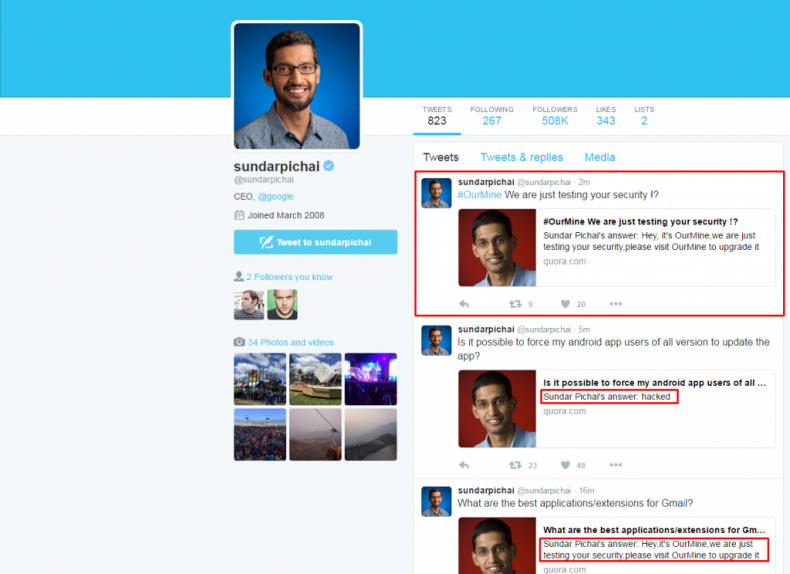 The group did not give details on how it managed to gain control of Pichai's account, though the breach of Facebook founder Mark Zuckerberg 's LinkedIn, Pinterest and Twitter accounts was apparently related to the 2012 hack of LinkedIn.
According to OurMine, Zuckerberg used the same password for his social media accounts, which gave the group easy access to all of the accounts.
Facebook issued a statement at the time that said: "No Facebook systems or accounts were accessed. The affected accounts have been re-secured."
OurMine says that it performed the latest hack by exploiting a vulnerability in Quora's platform, which it claims to have reported to the question-and-answer site.
In an emailed statement to Newsweek, a spokeswoman for Quora said: "We are confident that Sundar Pichai's account was not accessed via a vulnerability in Quora's systems.
"This is consistent with past reports where OurMine exploited previous password leaks on other services to gain access to accounts on Twitter or Facebook. We also have no record of a report by OurMine pointing to a vulnerability."
Google did not immediately reply to a request for comment.
Edit| This article has been updated to include a statement from Quora.